Saint-Martin and Gare du Midi, highly-prized neighbourhoods in Biarritz
Inaugurated in 1912 in the centre of Biarritz, the Gare du Midi was transformed in 1990 into a Palais des Festivals bringing considerable liveliness to the neighbourhood. Offering lots of amenities, the quieter Saint-Martin on top of a hill was once the centre of Biarritz. Overview with two experts covering these areas...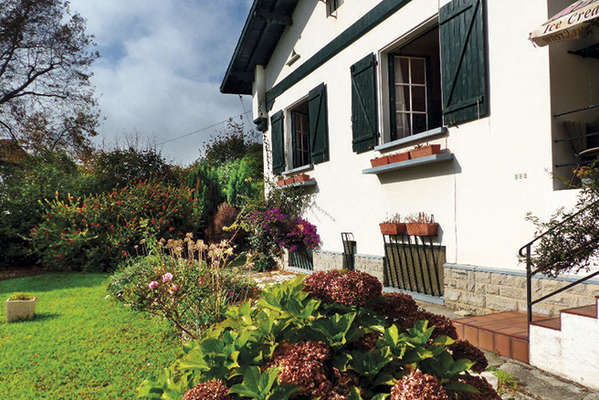 This family home in need of renovation is sheltered from view in a highly-prized neighbourhood in Biarritz. 577.000 €. ORPI Saint Martin (05 59 23 93 29).
Perched on a hill, the Saint-Martin neighbourhood was the centre of Biarritz until the early 19th century. It has kept its atmosphere of a pleasant little village, and is conveniently located between the heart of town and its closest outskirts, comprised of Arcangues, Bassussary and Bidart. "It is a pleasant neighbourhood, quiet and benefiting from a good range of amenities including several food stores and various services. Furthermore, a free shuttle links it to the town centre all day long," says Sandrine Errecart, manageress of the ORPI Saint-Martin agency, based at 33 avenue de Gramont since 2011. With a portfolio of varied properties in this area, all over the commune and in the nearest surrounding areas, the agency has also turned its attention to "viagers" over the past four years. "Activity is still lively, with properties selling quickly as long as their prices reflect both their assets and defects," says this expert whose clientele, mainly French, is shared out between buyers of permanent homes, investors, and many looking for holiday residences with potential to become their main homes when they retire. "The most frequent search criteria are being within walking distance of the town centre, benefiting from an outdoor area and, especially for the elderly, the convenience of a lift and parking place." As an example of properties recently sold in this neighbourhood, Sandrine Errecart mentions a 1-bedroom apartment in a pleasant residence with a lift, built in the 1970's. In perfect condition, this property benefiting from a cellar and a balcony with an open view found a taker at 205,000 €. "Properties requiring renovation are also in demand, especially among rental investors." Their prices naturally take their condition into account. As demonstrated by a 2-bedroomed apartment of 81 m2 with a balcony, in need of total renovation, which just sold for 254,000 €.
Specializing in properties on the southern coast of Les Landes for the past 10 years, Tout L'Immobilier sees itself as a real neighbourhood agency and opened a branch in Biarritz in May 2017, in the Gare du Midi area at the heart of town. "This central area is prized by buyers in search of a lifestyle allowing them to do everything on foot," says manageress Marylis Labeque. "They want to be in immediate proximity to the beaches and shops." Mostly French, the agency's clientele is completed by north Europeans from Belgium, Switzerland, Luxembourg and Germany, together with a few American, Dutch and Brazilian surfers. "Most of our clients looking for apartments with small surface areas set their sights on pleasant second residences that will bring good income from seasonal rentals. Prices of properties with a good range of attributes are rising. We are now seeing the appearance of a system of outbidding for villas to renovate under 1 million euros, in the most highly-prized neighbourhoods." What about other houses ? "With budgets ranging from 500,000 to 1 million euros, our clients are confronted by scarce availabilities in Biarritz, and turn towards properties of quality in Anglet, Bidart, Arcangues... Though here again, there are few offerings at the most sought-
after addresses."
You will also like