Saint-Marcellin : between Valence and Grenoble
About 50 km from Valence and Grenoble, Saint-Marcellin is a commune with under 9,000 inhabitants proposing a pleasant lifestyle between town and country. It is also a fall-back market offering attractive prices.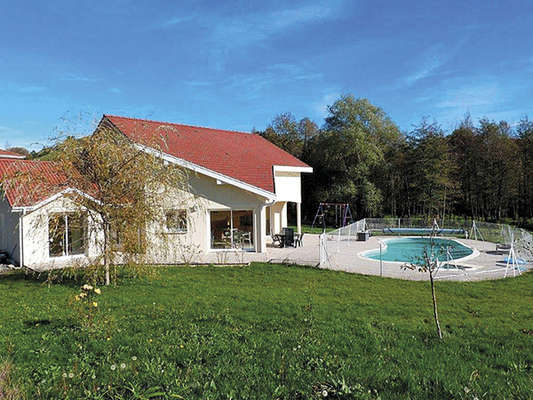 This contemporary house of almost 200 m2 is set in grounds of approx. 2,200 m2. 429.000 €. Square Habitat (04 75 56 02 22).
The original commercialization centre for the famous cheese of the same name, Saint-Marcellin is a small pleasant town in the countryside of L'Isère. It benefits from shops, nursery, primary, inter­mediate and secondary schools, as well as a hospital centre, offering its residents all the convenience of modern-day life. Not forgetting its transport infrastructures : thanks to the A49, Valence and Grenoble are only a 35-minute drive away. And with the TER Valence-Grenoble line, they can be reached even more quickly (the line has been closed since December, 2012, due to electrification work, but is scheduled for re-opening in mid-December, 2013).
According to Marie-Jo Soulier, manageress of the Immotions agency, this rail connection is a good opportunity for Saint-Marcellin : "As property prices in Grenoble are high, our area serves as a fall-back market. And when it can prop­ose a fast, regular train service, it becomes a very appealing place to live". Especially as local prices are attractive : "In new residences, the price per sq. metre ranges from 2,400 to 2,500 €, as compared with 1,600 to 2,000 € for older buildings". Most of both supply and demand concerns houses of 120 to 130 m2, although the agency's most recent sales consisted of an apartment of 130 m2 priced at 208,000 € (in the centre of Saint-Marcellin) and a town house of 100 m2 , at 123,000 € (in the neighbouring village of Chatte). What about building land ? "Plots are available from 80 to 100 € per sqm." Marie-Jo Soulier says that the market in and around Saint-Marcellin (which encompasses 16 communes in the Southern Grésivaudan) is currently active, "especially for the months of October and November".
Proving the importance of the Valence-Grenoble railway line, Sophie Seabra, who runs six Square Habitat agencies (including that of Saint-Marcellin), this year showed a drop in sales due to the work being done : "While we had always handled our transactions here at a steady pace, demand slackened off in 2013. This was due to the financial crisis, which became evident here at a later stage than elsewhere, and above all to the absence of the TER. Some clients with whom we were in contact in fact postponed their plans for acquisition in our area because they work in Valence or Grenoble, and thus preferred to wait until the new line was up and running". When it does, Saint-Marcellin will, however, quickly revert to being a serious competitior for the two agglomerations, "and also for the area around Voiron, where prices are also high," says Sophie Seabra. In her commune, she mainly receives enquiries for houses in the 170,000-200,000 € bracket, and apartments priced from 90,000 to 120,000 €. "As for building plots, the last ones we sold cost from 70,000 to 100,000 € for surface areas of 400 to 700 m2."
You will also like