Saint-Malo and Dinard, head for the Côte d'Émeraude !
The first, known for its ramparts and strategic location on the Channel, is undoubtedly one of the towns drawing the highest number of visitors in Brittany. The second lies to the west, on the left bank of the River Rance. A trip to the "Emerald Coast", a charming nickname coined by Eugène Herpin in reference to the colour of the sea in this part of Brittany.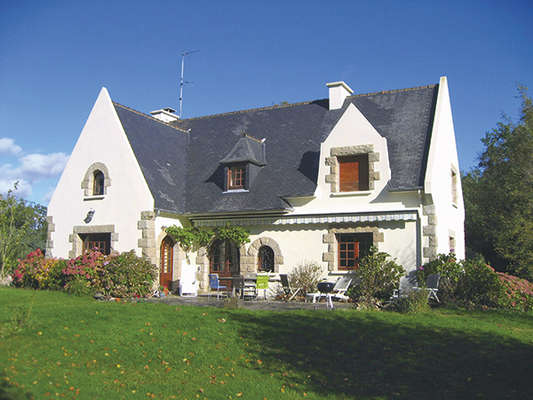 This house of 170 m2 consists of seven main rooms in a landscaped garden of 2,700 m2 in Dinard. 485.000 €. Émeraude Littoral (02 99 88 89 90).
In summer, the population of Saint-Malo swells from 46,450 to 200,000. A survey carried out in 2010 by the TripAdvisor website confirmed the popularity of this lovely Breton town, which tops the list of favourite French destinations amongst Europeans. The second largest port in the region gives priority to pleasure boating, fishing, commerce and tourism. Beaches are dotted along the rocky coastline, about ten kilometres long. The locality has 63,000 year-round residences and almost 20,000 holiday homes. The walled town, ie. the old Saint-Malo, lies next to the "cité" and the port, which caters for 1 million passengers per year. Since 2008, urban improvements have been in full swing. Dinard owes its success to the English and Americans in particular. In fact, since 1990, it has held a British Film Festival here. Benefiting from the Dinard Pleurtuit Saint-Malo airport, the seaside resort is home to close on 10,600 people and boasts five historic monuments and 407 protected villas, built in the late 19th century. In 2002, it was awarded the "Town of Art and History" label.
"Already a town of considerable size, Saint-Malo attracts three types of buyers," say Jocelyne and Pascal Négaret of the Cabinet Richard. "The locally employed, "papy-boomers" in search of a place to retire on the coast, and those seeking holiday homes who have fallen for the charm of Saint-Malo." Given the prices posted in the town, first-time buyers are often obliged to look for homes on the outskirts, within a 10 km radius. With budgets under the 250,000 € mark, they can obtain a plot on a housing estate of 300-400 m2 and build house of 100 m2. The low-energy BBC criterion seems to be reassuring, ensuring mastery of costs for the future. Other clients, more well-established, aim for the centre, closeness to schools, shops and amenities. Considerable disparities in prices are to be found, depending on locations, whether the property is on the town or sea side. "Papy-boomers" in fact share the same requirements. In real terms, a home with 3/4 bedrooms, a garden and garage in the centre ranges from 250,000 to 400,000 €. Fans of apartments expect a lift, parking place and outdoor area, rare commodities within the city walls. On the far side of the ramparts, they are priced from 2,800 to 3,800 €/m2 without a sea view, 5,000 to 7,000 €/m2 with. Seniors mostly arrive from the region around Paris, La Mayenne or Le Pays de Fougères, endowed with high budgets and cash available for both the acquisition and any renovation that may be required. In Le Petit Paramé and Saint-Ideuc, it is not rare to find properties around 500,000 €. Exceptions aside, properties of sound construction overlooking the English Channel range from 800,000 to 1.5 million euros. Second residents, from Paris, Rennes and Fougères, also have a preference for houses near the beaches and not far from boutiques, towards Paramé, Rocabey, Le Rosais and Saint-Servan. It's hard to deny the impact of the change in legislation on capital gains on the market, dissuasive for both buyers and sellers. However, "2015, 2 hrs 15", says the slogan, the time it will take in two years time to reach Paris on the TGV.
"The first quarter of 2013 has been pretty active. Though while we've had lots of enquiries, bargaining is tough," notes Agnès Courtois of Avis Immobilier. Buyers of holiday homes are not under any pressure and will not give up looking for a bargain just to treat themselves. The locals, worried about the general climate despite low mortgage rates, try to ward off their anxiety by obtaining a good price. Among her most recent transactions, Agnès Courtois mentions an apartment of 120 m2 in satisfactory condition in Saint-Servan, sold for 300,000 €, another of 87 m2 requiring renovation in a 1960's residence, for 185,000 €, a semi-detached stone house of 125 m2 in perfect condition, with a garden of 600 m2, a little further out, for 375,000 €, and a small detached house in need of some refurbishment, opening out to a garden of 260 m2 in Le Clos-Cadot, for 190,000 €. One of the current advantages is the reappearance of houses with gardens, on offer at around 200,000 € as long as buyers are prepared to undertake renovation. In parallel, prices in Courtoisville et Rochebonne, near the large beach of Le Sillon, are holding steady, underpinned by rare offerings and constant demand.
"Dinard has a unique high-end segment of the market, sublime "Belle Epoque" villas facing the sea," says Nicolas Leboissetier of Émeraude Littoral. "Everyone appreciates the well-controlled urban planning and the architecture sepcific to this seaside resort." It's a real challenge to find a house on the seafront for less than 5 million euros. In 2012, a few in fact changed hands at over 10 million euros. Other properties are comparable to those in Saint-Malo, with less significant price disparities. The commune of Pleurtuit, one of the largest in Ille-et-Vilaine, plays host to the airport. Deprived of a seafront, it is more likely to draw year-round residents, happy to benefit from the proximity of the River Rance. Most of these clients are looking for houses less than ten years old with four bedrooms, a property priced from 230,000 to 250,000 €. Stone houses then meet with great success. A small old building to renovate in a hamlet starts at 130,000 €, with the top of this segment reaching 700,000 €. Over the past few years, the commune has seen welcome development. As witnessed by the housing estates and blocks of apartments freshly risen from the ground, and development of the activity zone of Le Tertre Esnault, a neighbour to Dinard and a zone designed to accommodate office premises and commercial enterprises.
You will also like