Saint-Julien-en-Genevois, on the threshold of Switzerland
Between Le Vuache and Le Mont-Salève, the capital of Le Genevois in Upper Savoy rises to an altitude of 460 metres, a stone's throw from the Swiss border and just 10 km from Geneva.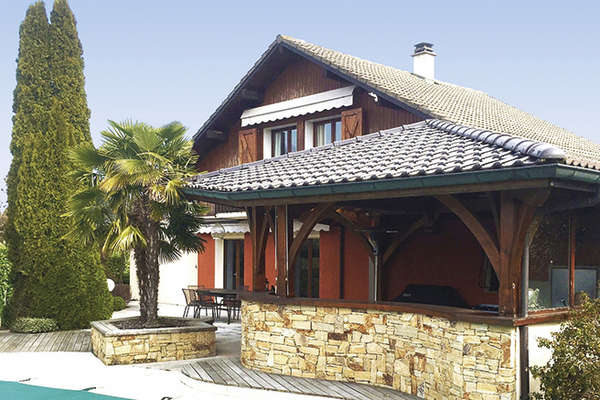 Dressée sur un terrain de 1300 m2 cette maison de 210 m2 située à 10 minutes de Saint-Julien vient de trouver un acquéreur. Set in grounds of 1,300 m2, this house of 210 m2 ten minutes from Saint-Julien has just found a taker. 580.000 €. Genevois Immobilier (04 50 35 02 00).
Occupying a surface area of over 3,700 acres and home to 12,000 residents, Saint-Julien-en-Genevois is prized by thousands of "frontaliers" who work in Switzerland but buy their main homes here. They appreciate this commune which benefits from four groups of schools, a hospital centre, cinema, casino, and lots of shops : ideal conditions for a pleasant family life-style. Every summer since 2007, Saint-Julien has held its "Guitare en Scène" festival, welcoming many international stars in the month of July. Developers continue to build in the area, offering properties of quality conforming to current standards and proposing appointments that reflect today's taste. Older buildings seem to suffer, however, from a lack of interest...
"The market for older homes is very quiet," says Christophe Duchosal of Genevois Immobilier, an agency opened in 1992 at the heart of the commune. "Many properties of quality have been waiting to find takers for many months. Most of our clients are families : the parents, if not some of the children, work in Switzerland. They are fond of the quiet, countrified life-style offered by Saint-Julien. With a budget of around 450,000 €, they can set their sights on a pleasant family home with a garden of 600 or 700 m2. Even so, the market is suffering from a wait-and-see attitude influenced by uncertainty. Many potential buyers prefer to rent before deciding to settle permanently in the area. And when they finally take the plunge, with a flourishing array of new or very recent offerings on the market, they opt for new residences rather than older properties."
The popularity of renting has also been noticed by Pasqual­ina de Pompéi, who runs the Cabinet Immobilier De Pompéi et Jandet with her partner, Sylvie Jandet. Opened in 2012, this agency moved into new premises a year ago in the centre of Saint-Julien. "2016 was very busy in terms of rental management. When a property of quality comes onto the market, it attracts many potential tenants." What about sales ? "There is clearly real interest in new developments, such as Le ParadoXe, a residence very close to the border on Avenue Mossingen, near the Perly customs, about 20 minutes from the centre of Geneva, that we are helping to market." At the time of writing, 7 of the 40 or so apartments were still available, and a second phase will follow. 1-bedroomed apartments are on offer here from 224,000 €, those with 2 bedrooms from 310,000 €, and 3 bedrooms from 418,000 €. Also much in favour, building land draws buyers ready to pay about 400 € per sq. metre for plots in quiet surroundings : one pleasant example of 1,000 m2 on an estate in Feigères is pegged at 380 € per sq. metre.
You will also like