Saint-Jean-de-Luz, pearl of the Basque country...
Benefiting from a well-preserved architectural heritage, the former City of Corsairs is now a highly-prized seaside resort. Right at the edge of the ocean, Saint-Jean-de-Luz is also within easy reach of the mountains and countryside.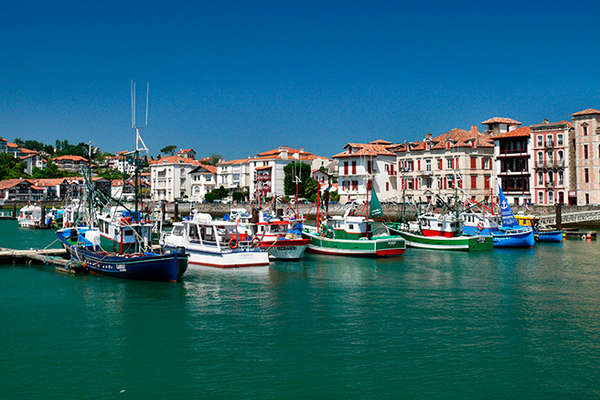 A renowned seaside resort on the French Basque coast, Saint- Jean-de-Luz has a bay inhabited since prehistoric times.
With a surface area of 19 sq. km, some 14,000 residents and slightly over 50 % of year-round residences, Saint-Jean-de-Luz has retained its village atmosphere. Its spectacular bay protected by three sea walls, L'Artha, Sainte-Barbe and Socoa, its traditional Basque houses, historic buildings and little harbour with quaint charm partly explain its strong appeal.
The Laffontan Immobilier agency specializes in properties offering authenticity and character, such as 1920's-1930's Basque houses or apartments of real stylishness. "Here, the quality of life is based on authenticity, a unique environment and security," says Caroline Laffontan. 50% of her clients are Parisians, the rest are shared out between buyers from Bordeaux and Toulouse, and ex-pats mostly working in south-east Asia. For these clients in their forties in upper socio-professional brackets, acquiring a property is a very rational investment ; when they retire, their holiday home will become their main residence. Their purchasing power enables them to become owners of an "etxea" ("house" in the Basque language) of 250 to 300 m2 (ie. 5 to 6 bedrooms) with a garden of 700 m2 large enough to take a pool, in the neighbourhoods of Sainte-Barbe, Moleressenia or Aice Errola. In need of some work, such a property will cost from 1.2 to 2 million euros. A seafront apartment of 80 m2, also requiring some renovation, will be proposed at around 1.4 M €, as long as it benefits from a lift and a parking place, two bonuses much appreciated in the town centre. "Over the past few years, working from home has enabled some company directors to settle here with their families, then spend just three days a week in Paris, Bordeaux or Toulouse. The transport network, the number of schools and the wide variety of activities guarantee really fulfilling lives for their children."
Philippe Thomine-Desmazures of the Barnes agency says that the luxury market is rather tight but very active. In 2018, price levels even broke new ground with several sales concluded above 5 million euros, including one in Saint-Jean-de-Luz. These properties, very high-spec in the case of apartments, are always located on the front row, on the top floors with ocean views, and always a terrace, lift and parking facilities. "This kind of property fetches around 15,000 € per sq.m, placing Saint-Jean-de-Luz on a par with Paris." In the case of houses, the most sought-after are to be found on the hill of Sainte-Barbe, with unimpeded views of the ocean. "One of them sold for 3.7 million euros last year. The new owners only kept the four walls and then re-did everything from scratch. Which isn't rare at the top end of the market for houses ; what counts above all here is the location." With holiday residences accounting for 95 % of properties above 2 million euros, Saint-Jean-de-Luz's luxury market ranks highest in the French Basque country. Due to the scarcity of available properties, buyers are ready to spend ever higher sums of money, and compromise on the property's size if views and character are on the programme.
You will also like