Saint-Jean-de-Luz : keen interest 12 months a year
It seems that the pandemic has convinced new buyer profiles once and for all to to seek homes along the Basque coast, and especially in Saint-Jean-de-Luz, where prices continue to rise and offerings are inevitably becoming increasingly rare.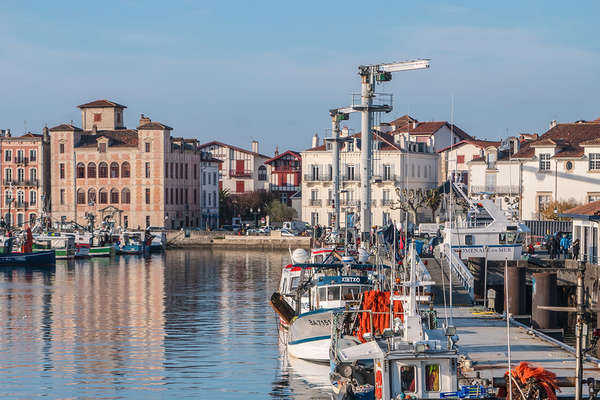 Once a major port for whaling and cod fishing, Saint-Jean- de-Luz's harbour has preserved shipbuilders' noble residences from this prosperous era, which now contribute to the charm of this flagship commune in the Basque country.
For the past 12 years, Caroline Laffontan has welcomed her clients with dynamism, professionalism and empathy to the agency bearing her name, ideally located between the Grand Hôtel and Le Madison in Saint-Jean-de-Luz. "The market is becoming increasingly unbalanced. Already well-sustained, demand has become remarkably strong. Clients are faced by limited offerings, obliging them to respond immediately, and most often with no room for negotiation, when I present a property meeting their criteria. All family properties now sell very quickly as long as they are offered at the price we have estimated." From Paris, Bordeaux or Toulouse, new buyer profiles are swelling the ranks of fans of Saint-Jean-de-Luz. "Ever younger clients call on our services. Couples in their thirties with children are looking for a new lifestyle. It is no longer rare that they prefer to keep a small pied-à-terre in Paris or another large city, while hoping to make the Basque Coast their main home, especially Saint-Jean-de-Luz which enjoys living conditions of exceptional quality, as well as all the amenities required for a delightful family life." As an example of a property representing today's market, Caroline Laffontan mentions the recent sale of an apartment of 116 m2 comprised of 3 bedrooms and a very large living-room, extended by a terrace facing full south. Located in the town centre, within walking distance of the primary school, it was acquired for 980,000 € by Parisians looking for a life-changer. "On the other hand, small prop­erties from 30 to 50 m2 priced around 450,000 € are now less popular. Today's clients are clearly aiming for at least 80 m2 of living space."
"Saint-Jean-de-Luz is seeing unprecedented enthusiasm!" says Philippe Thomine-Desmazures, Associate Director with Barnes Côte Basque, whose agency on Boulevard Victor Hugo at the heart of Saint-Jean-de-Luz presents a portfolio of charming and high-end properties in the area. "Activity has not slackened off since last summer, and at a pace that has since remained intense. Furthermore, many families unable to travel to ski resorts during the school holidays in February opted to stay on the Basque Coast, and notably in Saint-Jean-de-Luz. The result was inevitably a high num­ber of potential buyers in search of a rare gem. Confronted by very limited supply, clients are turning their attention to pleasant neighbouring communes such as Ahetze, Ascain and Urrugne to find the slipper that fits. While second residences are the subject of most of the sales we handle, we are seeing increased demand for permanent homes. Young retirees want to live here year-round, together with 40 year-olds wanting to settle their families on the Basque Coast while juggling between teleworking and round trips to Paris once a week. This lifestyle was still very marginal two or three years ago. It now accounts for about 15 % of our client profiles."
You will also like