Saint-Jean-de-Luz and its surrounding area
How far can the popularity of Saint-Jean-de-Luz and its communes actually go ? The current state of affairs, with two experts on this address called Desire...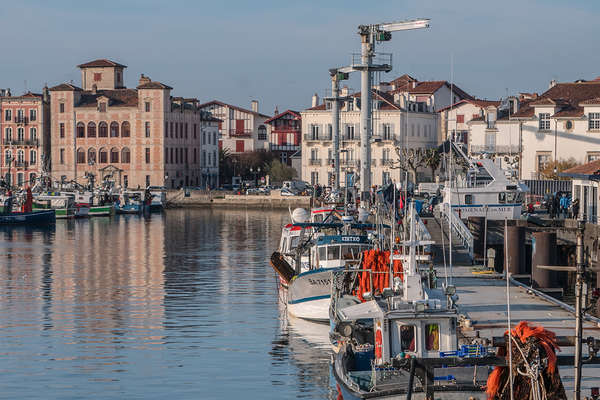 Embodying the casual-chic art of seaside living, Saint-Jean-de-Luz atttracts many buyers in search of a perfect second home in the Basque country.
Confronted by very slim offerings, some buyers do not hesitate to consider communes far from the coast, while others, prepared to pay top dollar, are not however racing to acquire properties at ludicrous prices. Yes, everything sells on the shoreline - but not at any price.
Specializing in sales of properties offering charm and character, Caroline Laffontan opened the agency bearing her name in 2009 and welcomes clients in Saint-Jean-de-Luz between the Grand Hôtel and Le Madison. "The market is still governed by its well-known disparity between rising demand and limited supply. The most highly-prized properties are now offered at prices higher than those seen last year. For example, this smart through apartment of 65 m2 with two bedrooms, basking in sunlight and on the front row in a residence with lift, with a parking place and two cellars, is up for sale at 1,050,000 €," explains Caroline Laffontan. Highly sought-after as second residences, houses for sale are extremely rare in both Saint-Jean-de-Luz, Ascain, Urrugne, Bidart, Guéthary and, of course, Biarritz. "We have noticed that more and more clients are taking an interest in communes such as Ustaritz, Espelette and Itxassou, 20 to 30 minutes from the coast." By way of example, she mentions a traditional village house of 300 m2 in grounds of 1,500 m2 located in Ustaritz. Benefiting from well-preserved old features (fireplaces, parquet floors, cement tiles...), this charming 19th-C. property, in need of renovation, is priced at 530,000 €.
"The liveliness of the market in Saint-Jean-de-Luz certainly remains exceptional," confirms Philippe Thomine-Desmazures, Associate Manager of the Barnes Côte Basque agency on Boulevard Victor Hugo at the heart of Saint-Jean-de-Luz. "Many Barnes clients have sold their properties in Paris, Corsica, on the Côte d'Azur or in the Alps, and thus benefit from generous budgets enabling them to target an ideal home in Saint-Jean-de-Luz or its nearby surroundings. However, faced by a non-extendable market with scarce availabilities and properties whose prices have risen by 10 % on average in one year, they are not inclined to buy at any price. Even an extremely desirable property in an ideal location will not rouse any enthusiasm if its price is way over the top. The same goes for properties suffering from eyesores or noise, however slight, or in need of modernization. The price must take these factors into account for the sale to go through quickly." The Barnes agency currently presents a portfolio of high-end and outstanding properties consisting of eleven houses and nine apartments in Saint-Jean-de-Luz intra-muros.
You will also like