Saint-Jean-de-Luz and Ciboure, closely connected markets
A highly coveted address, Saint-Jean-de-Luz continues to elicit growing demand from buyers in search of main or second residences. Confronted by very scarce offerings, many of them turn their attention to the neighbouring property market of Ciboure. Current state of affairs...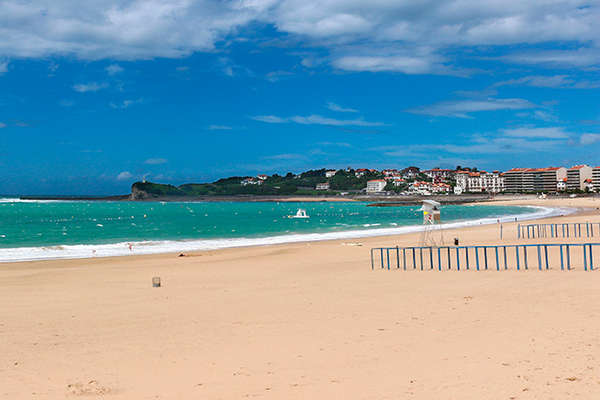 At the foot of the Rhune mountain, the bay of Saint-Jean-de-Luz stretches from the tip of Sainte-Barbe to the Fort de Socoa via the harbour and Ciboure. It is regarded as one of the loveliest bays in Europe.
Sharing the same bay, the same train station and area code, Saint-Jean-de-Luz and Ciboure form a single agglomeration. "Many residents look upon Ciboure as a peripheral area of Saint-Jean," says Philippe Thomine-Desmazures of the Barnes agency. Even so, one has to respect local sensitivities. With its authentic charm and Art Deco architecture, Saint-Jean-de-Luz is the N°1 choice among many buyers. In most cases, Ciboure is seen as an excellent fall-back market in a context where availabilities of properties in Saint-Jean-de-Luz are very limited. "Everything sells in Saint-Jean-de-Luz. Transactions we have handled recently show that, even if a property suffers from noise or eyesores, it will find a taker as long as its price takes such defects into account." Faultless properties change hands at ever higher prices, especially if they have parking facilities, a major asset in Saint-Jean. "Clients now frequently ask us to orchestrate the sale of their properties off-market, ie. without presenting it on our communication networks," explains our specialist. "To do so, we organize visits using our file of potential buyers. At the moment, we are officially presenting a score of properties in this area - from 750,000 to 3.5 million euros, but we also have additional "discreet" mandates, including outstanding properties worth over 6 million euros. Ciboure is becoming a sort of twin sister to Saint-Jean : its property market is now of interest to the same clientele." As an example of properties of quality in Ciboure, Philippe Thomine-Desmazures mentions the recent sale of an apartment of 140 m2 in a house of character, on the first row facing the sea. Benefiting from a large balcony, this through split-level apartment with 4 bedrooms and as many bathrooms just sold for around 1.6 million euros, ie. over 11,000 € per sq.m. "Ciboure also allows clients to set their sights on properties in extensive grounds." As demonstrated by an 18th-C. farmhouse of 500 m2, renovated with respect for its original features. Set in grounds of 6,500 m2, this residence offering 6 bedrooms, a study, and pleasant views of the mountains is pegged at 2.7 M €.
"Demand for Saint-Jean-de-Luz and Ciboure is indeed very steady," confirms Caroline Laffontan of Laffontan Immobilier, an agency focusing on charming properties on the Basque coast since 2003. "Over the past few months, we have seen a rise in the number of buyers and we have completed several sales after just one visit. Our clients - from Bordeaux, the great South-West, Paris, or ex-pats - are often looking for a house offering the potential to become their main residence or a generous holiday home. More and more executives are settling permanently on the Basque coast, wanting their families to live here year-round, and giving priority to teleworking or business trips facilitated by the TGV. They often have budgets under 1 million euros for apartments with terraces, 1.5 to 1.6 million euros for houses with 4 to 5 bedrooms, ideally located in highly-prized neighbourhoods of Saint-Jean-de-Luz, led by Sainte-Barbe and Aice Errota. Ciboure is, in fact, a good fall-back market with slightly lower prices where one can still find beautiful large houses with sea views for around 3 million euros." Though one still has to accept the psychological barrier, embodied by the bridge linking the two seaside resorts.
You will also like