Roquebrune-sur-Argens, a well-preserved corner of paradise
A commune enjoying a privileged setting, at the edge of the forest of Les Maures ; of its 26,206 acres, 18,900 consist of wooded areas. Set back from main roads, it basks in peacefulness that nothing can disturb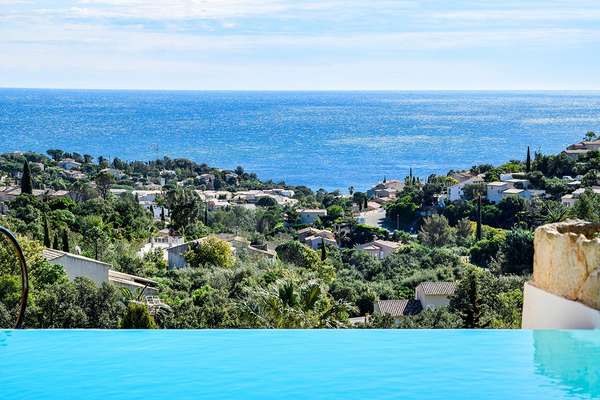 Nestling amidst greenery, enjoying total privacy, this imposing Provençal villa in Les Issambres offfers 9 main rooms around its lovely infinity pool. 1.495.000 €. Rêve de Sud (04 94 96 95 85).
It is one of the most extensive shoreline communes in the eastern part of the Var, stretching 27 km north to south. It consists of three very specific districts : the Village, at the foot of the Rocher des Trois Croix, La Bouverie, known for its Provençal charm, and Les Issambres, offering 8 km of coves, creeks and fine sand. Lively year-round, the town's population of 14,302 residents rises in summer to over 55,000, proof of its undeniable success.
Lying between sea and forest, Roquebrune-sur-Argens can claim typical Provençal charm. "Overall, the market here is very buoyant, and in Roquebrune Village and La Bouverie, supply still meets demand," says Thomas Jahier of the Ottonello agency. With its small streets, squares and fountain, the Village attracts first-time buyers, investors and retirees who share recent apartments, village houses and small suburban homes. 1-bedroomed apartments (of about 40 m2) and 2-bedroomed apartments (60 m2 on average), with small outdoor areas and sometimes a parking space, range from 130,000 to 190,000 €. Rather disparate, village houses to renovate or already refurbished come in a wide price-bracket of 100,000 to 210,000 €, for living space of 115 m2. For a "pavillon" on the first ring, one can expect to pay from 280,000 to 330,000 €. La Bouverie, a residential area with rose-coloured cliffs, pine-groves and parasol pine forests, accommodates well-to-do first-time buyers and young retirees from France's big cities. The first pay around 395,000 € for traditional 3-bedroomed villas with pools, while retirees opt for 6-room villas surrounded by good-sized gardens. They all appreciate the area's idyllic environment.
"For the past few months, the market in Les Issambres has focused more on quality than quantity," notes Florence Payan of the Rêve de Sud agency. Between the Gulfs of Saint-Tropez and Fréjus-Saint-Raphaël, backing onto the foothills of the Maures mountains, Les Issambres serves as the maritime window of Roquebrune-sur-Argens. The French (accounting for about 65% of buyers), Belgians and Luxembourgers appreciate the fine sandy beaches, coves and creeks of this charming seaside resort stretching out about 15 km from the village. Houses built in the 1960's cost from 490,000 to 560,000 €, prices which often represent the value of the land on which they stand. Whenever they are demolished, they are replaced by modern properties with high-end appointments. Contemporary villas offering generous living space (160 to 220 m2) in grounds of about 1,300 m2 find takers at prices from 1.3 to 1.6 million euros. Sea views and a privileged setting in a unique neighbourhood justify the unbridled enthusiasm aroused by Les Issambres among an international clientele.
You will also like