Romans-sur-Isère and La Drôme des Collines
A lush, undulating region benefiting from a central position in the Rhône-Alpes, La Drôme des Collines offers a pleasant setting with well-developed infrastructures. An appealing area, especially as its property prices are affordable.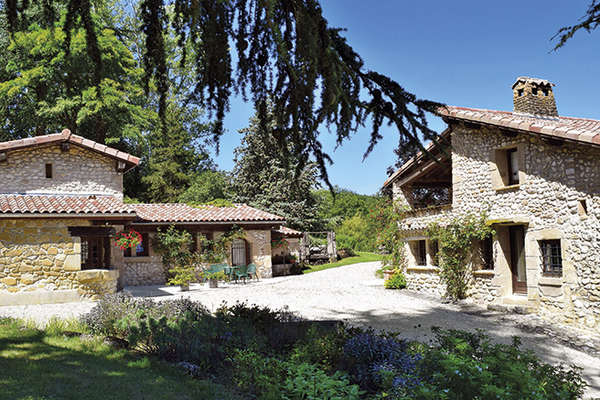 This property of 275 m2 near Romans stands in 23,750 m2 of grounds with a pool. 728.000 €. Paul Clappe Immobilier (04 75 05 10 95).
Known as the "northern Drôme" until the end of the 1980's, La Drôme des Collines with its protected forestland, renowned vineyards and varied relief, proposes a life-style boasting the highest level of quality in the département. Conveniently situated at the crossroads between L'Isère, L'Ardèche and the Valley of the Rhône, it benefits from the A7 and A9 motorways and a TGV station, making it a particularly practical place to live. With almost 35,000 residents, Romans-sur-Isère, for example, is only an hour's drive from Lyon and Grenoble, and just 10 minutes from Valence.
Didier Dury has been based in this attractive little town since the year 2000 as manager of Arth'Immo, an agency handling sales, rental management and property surveying, in an area encompassing the surrounding areas (as far as Tain-l'Hermitage to the west, Saint-Lattier to the east, Valence to the south). He works in collaboration with all the agencies in the area to meet client requirements as efficiently as possible : "For a renovated apartment here, one can expect to pay from 1,400 to 2,000 € per sq. metre in an older building, while recent apartments sell for up to 3,000 € per sqm. In the case of houses, the average price is around 2,000 € per sqm, as exemplified by a house of almost 100 m2 right on the street, which recently sold for 210,000 €". Building land ranges from 115 to 150 € per sqm. "The local market is less active than before, and prices are still subjected to bargaining. But since last year, we have begun to see a real upturn in activity." According to Didier Dury, transactions are currently going well for properties up to 200,000 €, and those over and above 450,000 €. "Middle-of-the-range budgets are now, in fact, much rarer."
The manager of Paul Clappe Immobilier (sales, rentals and estimates), Paul Clappe runs three agencies in Tain-l'Hermitage (opened in 2013), Romans-sur-Isère (2007) and Saint-Donat-sur-l'Herbasse (2004) : "In this last area at the heart of La Drôme des Collines, business seems to be picking up as long as properties have been correctly estimated. Unfortunately, prices are still too often overvalued, which lengthens the time it takes to sell". The market here is mostly comprised of old houses, building plots on estates and a few apartments. "As the area is not very built-up, demand for apartments largely exceeds supply. A few new developments mainly attracting retirees try in vain to solve the problem, snapped up like hot cakes despite prices close on 3,000 € per sqm." Other clients contacting Paul Clappe Immobilier include first-time buyers, 40 year-olds making their second acquisition, and more well-off buyers from outside the département - especially from Lyon and Upper Savoy. A few sales recently completed by the agency illustrate this diversity : a 1-bedroomed apartment of 50 m2, refurbished as new, priced at 80,000 € ; a villa of 75 m2 with a garden of 700 m2 and a garage, at 191,000 € ; another villa of 115 m2 with quality appointments, on an estate, at 260,000 € ; a stone house of 130 m2 on 2.5 acres of land with a pretty view, at 300,000 € ; and a property of 220 m2 with an adjacent house of 85 m2 and a pool, at 500,000 €.
Priscilla Mulard, manageress of the agency Le Palais de l'Immobilier based in Hauterives (founded in 2001 and taken over in 2010), specializes in the sale of houses all over La Drôme des Collines : "Since the beginning of the year, we have seen a recovery in the market. When estimates are followed, prices remain relatively steady, though bargaining is still on the cards - about 5 to 10 % for some properties". Today's demand is mainly for country houses on offer from 150,000 to 180,000 €. As exemplified by a farmhouse of 140 m2 in the country, in need of renovation, on 8,000 m2 of land, which recently sold for 155,000 €. "This type of property is typically sought by first-time buyers who often have budgets of about 25,000 € for renovation work. Otherwise, we receive enquiries from older clients with more substantial budgets - of over 300,000 € - , usually from Lyon or Grenoble." A restored house of 210 m2 with a pool recently found a taker at 345,000 €. Finally, with regard to building land, which is becoming more scarce, Priscilla Mulard recently handled the sale of a plot of 1,800 m2 near Châteauneuf-de-Galaure (not on an estate), priced at 70,000 €.
You will also like