Romans-sur-Isère : an affordable address in the south-east !
Romans-sur-Isère benefits from appreciable assets : a convenient geographic location, a fine architectural legacy, natural areas of quality, and a rich industrial past that attracts new residents won over by its quality lifestyle...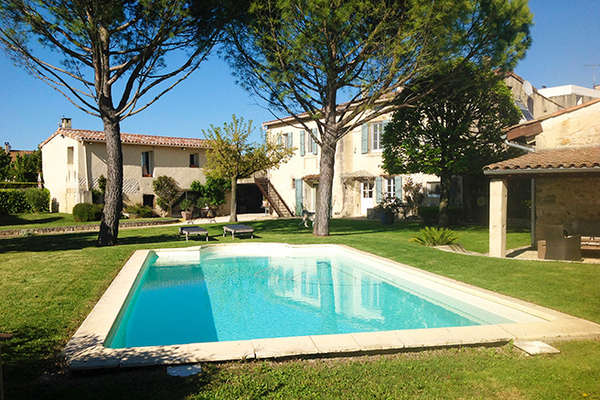 In the countryside near Valence, this elegant stone property of 240 m2 benefits from a very lovely landscaped park with a pool and two annexes. 630.000 €. Intens'Immo (04 75 02 15 00).
On the right bank of the River Isère, in the département of La Drôme, Romans-sur-Isère is 20 kilometres north-east of Valence and just a few kilometres from the TGV train station, the A49 and A7 motorways. Two specialists in the area's real estate maket, Michèle Truchet and Catherine Vicat share their views of the town's property trends.
Michèle Truchet runs Intens'immo, an independent agency with original decor, based in Romans-sur-Isère for over a decade. She says that the appeal of Romans and La Drôme has grown over the past few years. Especially among buyers who have just retired and and come looking here for fresh country air and spacious houses. She also sees young executives moving to Romans who work in the activity park of Rovaltain, built around Valence's TGV station, and even people working in Lyon, just 30 minutes away. They all want to take advantage of very reasonable prices for lovely old stone houses, ranging from 300,000 to 400,000 €. "Demand is also strong for highly contemporary houses which, when fairly estimated, do not stay long on the market," says Michèle Truchet. "Some of the surrounding communes such as Génissieux and Geyssans offer very beautiful views. The Marques Avenue shopping mall has brought many people to the region, and the town-hall is playing an essential role in re-boosting the town centre."
"The property market in Romans got off to a good start in 2016 and is even livelier this year, though it is not really back to the days before the financial crisis," says Catherine Vicat, who founded the agency Vic Immobilier in 1991. While the number of transactions has risen significantly, prices have not really followed and in fact remain stable. "Dynamic young retirees" from Paris, Valence, Deauville and Lyon find quality living conditions here that are affordable, two hours from the sea and one hour from the mountains. Catherine Vicat explains that the most highly-prized areas in Romans are those to the west (Martinette) and north (Les Méannes, Les Étournelles). They offer small houses on estates from 150,000 €, and lovely bourgeois houses which have been renovated, for 300,000 €. In the case of apartments, the upper part of the historic town is widely acclaimed. As for the most frequent requests, Catherine Vicat confirms that they are for contemporary houses, which can rise to 500,000 €.
You will also like