Rivesaltes, an alternative to Perpignan
In the "département" of the Pyrénées-Orientales, on the River Agly about ten kilometres north of the Prefecture, this town with 8,430 inhabitants draws French retirees in search of the sun, investors attracted by profitability and young first-time buyers, keen to benefit from prices slightly lower than those in Perpignan.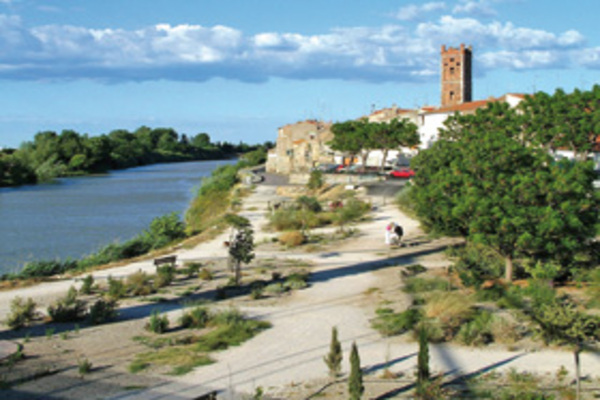 Quai d'Agly and the town's fortifications : two examples of the beauty of Rivesaltes. Photo : Christian Saladin
Inaugurated in 1939, the Joffre army camp closed its doors four years ago, making way for a memorial museum for the camp of Rivesaltes. The General Council of the Pyrénées-Orientales is the current owner of the104 acres listed in the supplementary inventory of historic monuments. In 2009, architect Rudy Ricciotti applied for a building permit. Equally famous, the vineyards produce two "Appellation d'Origine Contrôlée" wines : Rivesaltes and Muscat de Rivesaltes. The community of communes of Rivesaltais-Agly, composed of Cases-de-Pène, Cassagnes, Espira-de-l'Agly, Opoul-Perillos, Estagel, Montner, Salses-le-Château and Tautavel, plays host to a total 19,700 residents.
"Less than a 10-minute drive from clinics and hospitals, the town has all the necessary shops and healthcare facilities on site. Schools in Rivesaltes cater for children up to intermediate level. The railway station, on the Narbonne-Perpignan line, is very convenient for commuters,"says Françoise Vuong of Arago Immobilier. Delighted to find prices slightly lower than in the Catalan capital, young workers pay around 150,000 € for a village house of 100 m2 with a terrace or garage. French retirees looking for the sun opt for detached villas of over 100 m2 with gardens of at least 500 m2, priced from 1,600 to 2,000 €/m2. Françoise Vuong admits that the effects of the crisis are still being felt, particularly by those trying to obtain mortgages, a long and arduous process. Demand is there, but is not always satisfied by the properties on offer.
"Following a decline of 10-15 %, we are now seeing a more stable market. The advantage of Rivesaltes lies in its choice of properties. Apartments are thin on the ground, but there are lots of village houses, master residences and homes on estates," explain Barbara Sauvineau and Fabien Cathala of Century 21 Centrale Immobilier. Often deprived of gardens, the first range from 80,000 to 140,000 €, the second from 300,000 to 500,000 €, exceptions aside, and the third from 180,000 to 260,000 € depending on their age, the size of the house and its garden. Released in dribs and drabs, building land, though in high demand, is hard to find. Over the past 30 months, our estate-agents report holiday home-owners representing 5 % of the market, first-time buyers 47 %, purchasers of villas 26 % (armed with the proceeds from the sale of a larger property), and investors 22 %, motivated by the prospect of a net return of between 6 and 10 % and self-financing over 20-25 years. Recently, a local buyer paid 190,000 € for a building consisting of three 1-bedroom apartments and a shop, each bringing in 400 € per month. In this particular case, the yield is around 8.5 % : without any unforeseen hitches, 15 years will suffice to cover the investment. The first quarter has proved to satisfactory, though there now seems to be a quiet spell with no real explanation. One thing is certain : turnover depends on the property's quality and the estate-agent's ability to control the price displayed. Correctly estimated, a house can be sold within three months.
"Demand is as strong as the stock is limited. In whatever price range, buyers, except for investors, prefer properties ready to move in," notes Olivier Conte of L'Agence du Soleil. The absence of garages and terraces in the case of village houses makes this segment of the market unduly sluggish. In fact, these two disadvantages are rarely reflected in the asking price. Among his most recent sales, Olivier Conte cites a semi-detached, 1-storey villa of 100 m2 with a garden of 330 m2 and a garage for 180,000 €, and a building to renovate comprised of three 2-bedroom apartments giving out respectively to a garden, terrace and balcony, sold for 160,000 €, with a net return of 10 %. The potential of Rivesaltes is in no doubt : it benefits from coherent development planning, a true village centre and a life-style of genuine quality.
You will also like