Residential addresses in Nice West
Deep terraces, panoramic views of the azure-blue sea, garages, pools, easy access to main roads and the airport, shopping zones and schools, proximity to job pools in the "éco-vallée" and neighbourhood services... The west side of Nice has persuasive arguments that draw all categories of buyers...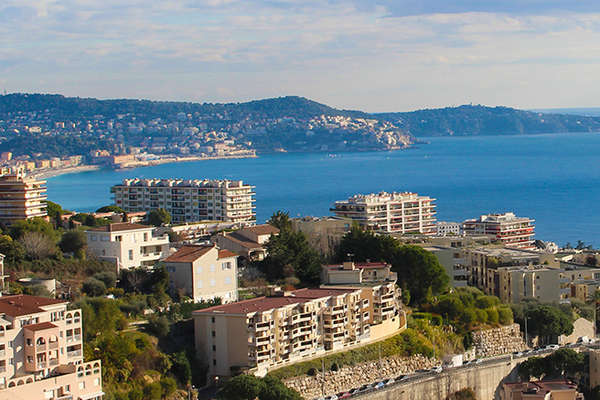 Just sold, in a residence with security guard, pool and tennis court in the Lanterne neighbourhood, a 2-bedroomed apartment of 72 m2 to renovate is extended by a circular terrace with this view of the sea. 430.000 €. Agence Stéphane Plaza Immobilier (04 93 83 33 88).
Based in the Nice West sector for 23 years and bearing the Stéphane Plaza Immobilier sign since 2016, Florent Cocino offers a wide choice of apartments in the residential neighbourhoods of Fabron, La Lanterne, Napoléon III, La Corniche Fleurie, and villas on the surrounding hills. "Our clientele is comprised of the locally employed, investors, and French buyers from other regions in search of holiday homes." First-time buyers look for 1-bedroom apartments, families 2- or 3-bedroomed apartments, while studios are targetted by rental investors. "Urbanized as from the 1980's, this sector enjoys the advantage of being mainly comprised of recent residences with apartments equipped to meet today's taste, with sliding picture windows, deep terraces... Most of them offer sea views, parking facilities and much-appreciated amenities such as pools and tennis courts..." The area's stable prices range from 4,000 to 7,000 € per sq. metre - with the large majority of properties offered from 4,000 to 5,000 € -, depending on appointments, the floor, and the residence's status. "The market is, however, rather tight, with not so many properties of quality available. Some buyers looking for large top-floor apartments in penthouse style, surrounded by large terraces, are confronted by slim offerings, even if they are prepared to pay from 700,000 to 800,000 €," says Florent Cocino. "On average, you need a budget of 300,000-350,000 € for a 2-bedroomed apartment in good condition, extended by a terrace with sea view." Some properties nevertheless stand out from the crowd, such as one apartment of 72 m2, in need of renovation. Benefiting from a terrace and offered with a parking place, it found a taker at 430,000 €. A similar property, in perfect condition, in the same residence, sold for 520,000 €. So what explains these prices ? "Their adddress. They are in one of the most highly-prized residences in the area. On a high-end estate with caretakers, a tennis court, swimming pool and, above, stunning 360° views of the sea !"...
Based in Nice West for the past seven years, Etoile Immobilier handles many sales involving holiday and semi-main homes acquired by foreigners, Swedes in particular, as well as many buyers from Paris and Lyon looking forward to retirement. "The most sought-after addresses are elegant residences in Fabron, La Lanterne and on Boulevard Napoléon III, such as "Les Constellations", "L'Arcadia" and the very up-market "Belles Terres". Availabilities are rather thin on the ground, though, thanks in particular to a shared MLS file, we manage to meet our clients' requests within a reasonable amount of time," says Marie-France Baillet who manages the agency with her partner, Julie Herrero. "Prices are still stable, though bargaining is commonplace," she adds, mentioning as a property representive of the market, a 1-bedroom apartment of 60 m2 in perfect condition, that she just sold in the highly-prized residence "Les Constellations". Prolonged by a terrace offering a sea view, this apartment was snapped up in less than one month for 345,000 €. A 3-bedroomed split-level apartment on the top floors of a sought-after residence with security guards was then acquired for 750,000 € by a Parisian client. "On average, the most frequent budgets in our agency range from 300,000 to 500,000 €, though it is not rare that buyers looking for spacious, rare properties are ready to pay over 700,000 €."
You will also like