Real estate market from Strasbourg north to Le Pays de Hanau
An area between town and country, the northern part of Strasbourg encompasses several communes running along the A4 (Autoroute de l'Est, to Paris), including the dynamic Brumath. Further north, Bouxwiller proposes a more rural environment.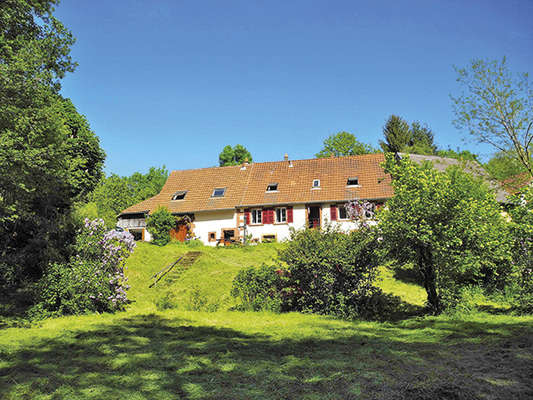 Over towards Ingwiller, this property of 150 m2 is set in 3,300 m2 of grounds at the edge of the forest. 249.000 €. L'Immobilière du Pays de Hanau (03 88 71 34 62).
A town with a population of 10,000 lying between Strasbourg (17 km) and Haguenau (13 km), Brumath offers a residential setting both pleasant and convenient : benefiting from the A4 motorway (two exits : north and south), it also proposes several junior schools, an intermediate school, an industrial and commercial zone undergoing considerable expansion, and a train station providing about 40 round-trips per day to and from Strasbourg.
"As we are outside the CUS ("Communauté Urbaine de Strasbourg"), we also benefit from more appealing property prices, including taxes," explain Camille Daire and Catherine Schmitt, who manage ADS Immo. Respectively a former notary's chief clerk and an estate-agent covering Brumath for 10 years, the two partners launched their agency in October, 2013 (sales, rentals, shop premises, asset and property management) : "Prices are currently finding their balance after a period in which they rose significantly. 2-bedroomed apartments, which are the most widely sought-after, now sell for 130,000 to 150,000 €". In the case of houses, the choice is wide : "A contemporary house of 130-150 m2 on an estate built in the years 2000, with a garden of about 600 m2, costs about 400,000 €. If it is older, with renovation on the cards, living space of 70 to 100 m2 and a garden of 200 m2, it will fetch around 170,000 €". Here in Brumath, building plots are available from 25,000 to 28,000 € per 100 sq. metres depending on their location, and from 20,000 to 22,000 € on neighbouring communes (Donnenheim, Rottelsheim, Bilwisheim or Hoerdt). "Attractive prices, enabling a broad range of buyers to become home-owners. And with the constant decline in interest rates, the time is ripe more than even before to acquire a property."
About 20 km north-west of Brumath (and 42 km from Strasbourg), one comes across Bouxwiller, a commune with almost 4,000 residents, lush scenery and a protected architectural heritage (medieval village, ramparts, half-timbered 16th-century houses...). A gateway to Alsace Bossue, it overlooks, with Ingwiller and Pfaffenhoffen, Le Pays de Hanau (a geographic subdivision of the plain of Alsace, partly located in the Regional Nature Park of the Northern Vosges, which owes its name to a feudal territorial entity).
Danièle Tindy, manageress of L'Immobilière du Pays de Hanau, has been based here for the past 10 years. She also has an office in La Robertsau, a residential area just north of Strasbourg : "Prices here in Bouxwiller are particularly affordable : for apartments requiring renovation, the price per sq. metre starts at 500 €, whereas it is almost 2,000 € for new or very recent residences, with an average of around 1,000 € per sqm". As for houses, those in need of refurbishment can be found from 40,000 €. Otherwise, one can expect to pay about 150,000 €, as demonstrated by a recent home of 100 m2 with a garden of 1,100 m2 which sold recently in La Petite-Pierre (15 minutes from Bouxwiller) for 157,000 €. "As for houses of higher quality, the starting-price is 250,000 € for living space of 130-140 m2 with a garden of 1,000 m2." Finally, building land in this locality is priced on average from 5,000 to 6,000 € per 100 sq. metres. Danièle Tindy's clientele consists of retirees and young couples looking for quiet settings and bargains, given the high prices in the CUS.
You will also like