Pyla-sur-Mer, much more than a dune
Renowned worldwide for hosting Europe's highest sand dune, Pyla-sur-Mer is a charming seaside resort at the entrance to the Bassin d'Arcachon on the Atlantic coast.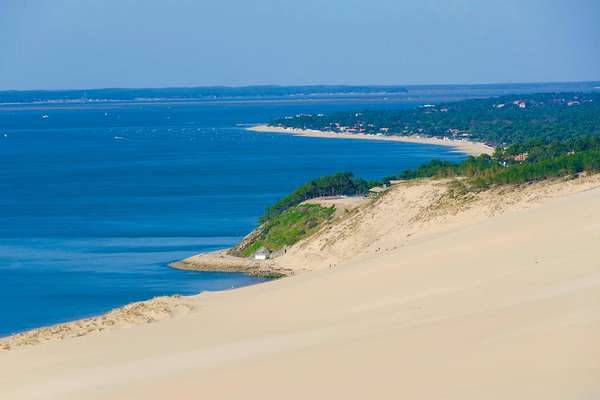 At 110 metres, the Dune du Pilat, which borders the entrance to the Bassin d'Arcachon, is the highest sand dune in Europe.
Offering rare architectural harmony and well-preserved natural horizons, Pyla-sur-Mer lies 65 km south-west of Bordeaux. On the territory of La Teste-de-Buch, this seaside resort was built at the start of the First World War by entrepreneur Daniel Meller, and was called "Pyla" to evoke the famouse dune spelt "Pilat", meaning "mountain" in the Gascon dialect. Pursuing intelligently-controlled urban planning and preserving the forest of Les Landes, the commune offers several seaside neighbourhoods and beaches succeeding one another along a stretch more than 10 km long. A holiday resort since the 1930's for personalities such as Jeanne Lanvin, Pyla-sur-Mer is still a "lifestyle" destination.
Adding to the success of the prestigious hotel La Co(o)rniche, the opening of the historic Ha(a)ïtza hotel in 2016 confirmed interest in this sector.The hotel's guests, already fond of the area, now like it even more," says Christophe Vaissié, director of Barnes for the Bassin d'Arcachon with three agencies located in Pyla-sur-Mer, on the seafront in Arcachon at the foot of the Grand Hôtel, and on Cap Ferret. The specialist for the Pyla area, the Barnes agency orchestrates numerous transactions here involving high-end properties of charm and character. "Demand outstrips supply, especially as our clients are looking for high-quality properties that correspond to their budgets. Faced by a narrow market, and as few properties meet their requirements in every respect, we have developed expertise in supervising projects for restructuring, renovation and extensions. Today, one can expect to pay 2 to 3 million euros for a villa near the beach with a sea view, between Le Moulleau and La Corniche, from 1.5 million euros for a house within walking distance of the beach, from 4 to 8 million euros for those on the seafront, and even more for the finest properties. Clients with 1 million euros to invest are obliged to consider small surface areas or move further back from the coast."
Based on the Bassin d'Arcachon for 5 years with four agencies (Arcachon, Cap Ferret, and two in Bordeaux), Coldwell Banker Bordeaux - Bassin d'Arcachon posts excellent sales results within the Coldwell Banker network. Involved in the commune of Pyla through charitable actions, the agency sponsors concerts of classical music during the summer festival "Les Escapades Musicales". "Pyla's real estate market is very active with quality buyers who take their time when choosing a property. We are here to advise and guide each client as best we can, depending on their budget and expectations," says manageress Marina Tonneau. "There are availabilities, but only properties offered at market price sell quickly. Most demand concerns sectors close to the beach and shops, for houses with 4 or 5 bedrooms and pleasant gardens with swimming pools, priced from 1 to 1.5 million euros", says this specialist, who, with her team, has this year completed several sales at 2 million euros and more, as well as two sales of front-row properties worth several million euros. The most popular neighbourhoods ? "Still Le Moulleau and Pyla near the beach, as well as the Corniche area, now attracting more and more demand."
You will also like