Pyla-sur-Mer, an increasingly popular seaside resort
A seaside resort at the entrance to the Bassin d'Arcachon on the Atlantic coast, Pyla-sur-Mer is renowned for its gigantic sand dune, the highest in Europe. Houses here offer edifying architectural harmony, opening out to well-preserved natural horizons. A unique address...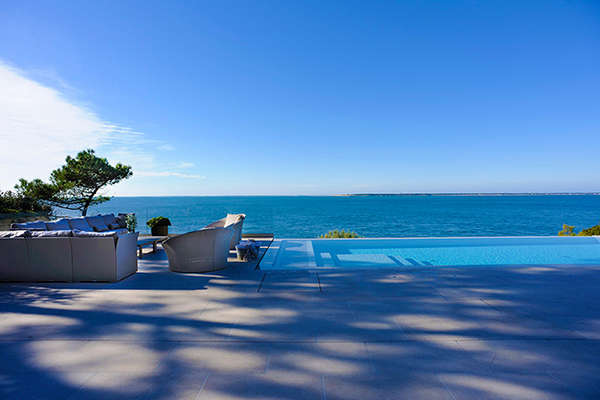 The main villa, a guest pavilion, heated pool and 3-car garage comprise this property enjoying amazing views. It also offers a landscaped garden benefiting from direct access to the beach. 11,5 M €. Barnes International Realty (05 56 54 58 78).
Based in the Bassin d'Arcachon for the past five years and offering four agencies (Arcachon, Cap Ferret and two in Bordeaux), Coldwell Banker Bordeaux - Bassin d'Arcachon holds a portfolio of properties offering prestige and character, destined, on Cap Ferret and in Le Pyla, to become the holiday residences of numerous French and ex-pat buyers. "Offerings are scarce, the market is seeing strong demand," says the agencies' manageress, Marina Tonneau. "Most of the sales we handle are pegged at around 1 million euros. Prices have stabilized, though demand is steady and properties of quality sell quickly, within two months on average, which is rare for second residences. Faced by limited availabilities, clients respond quickly whenever a property meets their requirements." The most widely-sought criteria ? "They want to park their cars and not use them again for the duration of their stay. Immediate proximity to beaches, shops and biking paths, of which there are many here, is thus a real bonus which inevitably has an impact on a property's price." It is not rare that houses with highly-prized sea views hover around the 2 million euro mark. Family villas benefiting from four bedrooms near the beach range from 1 to 1.3 M€ when in need of modernization. What about architectural styles ? "Basco-Landaise in Le Pyla and wood-clad frontages on Cap Ferret : houses here offer typical architecture, much appreciated by our clientele, fond of authenticity and charm."
"Le Pyla is undeniably one of our favourite addresses : we handle a good many transactions here all year long, in a wide price bracket ranging from 750,000 to over 6 million euros," says Christophe Vaissié, manager of the Barnes agencies based for over five years in the Bassin d'Arcachon. As an example of outstanding properties, he mentions a prestigious residence on the seafront, offering a stunning panoramic view of the dune of Le Pilat, Le Banc d'Arguin, Cap Ferret and Les Passes du Bassin d'Arcachon. Benefiting from direct access to the beach, this property comprised of the main villa, a guest pavilion and a 3-car garage is enthroned is superbly landscaped grounds. Stylishly furnished throughout in natural mineral tones, delicately echoing the azure-blue of the views, it is up for sale at 11.5 million euros. "For a charming little house to renovate in this area, one needs a budget starting at around 750,000 €," adds our expert who, with his team, accompanies clients in each stage of their projects, from well-targetted searches to advice from an architect for any specific refurbishment. "We think it essential that each buyer has all the factors required to come to a decision. Deeply anchored in this area for many years, we have the expertise necessary to guarantee a stress-free transaction." Christophe Vaissié has recently completed several sales in Le Pyla, especially on the seafront. "Clients clearly set their sights on properties offering sea views or those located within walking distance of the beach. Numerous sales are completed privately, without any advertising, as is often the case in these niche markets, highly coveted by a demanding clientele. Absolute confidentiality forms part of our array of skills."
You will also like