Property markets in towns on the Côtes-d'Armor
A good number of historic cities and seaside resorts are to be found on the Côtes-d'Armor, offering diverse and appealing urban markets. Illustrations from the northern part of the département, with the picturesque little towns of Dinan, Erquy and Perros-Guirec.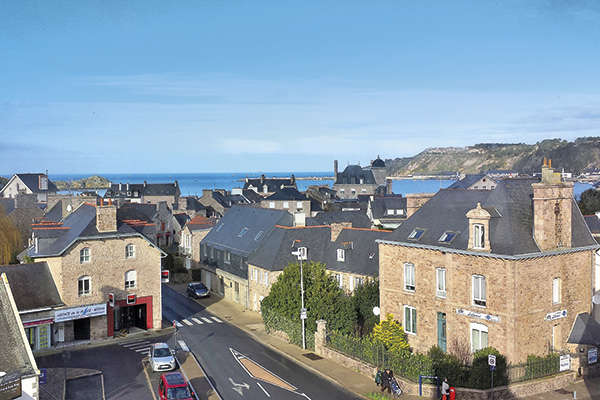 On the top floor of a residence in the centre of Erquy, this apartment offers living space of almost 70 m2. 220.500 €. Agence Rémy Cabaret (02 96 72 44 99).
Set on a hill and thus overlooking the Rance from an altitude of 75 metres, Dinan (home to over 10,000 residents) is a "Town of Art and Hist­ory" with a particularly well-preserved and well-presented architectural heritage. Surveying the east side of the Côtes-d'Armor, Dinan plays host to more than 70 listed monuments including the château and its ramparts (14th-C.), the Saint-Malo church (15-19th-C.) with its famous organ with polychrome pipes, and the Clock Tower (15th-C.). Not forgetting the harbour on the Rance and numerous paved streets in the centre, lined with remarkable half-timbered houses (especially Rue du Jerzual, Rue de l'Horloge and the Place des Cordeliers).
At the heart of this town of character, property prices are surprising reasonable. "In renovated old buildings offering quality appointments, the price of apartments ranges from 2,000 to 2,500 € per sq. metre, as compared to 1,300 to 1,700 € for properties requiring renovation, and 3,000 € in new luxury residences," explains René Soquet, manager of Soquet Immobilier, a proximity agency opened in February this year, covering a radius of up to 40 km around Dinan. "The most widely sought properties are 2-bedroomed apartments of 60 to 70 m2 with lounges of about 30 m2. Especially those benefiting from balconies and/or terraces and a garage, which is rare in the centre." On the other hand, large surface areas (120 to 130 m2) have difficulty finding takers, "clients then preferring to opt for houses". René Soquet is contacted by all types of buyers : "Ranging from young employees and middle-managers to retirees. In all cases, the client always deals with the same sales agent in order to develop the relationship and set up real ties of trust".
Less than 45 km north-west of Dinan, one comes across Erquy (population approx. 4,000), a pleasant family seaside resort with superb sandy beaches and amazing houses built of pink sandstone. Known as the "capital of the Saint-Jacques scallop" thanks to its lively fishing harbour (with a fleet of almost 80 trawlers and 12 vessels equipped for the high seas), it boasts many architectural treasures (several châteaux including that of Bien Assis, chapels, lighthouses, dolmens...), thus proposing an urban market of real character. It is at the heart of this very appealing commune that François-Xavier Le Chanu is based, manager of the Agence Rémy Cabaret, opened in 1984 and taken over in 2005. "There is strong demand for the town centre. Espec­ially on the part of retirees no longer wanting to take care of a house and looking for comfortable year-round apartments near shops and amenities." The properties available, from studios to 3-bedroomed apartments usually built in the 1960's and 1970's, range from 120,000 to 200,000 €. By way of example : a 2-bedroomed apartment of over 60 m2, recently sold for 180,000 €, and a 3-bedroomed apartment of 75 m2 currently on offer at 194,000 €. "Our portfolio also contains small terraced town houses, one of 70 m2 priced at 240,000 €." Prices which are still on a slightly downward trend, but remain higher than on neighbouring communes in the Saint-Brieuc area.
Another highly-prized family seaside resort on the Côtes-d'Armor is Perros-Guirec (with about 7,500 inhabitants), an essential address on this magnificent rose granite coast, enjoying a particularly well-preserved environment. Benefiting from its proximity to the lively Lannion, this little town also boasts a number of remarkable monuments : the Grand Hôtel, the home of artist Maurice Denis, the Moulin de la Lande du Crac'h, Church of Saint-Jacques, Chapel of Notre-Dame de La Clarté... Colette Campion, manageress of Marinimmo, an agency in Perros-Guirec founded in 2008, covering the entire Trégor region, prop­oses charming and contemporary properties, as well as stone houses in the town centre. "An item in constant demand.". Her portfolio also contains studios and large apartments, to renovate or ready to move in. One example of 48 m2 with a terrace and sea view is priced at 180,000 €. Naturally, the most sought-after properties benefit from lifts, terraces and parking fcilities. "Over the past six months, our transactions ranged from 120,000 to 700,000 €, with a few outstanding homes at higher prices. In our region, acquisitions allow buyers to take advantage of an investment which will constantly gain in value." Furthermore, prices are "occasionally negotiable". Marinimmo's clientele is mainly comprised of retirees and the actively employed, moving here for professional reasons.
You will also like