Property markets in the largest towns in Ille-et-Vilaine
The département of Ille-et-Vilaine in Brittany has four large urban centres with very different property markets : Rennes, Saint-Malo, Fougères and Vitré. What kinds of prices and trends explain their disparities ? A quick tour of all four...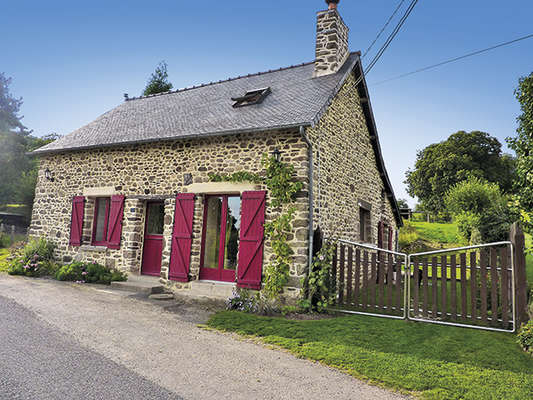 Between Vitré and Fougères, this small 2-bedroomed house is set in 5,000 m2 of grounds. 124.355 €. Agence Carnot Immobilier (02 99 74 25 87).
The northern part of Ille-et-Vilaine is dominated by Saint-Malo, the second largest town in the département with about 50,000 inhabitants. Its assets include the historic town with its outstanding cultural and architectural heritage, one of the tourist sites with the most visitors in Brittany, but also its economic buoyancy, largely explained by the port, the largest on the region's northern coast. Following a slowdown which began in mid-2012, the town's property market has picked up again since the beginning of this summer. Prices which had dropped by 5 to 10 % now range from 2,200 to 2,800 € per sq. metre for an apartment intra-muros (and more, with a sea view), and from 200,000 to 400,000 € for a house of less than 100 m2.
85 km from Saint-Malo, Fougères is the third largest urban centre in Ille-et-Vilaine with over 20,000 residents,. Once the capital of women's shoes, it fell victim to the oil crisis in 1973 and competition from Asia. However, its port is still active, thanks in particular to the Route des Estuaires linking it to Rennes in just 30 minutes. Fougères is also listed as a "Ville d'Art et d'Histoire", boasting 24 historic monuments including its château, belfry and Porte Notre-Dame. Already cheap, the prices of properties in Fougères fell even further with the financial crisis : an apartment costs about 1,150 € per sq. metre, a house about 1,400 €, as compared to close on 2,000 € per sq. metre in the département next door. A home of approx. 100 m2 can thus be had for under 170,000 €.
The fourth largest commune in Ille-et-Vilaine, Vitré with over 16,000 inhabitants is also listed as a "Ville d'Art et d'Histoire" thanks to its important medieval heritage. It is, however, above all a town with a flourishing economy which benefits from an efficient service sector and a highly credible industry (especially in the agro-food sector), as evidenced by an unemployment figure of only 5 %. Property prices here are therefore higher than in Fougères : approx. 1,800 € per sq. metre. "On average, 140,000 € for an apartment and 210,000 € for a house," says Marie-Claude Froc, manageress of the Agence Carnot Immobilier. Most of her clients are working couples with child­ren, first-time buyers looking for houses of about 120 m2. She tries to put the crisis into perspective : "The market has certainly changed, registering lower turnover. But a new agency opened its doors in Vitré in June, and another one will open at the end of the year, which proves the vitality of the local property market".
Finally, further west, or rather, right in the centre of Ille-et-Vilaine, Rennes is the capital and largest city in the département (and the entire region) with about 210,000 residents. Illustrated by an unemployment rate of 8 % and per household income higher than the national average, its economic dynamism is just as remarkable. Owning a home here thus comes at a certain cost : "In old buildings, an apartment to renovate in the town centre will be pegged from 1,700 to 1,900 € per sq. metre. Though prices rapidly rise to 4,000 € per sq. metre for a desirable address in the hyper-centre," explains Elisabeth Bachelot, consultant with La Foncière Lelièvre. The price per sq. metre of a house in Rennes ranges from 2,500 to 3,000 €. "After a quiet summer," says Elisabeth Bachelot, "the market has picked up considerably".
You will also like