Portraits of resorts at the heart of the Espace Diamant
Between the Massif du Beaufortain and Le Val d'Arly, not far from the Mont-Blanc area, L'Espace Diamant offers 185 km of ski-runs. Small village resorts benefiting from the closeness of nature and family accommodation, as well as Les Saisies, a lively resort known for the quality of its snow coverage, all have more than one string to their bows.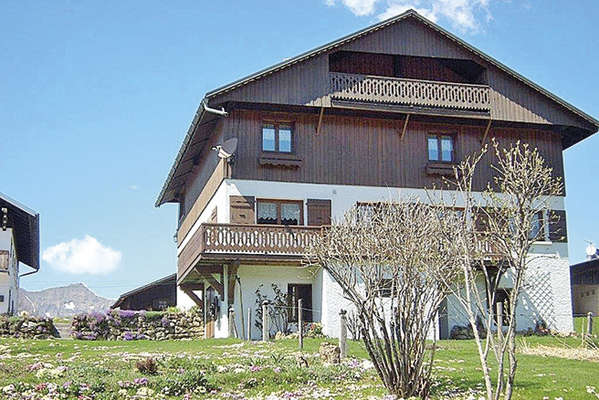 A stone's throw from the ski-runs, this traditional house of 130 m2 in need of renovation offers 3 bedrooms and a garden of 953 m2. 750.000 €. Agence Alpina (04 79 31 66 01).
Lying between the Massif du Beaufortain and Le Val d'Arly, on slopes in the départements of Savoy and Upper Savoy in the French Alps, the skiing domain of L'Espace Diamant is comprised of resorts and villages, all with their own authentic identities.
Consisting of 4 village resorts aimed at families, Le Val d'Arly Mont-Blanc nestles in a small valley benefiting from a stragic location less than 30 minutes from popular tourist centres such as Megève, Chamonix, Le Beaufortain and Le Massif des Aravis. The village resorts of Crest-Voland/Cohennoz, Flumet/Saint Nicolas la Chapelle, La Giettaz en Aravis and Notre Dame de Bellecombe offer settings of rural charm, lively year-round thanks to food shops, schools and all the facilities needed for pleasant, everyday family life.
The well-balanced property market is shared out between apartments in residences on a human scale, mostly built in the 1980's and 1990's, more modern properties in res­idences built in the years 2000, and chalets conforming to typical local architecture. "On average, soundly-built 2 bedroomed apartments start from 220,000 €, while a typical chalet with 4 or 5 bedrooms will cost at least 500,000 €," explains Sophie Rebord, manageress of the Agence Alpina. "Our clients, mainly French, are comprised of many families from the Rhône-Alpes area in search of authenticity. The short distance between villages in Le Val d'Arly and large towns means that they can benefit from their holiday homes on weekends all year long." Enjoying stable prices and loyal residents, the market is known for its low turnover. The stock of available properties is therefore somewhat limited, to the extent that as soon as an apartment in good condition comes up for sale, it finds a taker within an average 3 months, especially if it is at the foot of the slopes, clearly the most sought-after location.
On the commune of Hauteluce, the resort of Les Saisies drew lots of media coverage in 1992 when it hosted the cross-country and biathlon events in the Winter Olympics of Albertville. A real viewpoint for Mont-Blanc, the resort offers a sumptuous natural decor amidst the spruce and fir forests. It has two distinct sides : Hauteluce and Bisanne 1500, providing a total 70 km of ski-runs. "Chalets are rarely up for sale, so activity mainly focuses on apartments with a mostly French clientele. With budgets of around 200,000 €, the majority of buyers are looking for a 1-bedroomed or a small 2-bedroomed apartment, ideally located in the centre of the resort. Outlying areas, such as that of La Forêt, linked to the resort, propose much more recent properties with more generous living space for the same prices," comments Jean-Pierre Jubier of the Agence du Grand Mont, based on commune for slightly over 30 years. "Owners tend to hang on to their properties, which gives a solid, well-established market with very low rotation. Choice is therefore limited. A situation which guarantees stable prices." Acquiring a holiday home in Les Saisies is a sound investment, especially as the Municipality is betting strongly on the future by enlivening the resort, particularly for "non-skiing" activities. As witnessed by the inauguration of Le Signal last December, an aqua-sports centre of 5,000 m2 accommodating a bowling alley-bar-restaurant (Le 1650) and various facilities dedicated to sports, relaxation and well-being. A project which cost 15 M € in all.
You will also like