Port Grimaud, a unique address
At the heart of the Gulf of Saint-Tropez, down below the old village of Grimaud, the "lagoon city" of Port Grimaud draws thousands of visitors to its canals each year. International residents and fans of sailing meet up here from one year to the next...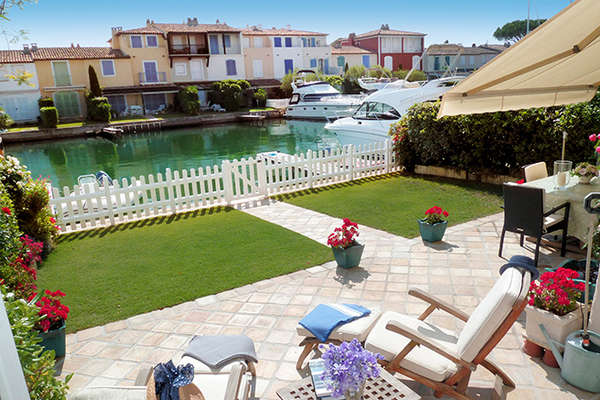 This double house in a residential neighbourhood in Port Grimaud comes with a 12-metre mooring. 1.950.000 €. Logi Service Immobilier (04 94 56 28 18).
Awarded the "20th-Century Heritage" label in 2001, Port Grimaud made its appearance in the 1960's thanks to visionary architect François Spoerry. This maritime village is comprised of 2,500 homes and over 2,000 boat moorings. Offering typical Provençal charm, Port Grimaud is made up of squares and narrow streets lined with small blocks of apartments and houses with colourful façades and Roman roof tiles. Houses that go by the names of "Pêcheur", "Ostale", "Balandrine", "Bungalow" and "Cassine".
Port Grimaud holds no secrets for Virgile Dolla who lives here year-round and manages the New Place agency. "Our market is surfing along on good momentum. Prices are stable, our sales volume is higher than last year, and we are again seeing substantial budgets - of over 1 million euros - after a wait-and-see period, due to both Brexit and analysis of the results of France's presidential election. We are seeing renewed confidence on the part of our foreign clients, who are now determined to carry through their plans. The English want to secure their capital in a market considered as a sound investment, enabling them to use their properties for their personal enjoyment. Germans are looking for safe long-term investments, the Swiss still benefit from an exchange rate favouring an acquisition in France, while Dutch and Belgian buyers show on-going interest in the address." Often arriving with budgets from 500,000 € to 1.5 M € or more, foreign clients set their sights on houses with boat moorings, whereas French buyers, still present, have more limited budgets. Offering a wide choice of properties, the portfolio of the New Place agency ranges from studios priced at 140,000 € to double houses from 2.5 to 3.5 M €.
Virgile Dolla's observations are shared by Elisabeth Morice of Logi Service, an agency based in Port Grimaud for almost 50 years. "Our offerings include a wide array of properties ranging from small apartments under 200,000 € to master residences with moorings, at prices up to 4,350,000 € for the most prestigious examples," says this estate-agent whose clientele consists of foreign buyers - especially German, now making a comeback here - and many French clients. Among the numerous properties currently in her portfolio, Elisabeth Morice mentions a fully renovated "Maison de Pêcheur" with a 14-metre mooring, up for sale at 1,290,000 €, and a double house with a 12-metre boat mooring in a residential neighbourhood, priced at 1,950,000 €. "We benefit from a large portfolio of rental properties, so buyers of apartments or houses acquired as holiday homes are keen to entrust us with management of their properties for short- or medium-term rentals. Since the agency first opened, we have developed real expertise in this particular area." This solution in fact enables owners to finance part or all of the charges, which are substantial due to the number of amenities proposed by the "lagoon city" (maintenance, security...).
You will also like