Popular addresses on the Var coast
Looking for a charming or up-market address ? You will be spoilt for choice on the coast of Le Var with its well-preserved areas and discreet estates. Spotlight on two outstanding proposals, Sanary-sur-Mer and the Domaine de Valcros.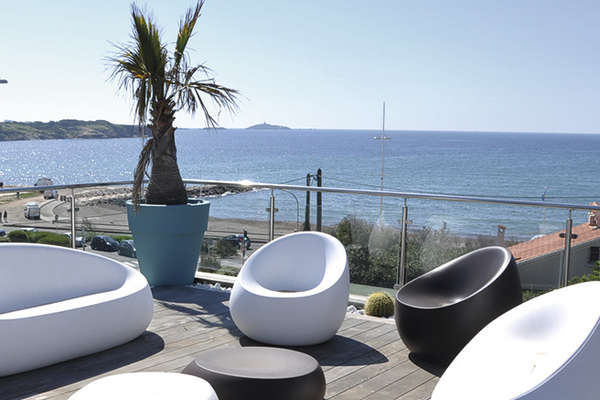 Prolonged by a terrace of 100 m2 offering a beautiful sea view, this high-class penthouse of 130 m2 is in the highly-prized area of Six Fours les Lones, next door to Sanary. 1.050.000 €. GTI-GPI (04 94 88 02 10)
"We are seeing renewed interest on the part of buyers now determined to carry out their plans. Even though we have seen a slight slowdown since the beginning of March, our sales volume has risen constantly since the middle of 2016," says Magali Four, Sales Manageress for the GTI-GPI agency in Sanary-sur-Mer, 13 km from Toulon and 49 km from Marseille. Offering typical charm, this attractive commune laid out around the colourful quaysides of its fishing harour draws many buyers from Paris and Lyon, in search of the perfect holiday home, both Provençal and near the sea. "The average budget we see today is around 600,000 €, though it is not rare for us to handle sales of villas priced over 1.5 million euros and high-end apartments with sea views from 750,000 to 1.1 million euros." Highly-prized, the neighbourhood of Le Lançon plays host to very enviable properties offering stunning views. Here, the GTI-GPI agency presents high-end villas of over 200 m2 set in grounds of 1,200 to 5,000 m2. Benefiting from swimming pools and enjoying panoramic sea views, they mostly bear price-tags of over 1.2 million euros.
An expert on the Domaine de Valcros on the commune of La Londe-les-Maures, between Bormes-les-Mimosas and Hyères, Stéphane Navarro, manager of the Agence de Valcros, confirms a more buoyant market since mid-2016. Occupying an area of 3,211 acres on the foothills of the Massif des Maures, overlooking the vineyards and facing the sea and Îles d'Or, this well-protected domain with high security is laid out around a golf-course. Its 1,000 houses range from charming small "mazets" priced from 230,000 € to magnificent villas in Mediterranean or Californian style, attaining up to 1.5 million euros. Accessible from only one road, this prestigious address is just as highly prized by buyers looking for main residences as those in search of holiday homes offering lots of amenities. Currently, the Agence de Valcros has a good number of quality villas for sale, mostly priced from 700,000 to 800,000 €. "Extremely vast, the Domaine is comprised of various "hamlets" or subdivisions offering different types and styles of villas, almost all benefiting from swimming pools. Whether Provençal, Mediterranean, Tropezian, Californian or contemporary, their architectural styles blend harmoniously with the surrounding nature. It is not rare that buyers entrust us with the management of their villas as holiday rentals, then move in permanently when they retire," adds Stéphane Navarro, whose team live and work on-site, and thus benefit from perfect familiarity with the domain.
You will also like