Perpignan : between sea and mountains
At the water's edge and at the foot of the mountains, the southernmost of France's large cities is also one of the most competitive addresses on the Mediterranean shore. Arguments which convince a clientele of retirees and first-time buyers.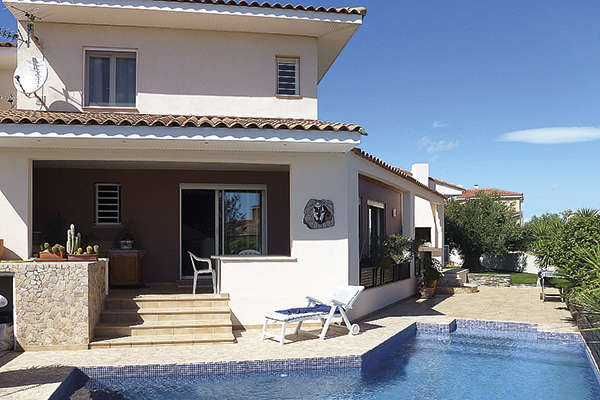 In Cabestany (a residential suburb of Perpignan), this house of 156 m2 is set in a garden of 400 m2. 430.000 €. AgenceNeuf.fr (04 34 10 24 69).
A real bridge between France and Spain, Perpignan is a town offering Catalan charm, sandwiched between the mountain ranges of the Pyrenees and Les Corbières and the Mediterranean Sea. Overlooked by the impressive Pic du Canigou, it is only 13 km from the nearest beaches, 85 km from the closest skiing domain. Its climate is pleasant, to say the least : mild winters, hot summers which are refreshed by the Tramontane wind, and close on 300 days of sunshine per year. The former continental capital of the Kingdom of Majorca, Perpignan also boasts a rich architectural heritage : Le Castillet, the palace of the kings of Majorca, the remains of the ramparts, and the Cathedral of Saint-John-the-Baptist. Perpignan is also a large urban area with about 120,000 inhabitants and well-developed infrastructures : residents in fact dispose of 64 nursery and primary schools, 12 intermediate schools, 11 secondary schools, a university with 10,000 students, "Grandes Écoles", the main hospital centre in the Eastern Pyrenees, and several private clinics. Not forgetting the Perpignan-Rivesaltes airport, the TGV hi-speed railway and A9 motorway. The latter takes you to Narbonne (65 km) in less than 50 minutes, Montpellier (150 km) in 90 minutes, and Barcelona (200 km) in 2 hours.
Even so, this Catalan town proposes a very reasonable property market : "In the segment for old apartments, prices start at under 1,000 € per sq. metre in the Saint-Jacques and Saint-Mathieu neighbourhoods, attaining 3,000 €/m2 or more in the Clemenceau area, Espace Méditerranée and on Cours Palmarole," says Adrien Riu, manager of the AgenceNeuf.fr. "Between the two, Le Moulin à Vent, an ideal address for rental investments, costs 1,200 €/m2. For houses, the average price is 2,300 € per sq. metre." Specializing in the sale of new properties (apartments, houses and building land) proposed at developer's prices, our expert explains that this type of home ranges from 2,500 to 3,000 € per sq. metre, depending on the area. "These properties at higher prices attract first-time buyers, our main clients, who are drawn by the advantages of the Zero Plus mortgage and reduced notary's fees."
First-time buyers who contact Marie des Neiges and Jacques Cabrol, owners of Cabrol Immobilier, an agency founded in 1922, are looking more for village houses without outdoor areas, priced around 180,000 €. "They are usually young, local clients". Villas are in more demand from retireees or a clientele from outside the area with higher budgets, which do not, however, enable them to settle elsewhere in the South of France. "A house of 100 m2 with a garden of 400 to 500 m2, the most common type of home, costs from 280,000 to 350,000 €. For living space of 150 m2 with a garden of 1,000 m2, one can expect to pay from 380,000 to 450,000 €." Our two estate-agents thus define "two property markets which overlap and complement each other."
Eric Bindet, associate manager of Guy Hoquet Perpignan Sud (an agency focusing on Les Fleurs, Le Clos Banet, Saint-Gaudérique and Las Cobas areas) also distinguishes two purchaser profiles : "Retirees from outside the region who do not have the means to buy properties on the coast and who thus fall back on our more affordable area, and first-time buyers looking for 1- or 2-bedroomed apartments with low co-ownership charges, with budgets ranging from 120,000 to 130,000 €". For an apartment offering living space of 70 to 110 m2 in the southern part of the town, the average price per sq. metre is 1,600 €. For a house, it rises to 1,900 €. Contemporary villas of about 100 m2 all on one floor are in the highest demand, priced from 200,000 to 210,000 €. Eric Bindet says this is a lively sector of the market : "Sellers who propose their properties at the price we have estimated find takers within 90 days".
You will also like