Perpignan, a two-tier market
With 116,680 inhabitants within its walls, the prefecture of the Pyrénées-Orientales is the third largest commune in Languedoc-Roussillon. Crossed by the River Têt and its tributary, it covers an area of 16,813 aces, 13 km from the Mediterranean and 85 km from the nearest skiing domain. France's southernmost metropolis is much appreciated by its residents, and also by seniors from all over the country, two populations with radically different means and aims.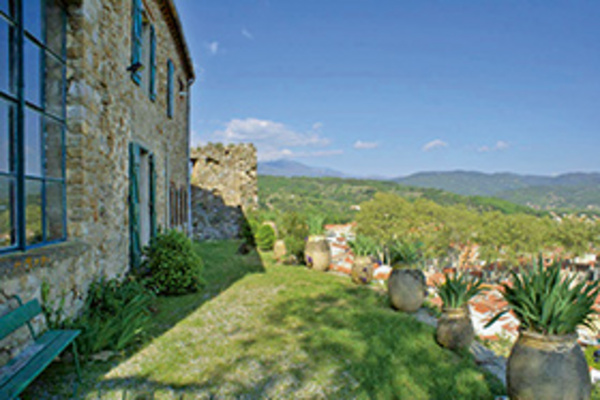 Rebuilt in the early 20th century, the Château de Céret offers living space of 300 m2, six bedrooms and magnificent views, in 5,000 m2 of grounds. 1.050.000 €. Real Estates (04 68 56 94 54).
The centre of the former continental capital of the Kingdom of Majorca gives precedence to Catalan-style houses in yellow, orange and claret-red, on three to five floors, while the more recent part of the city offers buildings designed by Haussmann. Since the announcement of the up-coming arrival of the TGV, the neighbourhood around the station has been treated to a vast rehabilitation project. Perpignan hosts the P-O's main public healthcare establishment, as well as several private clinics, and three large factories manufacturing sweets and chocolate. The Saint-Charles area (2,223 acres, 560 firms and 8,500 employees) is regarded as Europe's largest fruit and vegetable platform. The Espace Polygone Nord provides close on 3,000 jobs, joined by Tecnosud, focusing on high technology, research and the service sector, and Torremila, specializing in healthcare.
"In Perpignan intra-muros, price is the most important factor," says Jacques Hébrard of Domians Immobilier. "In the case of individual houses, one can clearly distinguish two purchaser profiles : locals who pay 200,000 € at most for a "pavillon" of 100-110 m2 with a garden of 300 m2 on an estate, and buyers transferred to the region, charmed by this Catalan city particularly well-connected in terms of public transport, its mild climate and proximity to the border with Spain, the Mediterranean and skiing resorts, who can pay up to 250,000 €." Retirees head more for the shoreline or the Pyrenean Piedmont. Out of every ten sales, seven involve apartments ; 40 % are destined to become rental investments, 60 % main homes. Definitely the most highly sought-after product, a 2-bedroom apartment of 83 m2 in good condition, with a parking place, in the neighbourhood of La Lunette just found a taker at 120,000 €. In the same area, a 1-bedroom apartment of 58 m2 in a relatively well-rated old building changed hands at 81,000 €. Finally, another 1-bedroom apartment of 44 m2 in a new residence, benefitting from a terrace, parking place and cellar, left the agency files for 77,000 €. Over and above 250,000 €, our estate-agent admits that activity is going through a real slump. Unfortunately, out of 66 houses on offer, only 22 are priced below the fatal barrier. At the lower levels, demand is there and properties sell within a reasonably short period of time.
The Nicole Huc agency is clearly labelled "top end of the market". "Most of our clients are seniors, already retired, from Paris or Lyon," says Nathalie Huc. "After selling their homes, and sometimes their businesses, they feel the need to move closer to their families or places where they grew up." Among the most recent transactions handled by the agency, she mentions a house of 235 m2 in excellent condition, benefitting from a garden of 1,200 m2 with a pool, over towards Saint-Assiscle, at 725,000 € ; a "mas" of 300 m2 in grounds of 4,000 m2 at the entrance to Perpignan, at 830,000 € ; and a top-floor apartment of 90 m2, extended by a terrace of the same size, in the centre, at 285,000 €. All the buyers were from Paris and paid cash. "In fact, in 2011 we haven't seen any requests for external financing," she adds. There is a growing trend among people wanting to return to urban settings and, ultimately, get rid of their cars. Which could well be the result of considerable embellishments carried out by the municipality. A lot of buyers are waiting for the completion of projects initiated in Saint-Assiscle : building of bridges over the Têt, development of the river banks and, more generally, on-going improvement of the road network.
James Edgecombe of Real Estates covers the southern and western parts of Perpignan, heading towards the Spanish border : he is determined to focus solely on residences of character in villages on the outskirts of the town, ranging from village houses priced at 100,000 € to prestigious estates pegged at 3 million euros. The 7,500 inhabitants of Céret, the sub-prefecture, are blessed with a micro-climate. Well-known for its Museum of Modern Art, the commune of Le Vallespir, once frequented by Picasso, Max Jacob, Georges Braque, Chaïm Soutine and André Eurly, posts prices 20 % higher for the same type of property in Perpignan. Half of the buyers here are foreign : Belgian, English, Dutch or Scandinavian. More drawn to Spain in the past, German clients now prefer this address, looked upon as a sound long-term investment. On average, transactions revolve around 400,000 €, and two-thirds of the clients are looking for holiday homes. Bargaining, to the tune of 15 %, corresponds to a logical readjustment of prices following artificial inflation. James Edgecombe says he is relatively satisfied with the cruising speed attained by the agency, chalking up two to three sales per month.
You will also like