Pays d'Aix and Pays Salonais : overlapping portraits
Comprised of communes steeped in history, Le Pays d'Aix hosts real treasures of architectural heritage at the heart of a superb part of Provence immortalized by illustrious artists. Between the Alpilles, the Camargue and the Aix-Marseille area, Le Pays Salonais has nothing to envy of its neighbours in terms of historic legacies, as witnessed by the impressive Château de l'Empéri in Salon, former residence of the Archbishops of Arles.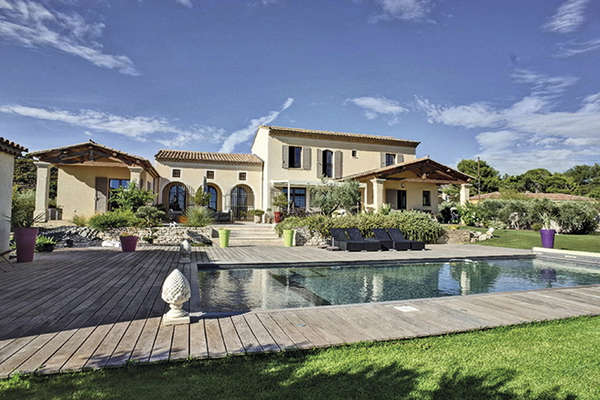 Set in enclosed and landscaped grounds of 4,600 m2 with a pool and pool-house, this charming "bastide" of 210 m2 is near the centre of Pélissanne. 965.000 €. Actus Immobilier (04 90 56 26 47).
The appeal of Le Pays d'Aix is as strong as ever. Made up of 36 communes, this metropolis enjoys an excellent reputation at national level. "Despite a slowdown in the first half of 2017 due to the presidential election, the market has remained very buoyant," explains Valentin Huc-Debat of the Agence d'Aix-en-Provence based on Cours Mirabeau. "The communes closest to Aix-en-Provence are the most sought-after, especially by people working locally and retirees from Paris or northern France. The most popular addresses include Puyricard to the north, Saint-Marc-Jaumegarde to the east, and Luynes to the south. All three benefit from an efficient transport network. Luynes is particularly appreciated by the working population for its fast access to the motorway to Marseille. It also offers excellent international schools." Looked upon almost as a neighbourhood within Aix, Puyricard is an up-market address with a charming historic centre. The strong point offered by Saint-Marc-Jaumegarde is its protected natural environment. Young retirees, not needing to live in immediate proximity to motorways, are among the most active buyers in this commune. "Demand is steady. In some areas, clients come up against fewer availabilities, though prices have remained stable," says Valentin Huc-Debat, whose recent sales involve houses with at least three bedrooms, priced from 700,000 to 1 million euros. The Agence d'Aix-en-Provence also proposes prestige properties, such as one example of 400 m2 in Saint-Marc-Jaumegarde. Offering views of the Sainte-Victoire mountain, it is comprised of an old building, recently restored and enlarged, set in grounds with a pool and playing field. It is up for sale at 1,980,000 €.
Seen as the Number 1 fall-back market for Aix-en-Provence, Le Pays Salonais is composed of 17 countrified communes whose property market posts prices 30 % lower on average than those applicable in Le Pays d'Aix. Salon-de-Provence offers lots of assets : fast access to the motorway, a medium-sized town with a good reputation, refurbished infrastructures... In the southern part of the commune, Pélissanne, Grans and certain areas in Lançon are popular among the working clientele – including a good number of employees and executives working for Airbus in Marignane. Here, a budget of around 500,000 € will bring a comfortable family villa with at least three bedrooms including a master suite, in quiet grounds benefiting from a pool. "Our property market is really on a roll. We have just chalked up one of our best years," says Damien Demongeot, one of the four managers of the Actus Immobilier agency launched in the year 2000 in Salon-de-Provence. Known in particular for its high-performance Internet tools, this agency specializes in charming, high-end properties all over Le Pays Salonais : since 2010, it has also covered Aix and its surrounding area. "Buyers are not especially more numerous than before, though they are now more determined. Each new contact leads to a successful transaction. Prices are rising and have currently attained the highest levels seen in 2012. As long as interest rates remain low and the local job market remains lively, this enthusiasm is likely to last. Though clients should be prepared to confront an array of offerings that are beginning to become scarce."
You will also like