Par Pauline Roman
At the heart of the Vaucluse, Vaison-la-Romaine and Carpentras are very appealing communes offering a much-appreciated art of living. Their beautiful landscapes are enhanced by historic, patrimonial and gastronomic riches. Close by, Mount Ventoux and Les Dentelles de Montmirail are sites well-known all over France, drawing many tourists each year.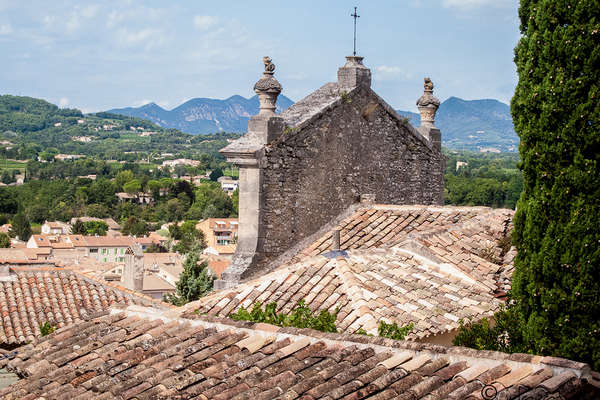 Manon Cottet, who runs Cottet Immobilier in Vaison-la-Romaine, describes a property market in Vaison itself, and on its surrounding communes, that is very lively though slightly stretched due to demand outstripping supply. "Our clients show interest in a wide array of properties : building plots, village houses, apartments as rental investments, villas as second homes, a "mas", a farmhouse... Their projects are very varied, and when it involves a life-changer, properties to renovate are especially popular." While the clientele is mainly local and foreign buyers now rare, Manon Cottet points to a massive arrival of clients from Lyon, Paris, even Brittany and Normandy. Generally speaking, two criteria emerge : an outdoor area, whether a terrace, courtyard or garden, and a good Internet connection, essential for teleworking. For this clientele, the ideal property would be a detached house with a garden, 3 bedrooms, 2 bathrooms and, if possible, a touch of character. The price range is also very wide in this area : from 50,000 € for a studio of 28 m2 in need of a revamp, in the centre of Vaison, to 700,000 € for a "mas" of about 250 m2 with character, a pool and extensive grounds, a few kilometres from Vaison.
In Carpentras, Nicolas Rouvel of the Maurice Garcin agency, points to the appealing character of this commune which is, in his words, "seeing a real boom". With its train service taking passengers to the centre of Avignon and the TGV station, its new shopping zone, a digital hub accommodating many start-ups, its Ecole Supérieure for digital art, its hospital centre and ring roads regulating the flow of traffic, Carpentras is indeed not lacking in assets. Buyers from the Vaucluse, but also Lyon, Marseille and Paris, are not mistaken, and demand remains very strong . This clientele sets its sights just as much on land as small apartments as rental investments, or houses for year-round living. "Over the past year, prices have risen by 10 to 15 % and available properties have become rare," says Nicolas Rouvel. One can expect to pay from 60,000 to 100,000 € for the smallest surface areas, 150,000 to 190,000 € for a 2- or 3-bedroomed apartment with a garage and garden in a quiet residence, and from 200,000 € for a house, like one recently sold by the agency : 90 m2 with 3 bedrooms and a garden of 400 m2, priced at 235,000 €. In this rather tense context in which competitiveness is very important, Maurice Garcin Immobilier, based in Carpentras since 1938, is a highly-prized player thanks to its experience, renown, and a committed team of negotiators who accompany clients throughout their projects.
You will also like