Opportunities in the southern part of Les Landes
Alongside the star seaside resorts of Hossegor and Capbreton, other charming communes on the Landes coast offer persuasive arguments to win over a clientele in search of holiday homes with more confidential addresses. Especially as this area with its special brand of charm currently offers some real opportunities.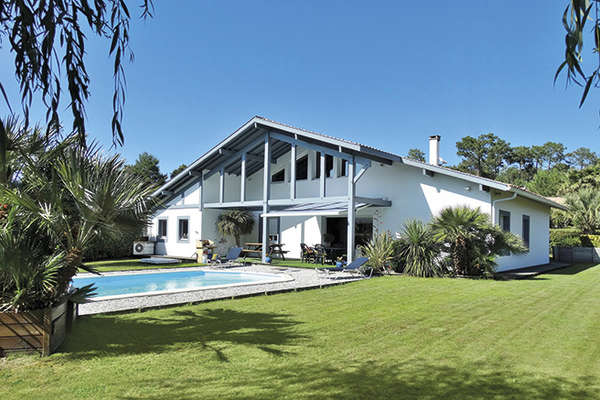 In a quiet residential neighbourhood in Labenne, this recent house of 167 m2 stands in grounds of 1,000 m2. 577.500 €. Terres & Ocean. (06 67 71 69 41)
Between the Atlantic Ocean, sandy beaches, surfing spots, pine forests, lakes, ponds, golf-courses and nature reserves, the southern part of Les Landes proposes a unique setting and a life-style very close to nature. From Moliets to Tarnos, at the gateway to the Basque country, these fabulous landscapes have contributed enormously to the region's reputation. Seignosse, Labenne, Tosse and Angresse are all charming communes whose property markets present lots of genuine opportunities.
"About 15 minutes from Bayonne and 7 km from Hossegor, Labenne has undergone considerable development over the past few years," explains Serge Pilke of the Terres & Ocean agency. "Its centre contains recent residences of real quality which appeal to people working in the B.A.B. area (Biarritz, Anglet, Bayonne), while houses facing the ocean still post attractive prices." The most modest can be targeted for as little as 250,000 €, with houses in the upper bracket, such as a recent 4-bedroomed villa with good security, 4 bedrooms, a large through lounge and heated pool, on offer on the right side of 600,000 €.
Bordering on Hossegor, Seignosse is no longer seen as a periphery market, but rather as an address in its own right. Just next to the harbour of Capbreton and the marine lake of Hossegor, the commune boasts an international golf-course. On the seafront or in the shade of the pines, its villas, mostly old, are in need of refurbishment. Which results in low sales prices, often negotiable, for prime locations. "Some outstanding properties can be found on the commune of Seignosse, like one contemporary villa of 200 m2, overlooking the golf-course and canopy of tree-tops, with breathtaking views of the ocean, the Pyrenees and the forest." The price of such a dream ? A little over 2 million euros.
"Stocks of available properties have risen throughout the area," says Julien Moser of Moser & Sable Immobilier. "Even in Hossegor and Capbreton, there have been fewer buyers in 2014 than in 2013. A perfect property in a beautiful location between the sea and lake still sells quickly, with hardly any bargaining. On the other hand, one suffering from an eyesore or noise, or in need of extensive renovation, is much more likely to stay on the market for quite a while," says our expert, who this year noticed a comeback on the part of a few British retirees fond of the "Seignosse Océan" area . "Some buyers are in fact drawn by addresses that are less well-known and which have succeeded in developing at a mellow pace. In Labenne, for example, these clients can acquire recent detached houses facing the ocean at much more appealing prices than in Hossegor." Posting prices at record lows, with a sluggish market which favours buyers, and outstanding properties offering excellent value for money, it seems that, at the start of this new year, the market in the southern part of Les Landes indeed proposes opportunities which are definitely not to be missed !
You will also like