On the shores of Lake Geneva
Sandwiched between France and Switzerland, Lake Geneva is in the shape of a comma 73 km long. It is bordered, on the Savoy side, by the communes of Saint-Gingolph, Meillerie, Lugrin, Neuvecelle, Maxilly-sur-Léman, Évian-les-Bains, Publier, Thonon-les-Bains, Anthy-sur-Léman, Margencel, Sciez, Excenevex, Yvoire, Nernier, Messery and Chens-sur-Léman.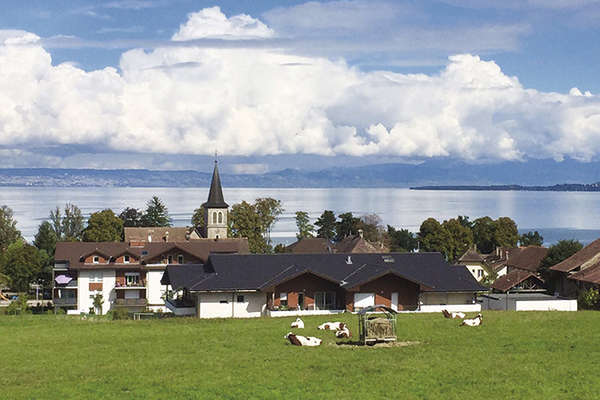 In Excenevex, this remarkable villa of 220 m2 designed by an architect and set in grounds of 2,690 m2 offers a view of Lake Geneva. 1.093.750 €. New House Immobilier (04 50 17 43 71).
The tone is set by imposing properties with high security, hidden behind palisades along the road from Excenevex to Yvoire. Some of the world's wealthiest people – including the royal family of the United Arab Emirates - have treated themselves to luxury residences on the banks of this lake of worldwide renown, strategically located between France and Switzerland. Fortunately, a view of Lake Geneva is not a prerogative solely reserved for billionaires. More classic properties also offer this advantage. Apartments enjoying a view of the lake are naturally highly sought-after, as both main residences and high-quality rental investments. "Whether in Evian-les-Bains or Thonon-les-Bains, a view of Lake Geneva immediately justifies higher prices," says Damien Andronikou of New House Immobilier, an agency specializing in communes around the lake since 2010. Among transactions reflecting today's market, he mentions the sale of a pleasant 2-bedroomed apartment in Evian, benefiting from a terrace with a clear view of the lake, which sold for 265,000 €. "Buyers have a good choice, and the prices posted are often up for negotiation."
Further back from the shore, a number of communes currently offer attractive opportunities in the sector comprised of desirable houses. "Over the past few months, clients with comfortable budgets exceeding 1 million euros have staged a comeback . Mostly from Switzerland and northern Europe, they had not been very active on this market for the two previous years," explains Christian Petament, manager of the Affair Immo agency. It is clear that the lights are now green for go in this segment, in which most of the properties post prices about 20% lower than in 2012. "A property up for sale four years ago at around 1.1 M € can now be had for 800,000 €. Though prices are now stable and seem to have bottomed out." Buyer enthusiasm can also be explained by mortgage rates which are still extremely low. In Vétraz-Monthoux, Christian Petament just handled the sale of a substantial residence of 190 m2 set in grounds of 2,200 m2, in a good location at the top of the hill. Offering a clear view of Mont Blanc, this high-end property was acquired for around 1.2 M € by Swiss clients intending to make it their year-round home. In Archamps, a property built in the 1990's on over 2.5 acres of land, offering generous volumes and a view of Lake Geneva, is up for sale at 1,575,000 €. Alternatively, a contemporary villa of 300 m2, featuring a lounge of 150 m2, in a highly-prized neighbourhood in La Thoy, is on offer at 1,090,000 €.
You will also like