On-going development of the area around Montpellier
Benefiting from the dynamism of a modern agglomeration, Montpellier's peaceful, luxuriant back-country now offers an appealing property market. Illustrations from the areas around Prades-le-Lez and Aniane/Gignac...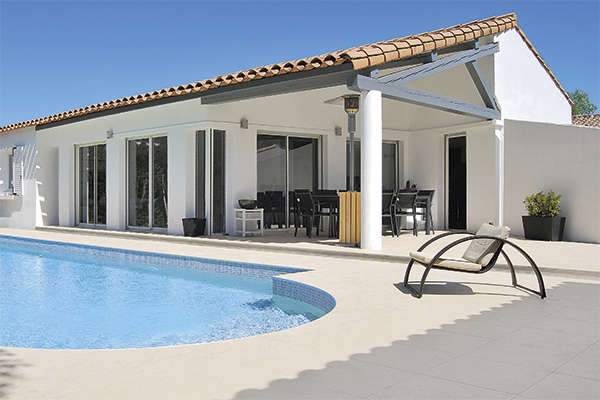 In Saint-Clément-de-Rivière, this villa of almost 160 m2 is set in grounds of 1,000 m2 with a pool. 595.000 €. Abaccus Immobilier (04 99 62 29 19).
A commune with about 5,000 residents less than 10 km north of the centre of Montpellier (a 20-minute drive), Prades-le-Lez is pursuing its integration into the greater urban area. Chalking up a constant rise in its population figures (it is expected to accommodate almost 7,000 people by 2020), it will also soon welcome the arrival of the tramway, offering further prospects for development. Property prices here range from 3,000 € per sq. metre for apartments to 4,500 € per sq. metre for soundly-built villas. "Though there are very few apartments here. The market mainly consists of villas, and especially higher-end properties," says Philippe Panel, manager of Abaccus Immobilier, an agency opened in 2003 in Prades-le-Lez, specializing in Montpellier north. "By way of example, our portfolio currently contains a villa of over 150 m2 in Saint-Clément-de-Rivière (5 minutes from Prades-le-Lez), in grounds of 1,000 m2 with a pool, priced at 595,000 €. Also in Saint-Clément, we recently handled the sale of a renovated house of 165 m2 in 1,100 m2 of grounds, priced at 560,000 €." Another recent sale : in Saint-Jean-de-Cuculles (10 minutes from Prades-le-Lez), a building plot of 2,000 m2 at 260,000 €. "Today's prices are lacking in stability : the pace of business has slowed down, which allows for more bargaining."
Based in Aniane, a commune with about 3,000 residents north-west of Montpellier, Christophe Joullié, manager of Saint-Benoit Immobilier, covers another sector undergoing real development in the back-country : "We are only 15 or 20 minutes from Montpellier. Together with Gignac, whose buses run services to La Surdouée for just 1 euro, we are gradually becoming the third ring around the city". Opened in 1998 and specializing in homes of character, the agency recently sold a 2-bedroomed village house of 90 m2 with a terrace in Gignac, in need of some refurbishment, for 107,000 €, and a contemporary 3-bedroomed villa of 110 m2 with a pool for around 300,000 €. "Village houses with outdoor areas proposed at about 150,000 € are, in fact, the most widely sought-after properties, followed by "pav­illons" priced from 200,000 to 220,000 €. They are most­ly acquired by first-time buyers.Then we receive enquiries from retirees who have sold their homes to move closer to Montpellier, with budgets ranging from 300,000 to 400,000 €." As for building land, a plot of 800 m2 in Saint-Jean-de-Fos (10 minutes from Gignac) recently sold for 110,000 €. According to Christophe Joullié, prices in this locality are relatively stable, despite showing a modest decline.
You will also like