Obernai and its surrounding region : the countryside near Strasbourg
Situated about 20 kilometres south-west of Strasbourg, the medieval town of Obernai and its neighbouring communes form a pleasant area, typical of Alsace, between town and country. An attractive fall-back area for people working in Strasbourg.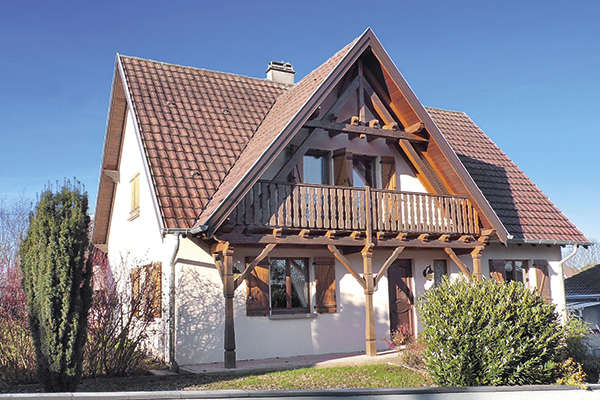 Situated in Griesheim-près-Molsheim, this house of 130 m2 comes with a garden of 700 m2. 385.000 €. Kayser Immobilier (03 88 50 44 07).
First and foremost, Obernai offers a remarkable historic and architectural heritage : the birthplace of Saint Odile, patron saint of Alsace canonized in the 11th century, it has lots of half-timbered houses and monuments (the belfry, town-hall, the "Halle aux blés" or corn market...), making it the region's second largest tourist destination after Strasbourg. Popularity which is also clearly due to the fact that the commune lies on Alsace's famous "Route des Vins" with its luxuriant vineyard landscapes. Obernai is also, however, home to 11,000 residents who benefit from one of the largest pools of employment in the Lower Rhine (large industrial groups, in particular), as well as proximity to Strasbourg (about a 20-minute drive). Though it could well be the reverse...
"These arguments draw an ever-growing number of Strasbourgeois," says Guillaume Eckert, manager of Eckert Immobilier in Rosheim (7 km from Obernai) which handles transactions for all kinds of properties all over the département, but more specifically in Obernai and its surrounding region. "Especially as prices, while high compared to the rest of the region, are lower than in Strasbourg." For apartments, they start at 1,000 € per sqm., reaching 4,000 € in Le Mont National, the most expensive neighbourhood. "In the town centre, they range from 2,000 to 2,500 € per sqm." In the case of houses, "one can expect to pay from 100,000 € for a town house to 800,000 € for a villa, as prices are strongly influenced by the size of the grounds". Most demand is for houses with gardens of about 500 m2, priced around 250,000 €. As for building plots, "relatively rare", they range from 25,000 to 30,000 € per 100 m2 in Obernai, 20,000 to 25,000 € on the outskirts.
Olivier Kayser, manager of Kayser Immobilier, has been based in the neighbouring commune of Bischoffsheim since 1976. Chalking up 80 % of his activity within a 20-km radius around the agency, he confirms "a high level of prices, despite slight declines" and "a market that is now pretty much stable". His latest transactions consisted of a 2-bedroomed appartment of 78 m2 at 135,000 € and a chalet of 140 m2 in 1,100 m2 of grounds at 355,000 €. "We also occasionally sell houses at 500,000 €, or even 600,000 €." He also mentions high demand for properties between 250,000 and 300,000 €. His clientele is very varied, "though there are now fewer first-time buyers". Another trend : "Clients take longer before making up their minds. Once rather common, acquisitions based on "love at first sight" are now increasingly rare".
You will also like