Nyons : at the heart of the Drôme Provençale
The main town in the Drôme Provençale, Nyons offers a full range of amenities in an authentic and particularly pleasant environment. An ideal address for retirees and those looking for holiday homes...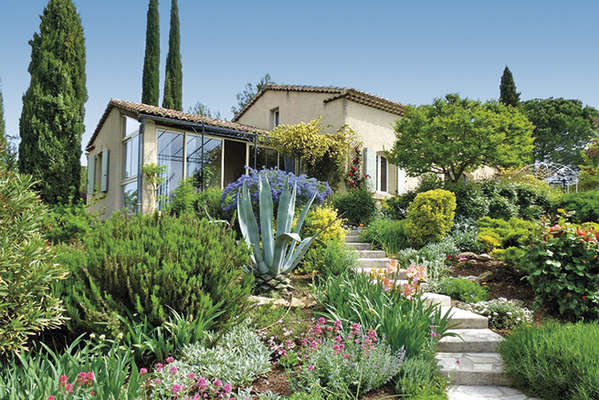 In the area around Nyons, this recently sold villa of 150 m2 stands in 2,200 m2 of grounds with a pool. 474.000 €. Boschi Immobilier (04 75 26 09 78).
A town with under 7,000 residents in the middle of the Drôme Provençale, Nyons benefits from living conditions of remarkable quality. Surrounded by mountains at mid-range altitudes (Essaillon, Garde-Grosse, Saint Jaume and Vaux), it is sheltered from the Mistral wind, and also enjoys sunshine comparable to that of the Côte d'Azur. The result is an exceptional micro-climate explaining its nickname : "Petit Nice". The commune also benefits from a delightful natural setting dotted with pretty vineyards and olive-groves (renowned olive-oil from Nyons in fact has its own AOC label). Not forgetting its rich architectural heritage, which includes a Romanesque bridge (inaugurated in the early 15th century), the Place des Arcades, the Forts area and feudal château. Finally, Nyons enjoys easy access (40 km from Orange, 50 km from Montélimar and 60 km from Avignon) and well-developed infrastructures : hospital, schools from nursery to secondary level, lots of shops...
It is therefore not surprising that the town mainly attracts young retirees all set to live here on a permanent basis : "With budgets ranging from 250,000 to 350,000 €, they are usually looking for 3-bedroomed villas all on one floor with gardens of about 800 m2 in quiet neighbourhoods. One such property with a garden of 600 m2 recently found a taker at 295,000 €," says David Boschi, manager of Boschi Immobilier, a family-run agency opened in Nyons in 1960, now with two more branches in the Drôme Provençale (in Buis-les-Baronnies and Dieulefit) and three in the northern part of the Vaucluse (Vaison-la-Romaine, Valréas and Visan). "Older retirees tend to look for apartments - usually with two bedrooms - in the town centre, costing from 150,000 to 200,000 €. Then there are clients searching for holiday homes, from Belgium, the Paris and Lyon regions, occasionally Great Britain, Switzerland or Germany : those who spend from 300,000 to 400,000 € and are often planning to settle here permanently when they retire ; others looking to enjoy the peacefulness of a family residence in the country, at prices ranging from 300,000 to 500,000 € ; and those setting their sights on a lovely stone "mas", from 700,000 to 1 million euros." A dedicated service, Boschi Immobilier Prestige, handles this high-end clientele.
"Given the very pleasant life-style proposed by the region around Nyons and the presence of a good range of amenities, retirees wanting to settle here comprise the main buyers locally," confirms Yann Bonnet, co-manager of Bonnet Immobilier, an agency based in Nyons since 1971, covering the area within a 30-km radius around the town. "Demand thus mostly targets houses, preferably all on one floor, with three or four bedrooms. For example, we just sold two recent villas of about 120 m2 on an estate, with gardens of 600 and 700 m2, priced at almost 300,000 € each, and a 5-bedroomed villa in grounds of 2,000 m2 with a pool and elevated view, for 380,000 €." As for apartments, "also popular among this clientele", prices range from 1,800 to 2,500 € per sqm in old buildings. Holiday homes are also seeing an upturn in activity : "Benefiting from significant rises in prices in the Luberon from the early 2000's, Nyons became a very appealing fall-back market for pieds-à-terre. There were lots of sales, but then a slowdown as from 2008, and especially in 2014. However, there seems to have been a real turnaround since the beginning of this year, with a noticeable return in particular on the part of buyers from Belgium, Paris and Lyon".
The manageress of Nyons Immobilier, Marie Capiaux moved to Nyons 25 years ago. She also covers the area to the west, towards the Rhône Valley (about 10 km away), and to the east, on the road to Gap : "2013 and 2014 were in fact very quiet years, with lots of properties up for sale but few buyers. Business has picked up significantly since the start of 2015. Prices which had declined throughout this difficult period are now stable. They have also returned to a reasonable level compared to the considerable rises seen prior to 2007. There has, in fact, been a welcome adjustment". This agency's clientele is also mostly comprised of active young retirees : "They include locals wanting to move closer to the town and shops, buyers from Paris, Lyons or abroad, with a good number of Swiss and Belgians gradually returning, along with British clients". They are in search of houses all on one floor, like one villa of 130 m2 built in 2005, with a gar­den of 600 m2, recently proposed at 310,000 €, but also apartments with lifts in the town centre : "We recently sold a 1-bedroomed apartment of over 40 m2 at 95,000 €, and a 2-bedroomed apartment of almost 75 m2 at 164,000 €".
You will also like