Nice's "Golden Square", a wealth of privileges
Encompassing the bourgeois addresses of Boulevard Victor Hugo, Avenue de Verdun, Rue du Congrès, Place Masséna and all their adjacent streets, the Golden Square is the most highly-prized neighbourhood in the centre of Nice. This prime location allows for a visually pleasing, urban and cultural lifestyle, enhanced by enjoyment of the sea and beaches, as it lies at the edge of the most fashionable part of the legendary Promenade des Anglais.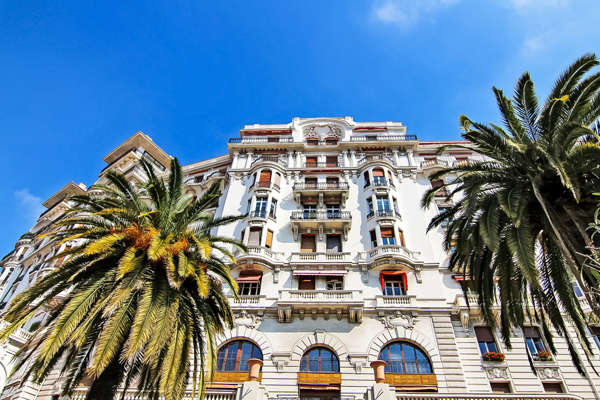 A 3-bedroomed apartment of 193 m2 is available in this very smart bourgeois building in the centre of Nice, a short walk to the Golden Square.
Strategically based for the past 15 years between the palatial Negresco Hotel and the Palais de la Méditerranée, Cosmopolitan Real Estate offers a portfolio of about 30 properties meeting the expectations of a clientele comprised of holiday residents and investors. "Due to double taxation, many Italians are selling, and our current buyers are mostly French and Scandinavian," says Barbara Pietra, manageress of this independent, family-run agency. "The Golden Square is above all appealing for its privileged location and recognized status. Our clients are looking for a lifestyle enabling them to do everything on foot, proximity to the best shops in town, good restaurants, cultural addresses and, of course, the beach... We offer properties of quality ranging from 5,000 to 6,000 € per sq. metre, and impeccably renovated properties extended by terraces or offering a view of the sea, and benefiting from parking facilities, which can attain 10,000 € per sq.m." By way of example, Barbara Pietra mentions the recent sale of a studio priced at 230,000 € offering all of these exceptional criteria. Buyers come here for their holidays, opting for seasonal rentals the rest of the year. "Renovated properties sell more quickly than those in need of work, and if they are attractively fitted and furnished, so much the better !" adds this multilingual estate-agent, whose agency is open even on weekends and national holidays.
Launched seven years ago on the Côte d'Azur by Scottish brothers Stuart and Andrew Pratt, Blue Square opened its first agency in Nice on the legendary Promenade des Anglais in December, 2016. A strategic address for this firm providing expertise in transactions for a mainly international clientele. "An international approach is the agency's real DNA. In Nice, we have a team of nine : German, English, Italian, Russian, French...," says Géraldine Alberti, happy to have joined this go-ahead agency. "At Blue Square, English-speaking clients will have a single contact speaking their language throughout the entire transaction process. Clients are thus more confident and feel genuinely assisted. We help them through all the various phases, even after the sale has been completed. And though we cover several areas, the Golden Square is one of the neighbourhoods most highly sought-after by our clientele : they are looking for a lifestyle enabling them to do lots of things on foot, with most of them also wanting to live in a bourgeois apartment benefiting from well-preserved noble features such as parquet floors, high moulded ceilings... In their eyes, this embodies the French art of living." In fact, many roads in the Golden Square are lined with elegant buildings offering remarkable architecture. Rarely available, these apartments of character are currently presented on the market from 7,000 € per sq.m. Those with 2 or 3 bedrooms are the most widely sought-after by this mainly English and Scandinavian clientele, in search of a second residence with potential to become their main address when they retire. "A view of the sea is also very frequently high among their search criteria. In the area near the Albert 1er gardens, the most desirable properties can attain 18,000 € per sq.m," adds Géraldine Alberti, who is currently offering several small apartments on the Promenade des Anglais, including studios starting from around 200,000 €.
You will also like