New developments in the basin around Geneva
The agglomeration of Geneva is pursuing its expansion at a very steady rate. Developers are contributing to this go-ahead approach by building numerous residences of quality, either urban or harmoniously set into the rural scenery. Their point in common ? Being close to a customs post or on the path of the future CEVA line. Over 4,000 homes are currently being built in the area.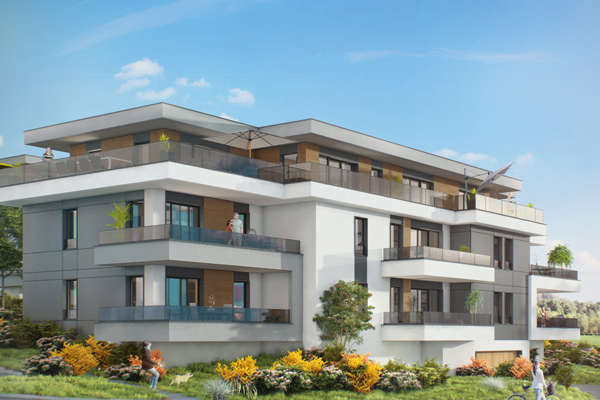 This high-end residence on the hills of Vétraz-Monthoux offers plunging views of the Geneva basin. Delivery scheduled for the 1st quarter of 2019. T2 from 203.000 €. Affair Immobilier. (04 50 39 01 01).
"Over the past six months, we have seen a growing number of new developments in our sector," says Christian Pétament of Affair Immobilier, a family-run agency launched in 1996 and based since 2009 in Collonges-sous-Salève. "They mainly appeal to people working across the border and a few Swiss clients who decide to acquire their permanent new home in one of these elegant residences conforming to current standards. 2- and 3-bedroomed apartments are the most widely sought-after." The agency is currently marketing several lots in Feigères, Ambilly and Vetraz-Monthoux. Like "L'Eclot Sud" in Feigères, these residences are often on a human scale. Surrounded by natural greenery, this example is comprised of 15 apartments with 2 to 5 main rooms. Larger and very close to the customs of Mon Idée, less than 1 km from the border with Switzerland, the development "L'Initiale" offering 40 apartments on five floors will lie at the heart of a new eco-neighbourhood. On the hills of Vetraz-Monthoux, "Equinoxe" will propose high-end appointments and plunging views of the Geneva basin. "On average, prices range from 3,900 to 4,500 € per sq.m., with top-floor apartments naturally costing more," explains Christian Pétament. "In the "Equinoxe" development, the penthouse of about 100 m2 prolonged by a terrace of 80 m2 is priced at 6,400 € per sq.m." With reduced notary's fees and the guarantee of living in energy-saving residences, many buyers are opting for a new build, especially as most recent properties now back on the market here cost from 3,800 to 4,500 € per sq.m. The only fly in the ointment : deliveries scheduled from 15 to18 months. "Some clients prefer to wait for the final phase of the marketing programme, when delivery is very close. Cancelled reservations occasionally offer real opportunities when people change their minds, often due to changes in their professional or family lives."
"The liveliness in the market and new developments is undeniable. To such an extent that certain properties up for sale draw the interest of developers," says Pasqualina de Pompéi, manageress of De Pompéi & Jeandet, with her partner Sylvie Jeandet. Since it opened in 2012, the agency has specialized in areas around Geneva, Annemasse and Le Pays de Gex. By way of example, Pasqualina de Pompéi mentions one of her exclusive mandates : a family property of 320 m2 set in mature grounds of 1,900 and situated 20 minutes from the customs of Le CERN, close to shops. Offering generous accommodation with 6 bedrooms, 2 bathrooms and a spacious living-room of 70 m2 with a fireplace, this house on offer at 1,365,000 € could well be of interest to a private buyer or a developer convinced of the potential of its highly-prized location and planning to turn it into an intimate residence. In addition to quality properties of this kind, the agency is also marketing several new high-spec developments such as "Le Paradoxe" on Avenue de Mossingen in Saint-Julien, 20 minutes from the centre of Geneva. Apartments here start from 368,000 €, with spacious bright penthouses on the top floors. Another example is "Le Sakura" in Ambilly, on the perimeter of the area to be served by the future CEVA line. Offering generous surface areas, this address consisting of apartments with 2 to
5 main rooms has been designed to incorporate environmental considerations. An argument that counts nowadays.
You will also like