Narbonne : steady demand
Crossed by the Canal de la Robine, listed as part of UNESCO's World Heritage in 1996, the sub-prefecture of the Aude is home to 51,000 people, 87,500 in its greater urban area. Situated in the regional nature park of La Narbonnaise en Méditerranée, it lies between the massif of La Clape and the ponds of Bages-Sigean.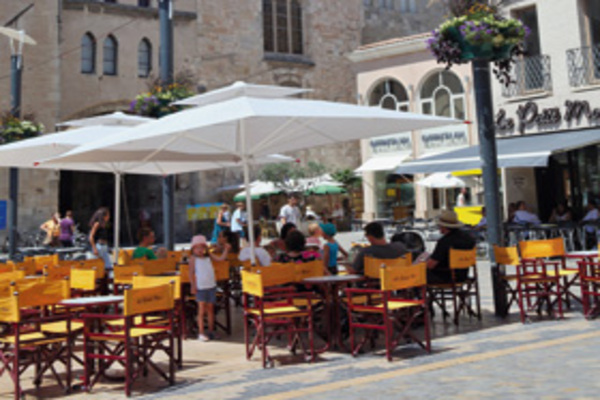 Narbonne offers some magnificent views, such as the Canal de la Robine and Palais des Archevêques. Photo : Ville de Narbonne
Founded by the Romans in 118 B.C., the centre of Narbonne bears traces of its rich past, from the age of Antiquity to medieval times. Surrounded by scrubland and vines, the town now markets wines from the Aude. Thanks to the sandy beach 5 km long in the seaside resort built over 10 km away, Narbonne also makes a living from tourism. Between Montpellier and Perpignan, it covers an area of 42,721 acres (of which only a quarter has been urbanized) from the Mediterranean to the maritime foothills of Les Corbières, thus boasting the largest surface area in Languedoc-Roussillon. At the heart of a rail and road hub, it offers easy access to the capital of L'Hérault, as well as Toulouse, Bordeaux, Marseille and Tarascon. With daily TGV connections to Paris, Lyon and Lille, its train station is the busiest in the "département". The town proposes sports facilities, a theatre, mediatheque, cinemas, a golf-course and a university centre focusing on law, economics and social sciences. All sectors combined, Narbonne has a relatively old stock of housing, two-thirds devoted to main residences, 80 % consisting of large apartments with 3 or 4 main rooms.
"We haven't observed any particular crisis in Narbonne-Ville, largely dedicated to year-round homes, as long as sellers stick to real market prices," says Sabine André of Sélection Sud Immobilier. Stocks have been rebuilt and demand is steady. Offering satisfactory appointments, though lacking a garage or terrace, a 1-bedroom apartment changes hands at around 70,000 €, a 2-bedroom apartment at about 90,000 € and a 3-bedroom apartment up to 130,000 €. This estate agent notes real enthusiasm for 1-storey houses in the town centre. Unfortunately, they are few and far between. One example of the kind, on the first belt around the centre, with living space of 95 m2 (three bedrooms) and a garden of 400 m2, just sold for 237,000 €. On the market for individual houses, the majority of transactions ranges from 200,000 to 300,000 €. Generally speaking, 60 % of purchasers are from within the area, the rest are mainly comprised of retirees or future retirees from all over France. The percentage of investors proves to be quite significant. The popular one-bedroom apartment priced at 70,000 € offers rental potential of 400 € per month. Narbonne-Ville posts prices about 20 % higher than those in Carcassonne. A difference explained by its closeness to the sea, liveliness and micro-climate. "Low interest rates and the PTZ are extremely enticing arguments for first-time buyers," comment Guylaine Bertrand and Laurence Billard of the Agence du Soleil. Between the loan repayment required for a one-bedroom apartment costing 60,000 € and the rent one would pay to occupy it, the difference is not so daunting, with prospects offered by the first option naturally more promising over the long term. Our estate-agents have noticed a massive influx of investors from outside the region. Some of them opt for small apartments costing 45,000-60,000 €, hoping to obtain a gross return of 8 %.
Others buy entire buildings which they then resell in smaller units. A building composed of four apartments with a yield of 9 % recently sold for 180,000 €. Another consisting of three apartments, in good condition and very well-situated, left the agency's files for 160,000 €. While Narbonne-Ville is not entirely comparable to the coastal strip, which systematically follows the rules applying to seaside resorts, it nevertheless shows considerable disparities from one neighbourhood to the next, in terms of both prices and purchaser profiles. Seniors, for example, appreciate high-class apartments with 2 bedrooms, elevators, garages and terraces, in Les Halles and Les Quais, priced at around 200,000 €, while large families prefer villas with at least four bedrooms, on the outskirts of the town.
You will also like