Montpellier : an attractive real estate market
In con­stant movement, the eighth largest city in France (pop­ulation approx. 265,000) offers an ever wider array of advantages in terms of amenities and infrastructures. The result is an attractive market with relatively stable prices.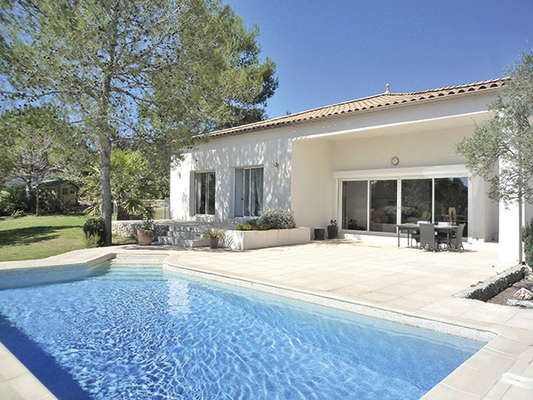 Five minutes north of Montpellier, this contemporary villa with 5 main rooms is set in grounds of 1,600 m2. 695.000 €. Rambier Immobilier (04 67 60 55 33 / 04 67 55 27 44)
Ideally located 10 km from the Mediterranean Sea, Montpellier is a sunny city whose population has continued to grow over the past 50 years. And for good reason : first of all, "La Surdouée" benefits from a highly efficient public transport system, especially with the tramway (four lines in service, two more in the pipeline). The LGV then takes passengers to Paris in 3 hrs 15 mins., and the airport, catering for one million passengers, proposes flights all over Europe. Other assets include seven hospitals and clinics making for a high-performance healthcare facility. The main feature of Montpellier is, however, its student life : proposing renowned establishments (the faculty of medicine is, for example, the world's oldest) and 55,000 studients (21 % of the total population), it is France's second largest university town, after Poitiers. Finally, the city boasts an architectural legacy comprised of over 100 listed buildings or Historic Monuments, particularly in the medieval centre known as L'Ecusson.
"These arguments and the town's vitality make Montpellier a stable market, which is not the case for neighbouring départements, where prices are going down," says Jérémie Gouveia, sales manager with Immobis, a family-run agency based since 1981 on the Place de la Comédie (the city's central square). For a studio or an apartment with one main room in Montpellier, one can expect to pay from 65,000 to 90,000 € (depending on its proximity to L'Ecusson), while an apartment with two main rooms costs from 90,000 to 160,000 €. For a 2-bedroomed apartment, prices range from 160,000 to 280,000 €, more for those with 3 bedrooms. "For houses, the smallest range from 300,000 to 350,000 €, the most expensive from 800,000 to 1.2 million euros." According to our estate-agent, properties offering the stylishness of old buildings are the most highly sought-after. "Those enjoying privacy or an outdoor area are also in high demand." On the other hand, it is harder to find takers for properties in the 250,000 to 350,000 € bracket. Very diverse, the agency's clientele is mainly comprised of executives, employees and retirees in search of main homes.
Maryse Rambier is in charge of sales for the Rambier Immobilier group created in 1969 and based in the northern part of Montpellier. Her portfolio contains in particular new 1-bedroomed apartments priced from 134,000 €, new 3-bedroomed houses of approx. 90 m2 all on one floor, designed by architects, on gated estates, priced from 264,000 to 269,000 €, or contemporary 4-bedroomed villas in grounds of 1,600 m2 at 695,000 € (less than 10 km north of Montpellier). Her most recent sales include an apartment of 88 m2 on Avenue d'Assas priced at 212,000 €, and a villa of 180 m2 with renovation required, in 1,600 m2 of grounds 15 minutes north of Montpellier, at 380,000 €. "Today's buyers attach a great deal of importance to a prop­erty's design and location," notes Maryse Rambier. Most of her clients dispose of budgets of around 300,000 €, "though enquiries can involve properties of up to 1.3 million euros". Rambier Immobilier also specializes in building land : "We were the town's first creators of estates and, still today, we can propose many building plots from the Vaucluse to the Spanish border, which are of interest to first-time buyers. For example, we currently have on offer a plot of 589 m2 just 10 minutes north-west of Montpellier at 149,000 €, and an exceptional example of
2,000 m2 at 480,000 €".
You will also like