Montélimar and its nearby area, a buoyant market
Situated between Lyon and Marseille, Montélimar throws open the doors to Provence. The capital of nougat is a lively town, both economically and culturally. Its privileged geographic position between the sea and mountains makes it a highly-prized area among home-hunters. Not forgetting neighbouring little villages offering peacefulness, charm and lots of sunshine.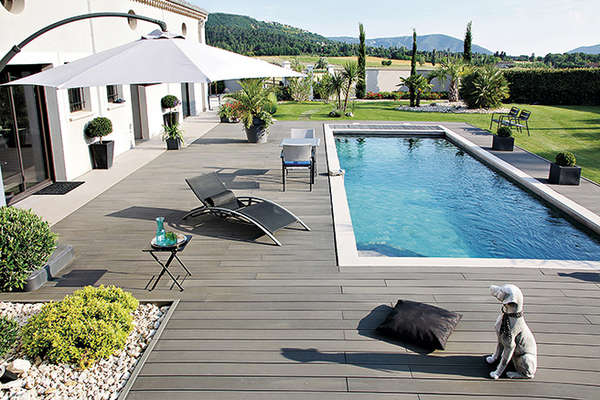 In the midst of nature yet near Montélimar, this very smart contemporary residence of 245 m2 features a living-room of over 80 m2. With a pool, summer patio and grounds of 1,500 m2, the amenities offered by this very desirable property are of very high quality. 690.000 €. Tarriotte immobilier (04 75 51 82 05).
"In Montélimar and its agglomeration, buyers are often looking for houses of 95 m2 on average with small gardens, ranging from 200,000 to 230,000 €. This type of property is usually of interest to first-time buyers and retirees, in search of year-round homes," says Philippe Tarriotte, manager of the Tarriotte Immobilier agency. For the past 30 years, this property expert has been working in Montélimar, but also in close collaboration with the agency's three subsidiaries within a radius of 25 km around Montélimar. "Dieulefit, Grignan and Alba-la-Romaine are tourist villages drawing a mixed clientele, ie. comprised of both retirees and the actively employed. Here, demand also includes holiday homes." From large cities in France but also abroad (Switzerland and Belgium...), clients are drawn by this sunny, countrified region. "Sunshine is the main requirement for non-local buyers. One kind of property they like to invest in is the stone Provençal "mas", stylishly renovated. Priced at around 550,000 €, such a property will offer living space of about 200 m2 in grounds of at least 2,000 m2." A lively market with steady demand from buyers from many different horizons, promising Montélimar and its surrounding area a rosy future.
"Contemporary houses have taken a more prominent place on the market over the past years. They are very popular among a diverse clientele. Which is also true for unusual properties, such as lovely old stone houses, renovated to offer modern interior design," explains Christine Navarro-Gougne, manageress of the Provence Immobilier agency founded in Montélimar in 1960. A specialist on this area for over 20 years, she proposes a full range of properties in her agency close to the old town centre. "In the case of apartments, first-time buyers tend to look for properties priced from 1,200-1,400 € per sq. metre in residences east and south of the town. More well-off clients focus more on apartments close to the old centre, near amenities. They are usually looking for top-floor apartments in residences with good-sized terraces, priced around 300,000 €." Ranked as one of the least expensive towns in the south of France, Montélimar has lots of assets which appeal to a clientele from outside the region, whose key criteria consist of being near the sea and mountains. "Areas about 10-20 km east and south of Montélimar are also in high demand. Here you find very lovely little villages such as Sauzet, Allan and Saint-Paul-Trois-Châteaux. They are particularly popular among retirees and the actively employed, in search of homes of character," says Christine Navarro-Gougne. "A smoothly-flowing market, marked by an upturn in activity encouraged by low mortgage rates, but mainly due to a decline in prices, still the case, though now to a lesser extent, which means we can look forward to a good year in 2017."
"Sixty per cent of the market in our area consists of houses, 40 % of apartments," says Aurélie Caulay, manageress of the Aurel' Immo agency for the past 10 years." We are now seeing considerable demand from first-time buyers under 35 years old, taking advantage of the "Taux Zéro" loan. They are looking for houses around Montélimar with 3 bedrooms and little gardens, with budgets from 150,000 to 220,000 €. That is the current trend, though our clients are mostly retirees aged from 55 to 65, who account for 70% of our activity. They usually come from north and north-eastern France, with the great majority from the Ile de France and Rhône-Alpes regions. They aim to acquire a main or holiday home in or around Montélimar either to be closer to their families or for the climate. These buyers generally invest in rather recent houses priced from 250,000 to 350,000 €. Another area highly-prized by our clients is that of the villages in the Drôme Provençale, east of Montélimar. Houses here are built of stone, and therefore more expensive : from 350,000 to 850,000 €. In the first half of 2016, our market showed lots of vitality," concludes Aurélie Caulay.
You will also like