Montélimar : a crossroads between Provence and urban living
Nicknamed "The Gateway to Provence", Montélimar is a medium-sized town which appeals to both holiday makers and investors. Its closeness to large cities also makes it a sought-after address among the actively employed, looking for a quiet setting in which to live.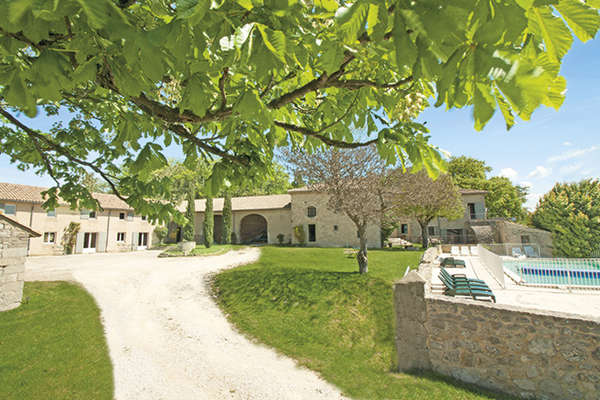 This superb stone property with a very lovely chapel offers living space of 900 m2 plus 300 m2 of outbuildings on about 86.5 acres of land consisting of meadows and woodland. 1.850.000 €. Solis Immobilier (04 75 01 97 97).
In the Rhône Valley, at the confluence of two rivers, Montélimar is a successful blend of a lively town on a human scale and a privileged Provençal setting. The region offers lots of attractions : its well-preserved landscapes are widely appreciated by a clientele in search of peacefulness, beautiful lavender fields, truffle oaks and olive-trees, interspersed by the slender silhouettes of cypress trees against a backcloth of mountains with moderate, welcoming reliefs.
Denis Allouche, manager of Solis Immobilier in the Drôme Provençale, specializes in properties of character. He mentions that a property's accessibility is also an important factor : "Homes are particularly appealing if they are easily accessible from major transport networks (Grenoble, Lyon-Marseille motorways, rail connections), but also for their authenticity. The properties available are very diverse : highly sought-after village houses with gardens, "mas", small farmhouses, vineyard estates and châteaux. Prices of village houses range from 220,000 to 600,000, and even 1 million euros, depending on their precise location, a garden at the heart of a village, the view, surface area and state of repair. Provençal "mas", or country houses, range from 500,000 to 1 million euros for the same reasons". By way of example, Denis Allouche mentions a stone property of approx. 100 m2 in Dieulefit, a pretty house in grounds of 5,200 m2 with a view, up for sale at 214,000 €. "Then there are properties which are rare or outstanding on account of their location, their indoor and outdoor amenities, materials and appointments, whose prices can easily exceed 1 million euros."
For Philippe Tarriotte, manager of Tarriotte Immobilier, one of the region's main arguments is also its climate. "Our clientele includes lots of Parisians and people from northern France. They come here to enjoy the region's sunshine, for their holidays or even retirement. This has a real influence on the type of property they want : stone-built homes are, of course, in high demand, though buyers also insist on quiet settings, protected from any nuisances. Much more attention is also again being paid to energy consumption. And a property's outdoor area is obviously an important factor, though very large grounds are not particularly popular." With his four different agencies, Philippe Tarriotte covers the entire region. In the area of La Bégude, he is proposing a very lovely house of 120 m2 in a hamlet, priced at 235,000 €. Tastefully restored, it offers a beautiful lounge/living-room of 40 m2 and a delightful garden. Benefiting from the charm of houses built of stone, it is in impeccable condition in technical terms and features underfloor heating with a heat pump.
The property market in Montélimar itself is different from that of its surrounding area, with a larger concentration of apartments and co-owned properties. The town in fact offers a wide variety of homes, in terms of both styles and prices. As explained by Christine Navarro-Gougne, manageress of Provence Immobilier : "We cover the town of Montélimar and the area within a 25-km radius, which enables us to propose properties ranging from apartments to "bastides". Housing here is rather old, but it has aged well : many properties have been renovated, and you can find "hybrids" offering stylishness combined with very modern interiors. We also see the regular appearance of new developments. Two kinds of buyers are interested in these properties : older clients who sell their large houses in favour of top-floor apartments with terraces, and buyers from Montélimar or elsewhere, looking for smaller and more practical surface areas". Prices for new apartments range from 2,700 to 3,500 € per sq. metre ; in older residences, a 1-bedroom apartment will cost about 70,000 €, while penthouses fetch from 300,000 to 400,000 €. Provence Immobilier also proposes houses for sale, such as a contemporary villa of 223 m2 of elegant, streamlined design. Set in a leafy park of 4,300 m2 with a pool and jacuzzi, it is on offer at 633,000 €. "If you are fond of nature, biking, walking or other outdoor activities, this is really an ideal address, with the bonus of the sea just 1hr30 away, which explains the region's popularity among our clients."
You will also like