Montauban : appealing property prices at the heart of Tarn-et-Garonne
The most densely populated town in Le Tarn-et-Garonne with almost 60,000 inhabitants, Montauban stands right at the centre of this luxuriant region. A very pleasant town to live in, near Toulouse, with appealing property prices...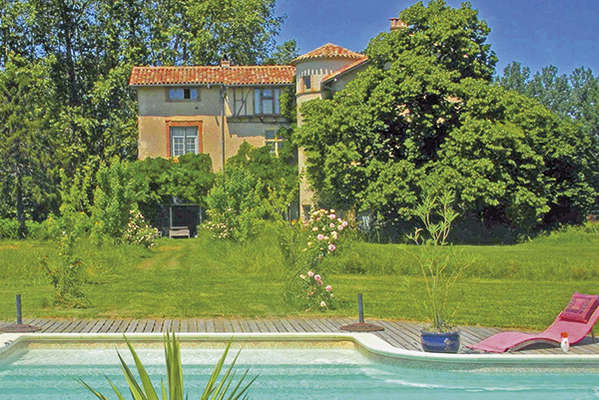 At the heart of protected countryside, this 17th-C. building offers 7 bedrooms, 5 bathrooms, a swimming pool and annex. Less than 1 M €. ABI Agence Bourdarios Immobilier (05 63 66 99 66).
About 50 km north of Toulouse (30 minutes on the A62 motorway), Montauban is a lively town benefiting from all the necessary infrastructures : a train station on the TGV line, 7 intermediate schools, 6 secondary schools, 4 universities, a business school, a hospital centre and several clinics. Well-known for the "400 cannon shots" episode that occurred in 1621 during Louis XIII's siege of the town, but also for having hosted the famous painter, Jean-Auguste-Dominique Ingres, it is also a town of art and history boasting over 40 listed monuments.
As explained by Régine Pautal Cecco, manageress of the Cabinet Occitan, an agency opened in 1972 in the town centre offering sales, rentals, management and surveying services : "Those looking for apartments here will find studios and apartments with 1+ main rooms from 35,000 to 60,000 €. For two main rooms, one can expect to pay 60,000 to 95,000 €, for three main rooms, 75,000 to 130,000 €. Those with 4 main rooms range from 95,000 to 190,000 €. These prices vary depending on the age of the building, its appointments and location". As for houses, those with 4 main rooms (approx. 85 m2) on gated estates start from 115,000 €, while detached villas of approx. 90 m2 range from 140,000 to 220,000 €. "For a house of 100 m2 or more, prices range from 180,000 to 400,000 €. Finally, large properties start from 350,000 and go up to 750,000 €." Affordable prices which are apparently stable for apartments and "Toulousaines" in the town centre, offering gardens and garages. Régine Pautal Cecco's clientele consists of first-time buyers, retirees and investors from all over France, who entrust their management to her.
Charles-Henri Bourdarios manages ABI Agence Bourdarios Immobilier, an agency launched in 2003 in the Villebourbon neighbourhood (on the left bank of the Tarn) and specializing in properties of character : "The price per sq. metre ranges here from under 1,000 to 2,000 € for charming apartments which have been properly renovated, though the majority of sales concern those between 1,300 and 1,600 €/m2. In the case of houses, we are talking more about 1,400 to 2,000 € per sqm". Some very good opportunities are also to be seized in the sector for houses : "Houses to renovate with real potential can be found from 120,000 €". As for building land, plots of 800 m2 cost from 55,000 € in the ring around Montauban, ie. less than 70 € per sqm. "In town, however, building plots rise to about 100 € per sqm., and even higher : for example, we recently sold a plot of 700 m2 for 79,000 €, ie. over 110 € per sqm." Charles-Henri Bourdarios says these prices are holding relatively steady, even if "tougher bargaining now leads to frequent reductions". He is cont­acted by two types of clients : "Young couples buying their first homes who fall back on Montauban after realising that they can't afford prices around Toulouse, and people looking forward to retirement".
Florian Buttigieg, manager of Belvia Immobilier Montauban, and Barbara Chabrol who directs this agency (as well as the one in Saint-Sulpice) created in 2010 and specializing notably in properties allowing for tax reductions, confirm these particularly low levels of prices : "Montauban benefits from an appealing market due to its wide variety of properties but, above all, due to its unbeatable prices : today, you can in fact become the owner of a 3-bedroomed house with a garage on an estate for about 120,000 €, a 1 bedroom apartment for 60,000-70,000 €, or a 2-bedroom apartment with a parking place for 75,000-85,000 €". These arguments certainly seem to entice Toulousains, with the "Cité d'Ingres" thus becoming a "suburb of Toulouse". Other trends in evidence today : "While many tenants are becoming home-owners, the number of acquisitions is rising in the 20-30 year age-bracket. We are also seeing a growing number of people approaching retirement age who take the plunge and acquire a property that they can leave behind. Finally, these lower prices mean that singles can now also buy a home". Because prices have, in fact, seen a slight decline since January. "Even so, this new price-grid coupled with historically low mortgage rates makes Montauban a sound value in terms of a long-term financial and property investment. Investing here guarantees security as compared to other towns posting higher prices, which offers Montauban flourishing pros-pects for the years to come."