Monaco : the epitome of luxury
A prestigious city-state, the Principality of Monaco boasts some of the highest property prices in the world. A coveted destination, catering for a very wealthy clientele in search of sunshine, low taxation and, above all, security.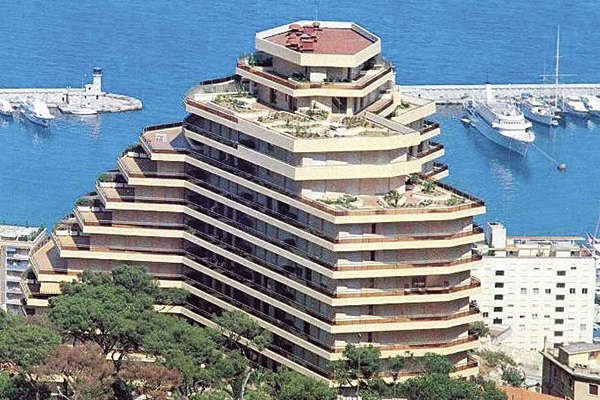 In the luxury residence "Les Ligures", this apartment of 75 m2 benefits from a terrace of 20 m2. 2.450.000 €. Monte-Carlo Estates (00 377 97 77 12 21).
On the shores of the Mediterranean, about 20 km east of Nice and 12 km west of the French-Italian border, Monaco is indeed a prime location on the Côte d'Azur. Famous for its Formula 1 Grand Prix, top-notch establishments (Hôtel de Paris, Casino de Monte-Carlo...) and its ruling family (a consitutional monarchy now presided by HSH Prince Albert II of Monaco of the Grimaldi dynasty), it occupies a densely built-up area of approx. 2 square kilometres (part of which was reclaimed from the sea thanks to a vast in-filling operation), making it the second smallest state in the world after the Vatican. With over 35,000 resid­ents, it is in fact the world's most densely populated country. Comprising almost 150 nationalities, Monaco's population also tops the worldwide list of revenue per inhabitant. Its resources are derived from its service sector, commercial activities, tourism, VAT and real estate.
"Property prices in Monaco are among the highest in the world : depending on the neighbourhood, the residence, the type of property and the view, they range from 16,000 to 100,000 € per sq. metre. Such price levels are only found in London, Moscow or Japan, and possibily on the Croisette in Cannes, but in much lower proportions," says Didier Villa, director of Monte-Carlo Estates, an agency based in Monaco for the past 12 years. The market is largely dominated by the apartment segment, though a few rare houses are available : "We currrently have a property of 600 m2 on offer near the Jardin Exotique, priced at 25 million euros. These types of houses can, however, be counted on the fingers of one hand". His latest sales consist of an apartment of 200 m2 in a luxury seafront residence, priced at 8.5 million euros, and an apartment of 58 m2 with 1-2 main rooms, at 1.6 million euros. Every so often, new developments rise from the ground, such as the Tour Odéon, a double skyscraper 170 metres high (the tallest building in Europe) currently under construction, "in which the price per sqm. will range from 50,000 to 90,000 €". Didier Villa's clients are wealthy industrialists and businessmen, often from Eastern Europe, "looking for the sun, low taxation and, most importantly, the security provided by the Principality".
Confiriming this quest for security, Chrystelle Gery, manageress of the Deplanche Immobilier agency (founded in the 1980's), and her associate Flora Picard are also rarely contacted by French or Monégasque buyers : "Our clientele is mainly comprised of North Europeans from England, the Netherlands and Belgium, together with Russians. Now­adays, Italians are more likely to be sellers than buyers". The most well-off treat themselves to enviable apartments with three or four main rooms in the 5 to 6 million euro bracket, though most of the agency's transactions concern mid-range properties priced from 1 to 3 million euros. "In other words, very lovely studios benefiting from terraces and garages, or 1- or 2-bedroomed apartments with reduced appointments." The agency recently sold a studio with a view and parking place for 1.4 million eurso, and a 1-bedroomed apartment near the Casino with a parking place, for 1.8 million. Relatively rare, parking facilities are inevitably highly prized. "A garage fetches from 150,000 to 250,000 €." Even rarer : private mansions. "They are truly exceptional properties worth over 50 million euros. Only about ten of them actually still exist here in Monaco." Chalking up strong and constant rises since the 1980's, Monaco's prices have nevertheless seen a slowdown since 2008.
"A studio costs from 900,000 to 3 million euros, a 1-bedroomed apartment from 1.3 to 6 million. For two bedrooms, you need a budget ranging from 1.5 to 10 million euros. For three bedrooms, from 2 to 20 million, sometimes even more," says Bruno Cuevas of Cote Sun Luxury Real Estate, correspondent of Realtymmo in Monaco. By way of example, a 1-bedroomed apartment of 88 m2 which recently changed hands for 3,050,000 €. As for detached houses, "rarissime on the market", prices are systematically over 10 million euros. Building land ? "That remains the prerogative of large Monégasque construction companies." And new developments ? "They sell very well, despite their high prices : from 70,000 to 80,000 € per sqm., more for apartments on high floors. For example, luxury apartments in a residence undergoing construction in the "Golden Square" were acquired very quickly. Only the lower floors, fitted out as commercial premises, are still available." Most of Bruno Cuevas' clients are looking for 1-bedroomed apartments at prices between 2.5 and 4 million euros. "The majority are foreigners residing in Monaco, or investors attracted by the security offered by the Principality's property market."