Megève, an international resort
70 km from Geneva, at altitudes extending from 1,113 to 2,350 metres, Megève is a niche market not subject to speculation, but characterized by an international clientele and properties highly-prized as second residences. Here, the price per sq. metre is one of the highest in France.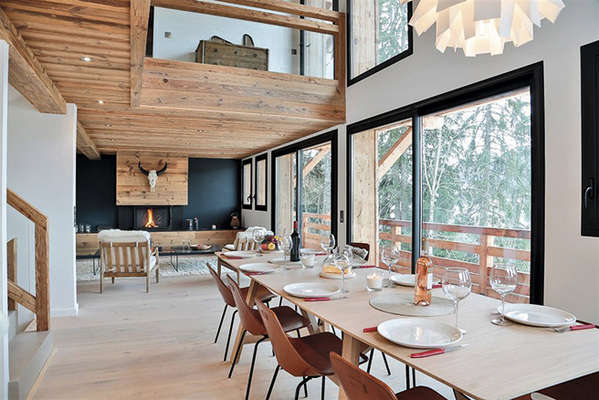 This bright new chalet is a few hundred metres from the centre of Megève. Set in grounds of 1,000 m2, it offers nurmerous high-spec appointments and an elevated view of the mountains and village. 2.650.000 €. Coldwell Banker Alps Realty (04 50 55 58 53).
An hour's drive from Geneva airport, at the heart of the Alps in the canton of Sallanches, the saga of Megève began around 1910 when the Rothschild family chose it as their holiday home, making it a rival to the Swiss resort of Saint-Moritz. Nicknamed the "21st arrondissement of Paris" by poet Jean Cocteau, Megève, home to about 4,000 year-round residents, is still one of the resorts most highly-prized by an international elite. Its 300 km of slopes and proximity to Mont-Blanc make it a favourite destination for fans of skiing and other disciplines, though it also owes its reputation to the charm of its narrow pedestrian streets lined with luxury boutiques, its star-rated restaurants, and the many events held here year long : the Polo Masters, Snow Golf Cup, Jazz Festival, International Show Jumping...
Directed by Jean-Baptiste Pierlot, the Coldwell Banker Alps Realty agency covers Megève, Combloux, Saint-Gervais and the entire Pays du Mont-Blanc. An essential player in asset management for the past 50 years, the agency offers its French and international clients, especially Swiss and Italian, fabulous chalets and exclusive apartments in prime locations. "Most enquiries come from a family clientele looking for properties with at least 2 or 3 bedrooms in highly-prized areas such as Le Jaillet, Le Mont d'Arbois, Rochebrune, and the centre," explains our specialist. "Prices for old properties to renovate start from around 7,000 € per sqm, while new or impeccably refurbished homes range from 10,000 to 15,000 € per sqm. The most desirable chalets offering high-spec appointments can fetch up to several tens of millions of euros, though most transactions in this sector range from 1.5 to 5 million euros."
"Benefiting from a magnificent setting, Megève has succeeded over the years in consolidating its magnetic appeal by blending authenticity and modernity. Megève is a prestigious resort, but has remained a charming village with horse carriages and traditions," says Christophe Monod, who created the Immo Valley agency in August 2015 with his partners Grégoire Monget and Emilie Lorin. Specializing in seasonal rentals, the agency offers a vast array of high-quality properties, from studios to chalets, with high-spec appointments and all modern comforts. Depending on their precise location and type, these properties are proposed from 850 to 9,500 € per week on average. As for sales, Immo Valley covers a wider area stretching from Combloux to Les Saisies. "Generally speaking, demand focuses on the centre of the village, Le Mont d'Arbois and Rochebrune. People like the area of Les Pettoreaux for its rural atmosphere, and Le Jaillet has seen extensive development over the past few years. Prices are posting a slight rise, especially for outstanding properties, and 2- or 3-bedroomed apartments benefiting from large lounges," explain the agency managers, also noting high demand for properties with unimpeded views. By way of example, he mentions the recent sale of a 2-bedroomed split-level apartment in Les Pettoreaux. Enjoying a panoramic view, it sold for 8400 €/m2 in less than 6 months, a very reas­onable lead-time for this area.
You will also like