Megève, a legendary resort
An historic Alpine village which has succeeded in preserving its identity, traditions and authentic charm while developing tourist facilities of international quality, Megève, a member of the prestigious "Best Of The Alps" association, benefits from a magnificent setting at the heart of Le Pays du Mont Blanc, 70 km from Geneva.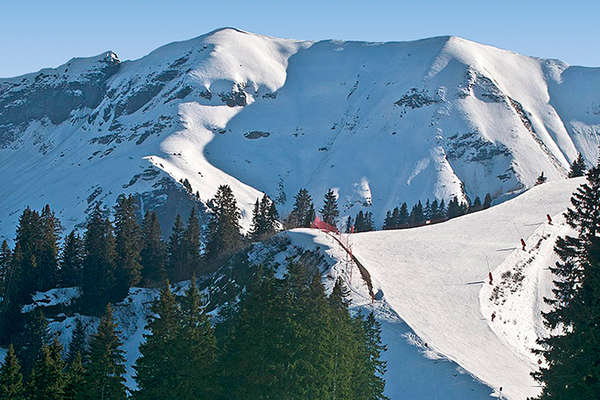 The village of Megève lies at the heart of the Evasion Mont Blanc skiing domain, offering 445 km of slopes in a fabulous setting.
At altitudes ranging from 1,113 to 2,350 metres, Megève is still one of the resorts most highly-prized by many Parisians and an international clientele. In addition to the domain's 445 km of ski slopes, they appreciate the charm of its narrow streets lined with luxury boutiques, its excellent hotels with spas, and its star-rated restaurants. Lively all year round, the commune hosts many sports and cultural events. In summer, it offers a wide choice of outdoor activities.
Opened in 2015 by Christophe Monod, Grégoire Monget and Emilie Lorin, the Immo Valley agency specializes in sales and seasonal rentals, and is now launching an activity as a property agent. "We are seeing steady demand for both sales and rentals. Mostly from Geneva, Paris, Lyon, but also Belgium and the UK, our clients remain loyal to the charm of our resort and its quality lifestyle. The most highly-prized properties are currently 2-bedroomed apartments with comfortable surface areas, quite near the centre and not far from the slopes," says Christophe Monod, whose portfolio consists of numerous properties of quality and different types (from small surface areas to chalets in various parts of Megève, to renovate or already renovated). The centre of the village is in high demand, but with few offerings, which explains a rather high price per sq. metre. The areas of Le Mont d'Arbois, Rochebrune and Le Jaillet are also sought-after addresses. "You can find a property to renovate here from 6,500 € per sq.m," adds our specialist, mentioning as an example of his recent sales two apartments in Le Jaillet, near the Palais des Sports. "We have just completed the sale of a 2-bedroomed apartment to renovate, priced at around 7,800 € per sq.m, and that of a 1-bedroomed apartment, impeccably renovated and offering a clear view of Rochebrune, priced at 9,000 € per sq.m."
While belonging to a worldwide real-estate network created in 1906 and specializing in prestige markets in 49 countries, Coldwell Banker Alps Realty offers all the attributes of a proximity agency. "We participate actively in the resort's local life through an official partnership with the municipality of Megève, and our "syndic" activity, via our SGIA subsidiary managing almost 300 co-owned properties, enables our negotiators to maintain a high level of relevance in their activities," says agency manager Jean-Baptiste Pierlot. With portfolios of high-end properties comprised of apartments from 7,000 to over 11,000 € per sq.m and chalets from 1 to 10 M €, the agency has an international clientele showing growing interest in the French Alps Mont Blanc destination. "Our market is holding up well, with stable prices and rising demand since the presidential election. It has brought a larger flow of clients and a growing number of visits." While apartments are the most widely sought-after properties among a clientele with budgets ranging from 200,000 to 1.5 M €, chalets offering authentic charm and appointments in today's taste are still highly sought-after. "Depending on its location and characteristics, a (very) high-end chalet will now be presented from 6 to 20 million euros. At prices under 4 M €, we can offer high-quality properties, though they do not meet the full quota of exceptional criteria." By way of example, Jean-Baptiste Pierlot mentions a new chalet within easy reach of the village centre. Blending contemporary and Savoyard styles, this prop­erty with four en-suite bedrooms is up for sale at 2,850,000 €.
You will also like