Marseille : dynamism and diversity
Bathed in light, between its authentic ports and lively metropolis, the Phocean city can lay claim to an outstanding natural heritage - the national park of the Calanques (or creeks), vineyards and seafronts -, increasingly attracting a Parisian and international clientele.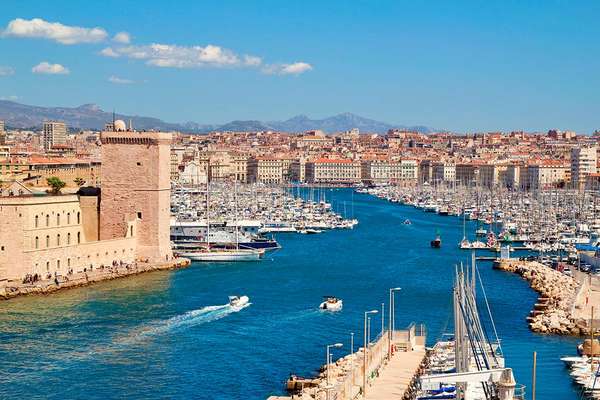 Cosmopolitan Marseille is a city of contrasts between its old neighbourhoods, sunny Corniche, its ports and wild creeks.
"Real estate is doing well in the high-end neighbourhoods of the metropolis (Corniche, Roucas Blanc, Bompard, Vieux Port) and the very fashionable village of Cassis," says Claude Leonetti, manageress of the Barnes International agency in Marseille. Around the Corniche, the 7th and 8th arrondissements are the most coveted neighbourhoods where substantial villas and prestigious residences enjoy panoramic views of the sea from their gated parks. Rare properties in prime locations on the coast sell quickly, and at prices at the top end of the range - up to 10,000 € per sq.m for a villa on the Corniche with a sweeping sea view. Elegant private mansions in the Monticelli neighbourhood and vast apartments in Haussmann style on Rue Paradis, Rue Périer and Le Prado are distinguished by their "Golden Square" label. Here one can expect to pay from 3,500 to 6,500 € per sq.m. Along the seafront, the 8th arrondissement stretches out towards the more picturesque addresses of La Pointe Rouge, La Madrague and Les Goudes with their renovated old fishermen's houses, where prices range from 4,500 to 7,000 € per sq.m. Heading towards the Old Port, the neighbourhoods of Endoume, Malmousque and Bompard are highly prized by a local and Parisian clientele in search of authenticity. Charming town houses overlooking Le Vallon des Auffes are becoming rare on the market. Depending on locations and appointments, prices range from 3,500 € for the Old Port to 10,000 € per sq.m for the seafront on the peninsula of Malmousque. "There is less bargaining room than before as buyers realise that properties in sought-after areas do not stay long on the market," notes Claude Leonetti. "On the other hand, unusual properties or those in need of renovation are confronted by more bargaining and take longer to sell."
Specializing in the marketing of new apartments, Bonaparte Promotion proposes a very wide array of properties in Marseille which appeal especially to rental investors. " Urban planning projects in the Phocean city benefit from a 10-year plan," explains Regional Director Kazim Erdogan. "They include Euromed which offers properties at particularly appealing prices, whether for year-round homes or rental investments. This is a high-growth market with prices per sq.m ranging from 3,500 to 4,500 €. Though one has to remember that acquiring a new property brings several advantages, such as the possibility of borrowing up to 40% of the mortgage at zero interest rate, as well as lower charges. Monthy repayments - charges included - to acquire an old property worth 100,000 € would thus allow a buyer to acquire a property worth 200,000 € in a new development." The Pinel scheme encourages investors to acquire apartments with 1 or 2 main rooms which find takers very quickly on the rental market. "We are seeing a shortage of new 1-bedroom apartments in Marseille. Buyers now have to wait until the end of 2021 for delivery. Even so, we are being contacted by a rising number of clients who want to deal with a single intermediary who can present all the properties available and assist them in each stage of the transaction."
You will also like