Lyon's 1st and 2nd districts, varied offerings
Sharing the Presqu'île, the 1st and 2nd arrondissements of Lyon are comprised of radically different neighbourhoods. From Saint-Nizier to Les Jacobins via Ainay, Perrache, Sainte-Blandine and the new Confluence area, their property markets offer lots of contrasts. An overview...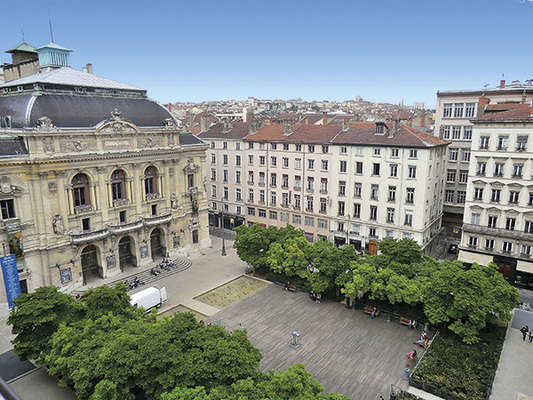 A split-level 2-bedroom apartment of 83 m2 (floor area 115 m2) on the 1st floor of a handsome building with a lift offers this view of the Place des Célestins. 629.000 €. Billon France Immobilier (04 78 42 00 86).
A highly coveted address, Lyon's 1st arrondissement can be split into two distinct markets : that of the Presqu'île and that of the slopes of La Croix-Rousse. The Presqu'île is characterized by its middle-class heritage drawing families in high income brackets. Here, handsome buildings are comprised of apartments with high ceilings and well-preserved noble features. "Prices haven't shown any weakness in this area," says Hélène Mollière of L'Immobilière Saint-Nizier Orpi. "Properties are rarely available here and sell easily ; demand is always strong." Apartments here can sell at prices beyond 5,500 € per sq. metre. The second market, that of the slopes of La Croix-Rousse, contains many Canut buildings (once used by the city's silk-weavers), now freshly renovated. "This neighbourhood has evolved very quickly and its living conditions now attract many young couples and families with middle to high income, who can treat themselves to an apartment in loft style or with a large mezzanine. They appreciate the community life and the area's closeness to many cultural venues," explains Hélène Mollière. Several roads climbing from the Place des Terreaux to the Plateau de la Croix Rousse (4th district) offer this type of building. On the Montée de la Grand-Côte, Saint-Sébastien or Carmélites, buyers can find apartments from 2,800 € per sqm., as long as they are prepared to undertake total renovation.
The 2nd arrondissement also offers a number of contrasts. From smart, sturdy residences built in the 19th century in Ainay to modern blocks of apartments comprising the new Confluence neighbourhood, there is a good array of choice. "Our portfolio ranges from small surface areas from 25 to 50 m2 suiting rental investors to prestige prop­erties in prime locations, offering fabulous views," says Véronique Deydier of the Billon France Immobilier agency at the heart of the 2nd arrondissement. "Our clients are mostly looking for apartments with 1 to 3 bedrooms. If a property does not have any major defects, it will sell within a reasonable amount of time as demand is very steady. This arrondissement is clearly split in two : the Perrache train station is a psychological barrier for the people of Lyon." As for prices, the 2nd arrondissement is composed of different micro-markets : Quais Tilsitt, Saint-Antoine, Les Célestins, Place des Jacobins... Handsome bourgeois apartments can attain 7,000 € per sqm., as exemplified by a split-level 2-bedroom apartment on Place des Célestins. Enjoying a sweeping view of the square and rooftops, it is up for sale at 629,000 €. Modern properties in new residences with avant-garde architecture and the low-energy BBC label offer the advantage of comfortable living space, garages, lifts and real terraces. They are priced from 5,500 to 7,500 € per sqm. As for properties to ren­ovate, if they are in a good location, they find takers very quickly : one example is an apartment of 100 m2 on the Quais de Saône, offering a very pleasant view. In need of total renovation, it sold for 3,680 € per sqm. "This property found a new owner in just one day," says Véronique Deydier. "It embodies the type of opportunity one can find in the 2nd arrondissement. Once the work is completed, it will be worth about 5,000 € per sqm."
Local markets that are still buoyant, the 1st and 2nd arrondissement of Lyon are not seeing any significant declines in prices, and the most highly-prized neighbourhoods do not seem to be affected at all by the general economic slowdown.
You will also like