Lyon, 7th and 8th arrondissements : a metamorphosis
Lyon is changing, renovating, redefining its contours. The 7th and 8th arrondissements are abandoning their industrial vocation to become neighbourhoods in which charm and avant-garde architecture go hand-in-hand with quality living conditions.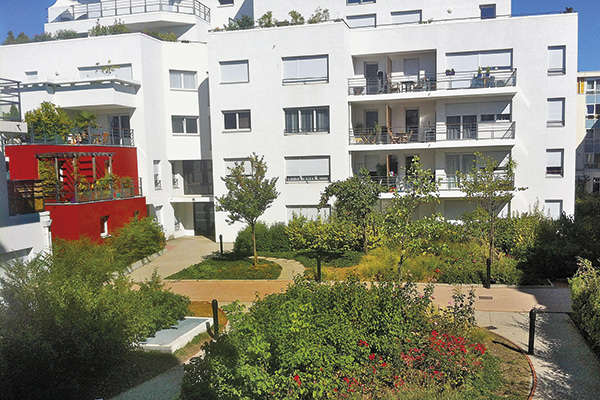 In the 8th arrondissement, a 2-bedroom apartment of 65 m2 with a south-facing terrace is available on the first floor of this small gated residence built in 2010. 265.000 €. Everlink Immobilier
The 7th is the arrondissement in Lyon which lies furthest to the south of the left bank of the Rhône. The city's largest arrondissement with almost 62,000 inhabitants, it stretches from the Guillotière neighbourhood, bordering on the 3rd arrondissement, to that of Gerland with its park, famous stadium and fluvial port. It originally consisted of zones dedicated to industry and transportation. Today, the Gerland neighbourhood is undergoing a complete metamorphosis, thanks in particular to its new buildings offering innovative architecture, and the area devoted to university life which hosts, for example, the Ecole Normale Supérieure, decentralized from Paris. The 7th arrondissement also accommodates the Halle Tony Garnier, the town's leading cultural centre. As of February, the Raymond-Barre Bridge enables passengers to take the tramway from Gerland to La Confluence. "In the 7th, all kinds of properties are now finding takers," says Alexia Gelas, sales manager for the Agence Neyret. The market here is even registering a slight rise due to a scarcity of offerings. "Demand is clearly outrunning supply. A property in satisfactory condition proposed at the right price can sell within a week," says our expert. A blend of charming neighbourhoods (Saint-Louis, Saxe, Gambetta), university zones and rehabilitated industrial wasteland, the 7th offers lots of assets. Studios sold to investors for about 100,000 € are then rented out at approx. 550 € per month (for 30 m2), 2-bedroom apartments cost around 220,000 €, those with 3 bedrooms up to 400,000 €, if they benefit from a terrace. "Buyers often ask for apartments with terraces ; we don't have enough of this kind of property."
Bordered to the east by the town of Bron and to the south by Vénissieux, the 8th arrondissement has also experienced extensive industrial development - as evidenced by the many wastelands now undergoing rehabilitation. Nicknamed the "green and flowery line", the entire route of Tramline 4 is lined with linden, ash and plane trees... Both practical and pleasant, it has provided fast access since 2013 to the city centre and Part-Dieu train station (in less than 15 minutes). The 8th plays host to numerous cultural institutions such as the Médiathèque Marguerite Duras, Maison de la Danse and Musée Lumière. Investors, families and first-time buyers are drawn by the quality life-style and village atmosphere that now reigns here, thanks in particular to neighbourhood living made possible by the many proximity shops. Thomas Bernard, manager of the Everlink Immobilier agency, specializes in the area. "Here, the most sought-after prop­erties are either family apartments or small surface areas destined to become rentals. We have registered high demand for the Mermoz neighbourhood where we propose new residences and students' rooms, and also for Grand Trou, an area which has kept all its promises regarding development and now offers excellent real-estate opportunities. In direct contact with the centre and criss-crossed by efficient public transport (buses, the tramway, metro), this neighbourhood is a real village which has been sketched out at the gateway to Lyon." Now autonomous thanks to their proximity shops, lively thanks to their activity zones, and offering easy access to all the amenities and attractions offered by Lyon, the 7th and 8th arrondissements have all the main arguments to attract - and convince - their clientele.
You will also like