Luberon : majesty at the heart of Provence
Unfurling its natural wonders in a rare environment, the traces of its past and its fine art of living, the Luberon enjoys a reputation which extends well beyond the frontiers of France.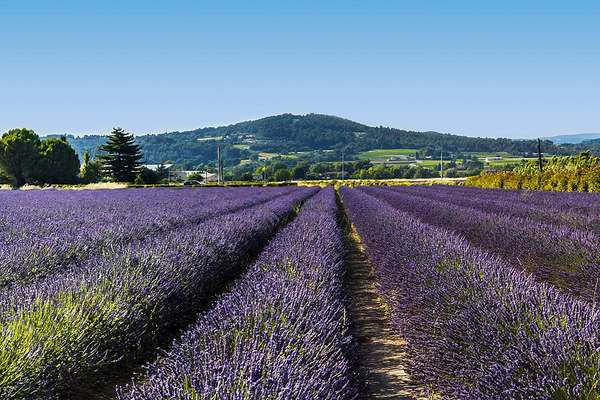 The Luberon dons its deep mauve cloak with a typically Provençal fragrance. Sumptuous scenery to admire from June until late July, when the lavender fields are in flower.
Of Belgian nationality, Rudi Janssens is this year celebrating the 20th anniversary of the Groupe Janssens Immobilier Knight Frank, now consisting of seven agencies in Provence, from Mount Ventoux to Saint-Tropez, dedicated to the sale of enviable residences targeting a largely international clientele. "Our partnership with the Knight Frank network gives us access to an exclusive group of Anglo-Saxon clients with comfortable budgets, looking for outstanding second homes. Our Bonnieux and Lourmarin agencies allow us to offer a selection of high-end properties on both slopes of the Luberon, north and south." The "Golden Square" and its medieval hill-top villages - Gordes, Ménerbes, Bonnieux, but also Murs, Roussillon and Joucas - appeal to a clientele with budgets ranging from 500,000 to 1.2 million euros, in search of a lovely country house, with a preference for old properties in very good condition, near villages and, most importantly, offering panoramic views of surrounding nature. "This market went through several successive periods of falling prices, until 2016," explains Rudi Janssens. "Since then, favourable mortgage rates and tax policy stability have led to a rise which, in certain localities, has attained up to 20%. Even so, the market remains highly volatile. Furthermore, it is dominated by holiday residences and therefore posts longer completion times, even for properties proposed at fair prices." Faced with an abundant supply of availabilities, buyers wait to find their "perfect" home. To do so, they are also prepared to broaden the geographic scope of their search, even distancing themselves from the Luberon. Always highly-prized, the market can nevertheless claim a steady rise in the number of transactions.
Specializing in property sales, the Pierres et Traditions agency has been based in Apt for almost 20 years, with two branches in Céreste and Roussillon enabling it to cover the Grand and Petit Luberon. "Our portfolio, which currently contains close on 300 properties for sale, is characterized by wide diversity : the lower end of the range revolves around 200,000 € while some outstanding residences can exceed 2 milion euros," says Alice Sanchez. "Our French and international clients - Swiss, Belgian, American – are most frequently looking for holiday homes with a clear preference for old properties in grounds with a pool, not too isolated, and enjoying lovely views. This type of property can be found from 600,000 to 800,000 €. In the case of year-round homes, first-time buyers with budgets from 250,000 to 350,000 € can set their sights on 3-bedroomed houses with gardens on an estate, while buyers who have already sold their properties dispose of sums closer to 500,000-600,000 €." Enthusiasm still prevails for the Luberon's "Golden Triangle", encompassing old hill-top villages such as Ménerbes, Oppède-le-Vieux, Lacoste and Bonnieux, though demand is on the rise for the area known as Le Grand Luberon, ie. the triangle formed by Apt, Lourmarin and Manosque. "Though relatively far from the TGV station, this more preserved environment draws buyers in search of peacefulness. Given the generous array of offerings, prices are still stable, but the number of sales is increasing. By way of example, we recently sold a very lovely house near Gordes, designed by an architect, to serve as a holiday residence and priced at 500,000 € : living space of 350 m2, nearly 2.5 acres of grounds with a pool and a sumptuous view, but bearing in mind that this 1970's property required a renovation budget of around 300,000 €."
You will also like