Lorgues and Flayosc, at the heart of Le Var
Between sea and mountains, these communes with a rich medieval past offer charming homes in the midst of luxuriant landscapes. Fields of olive-trees, well-known vineyards and agricultural assets have forged the unchanging reputation of these little towns in the Var offering peacefulness and a unique art of living.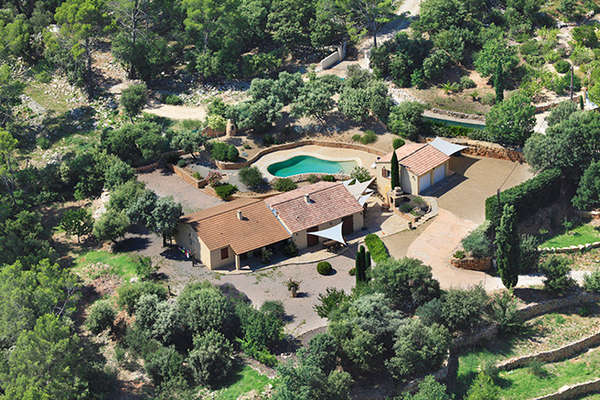 Tastefully renovated and appointed, this villa all on one floor offers 4 bedrooms and a living-room of over 60 m2. Its mature grounds contain a pool with sundeck, a chalet and double garage. 490.000 €. Pierre Azur (04 94 73 28 40).
Reached from the départemental roads D10 and D 562, Lorgues is home to close on 10,000 residents. In a valley at an altitude of 210 metres, Lorgues is midway between the Mediterranean coast and the Verdon Gorges. With its oil mills, church buildings, old facades, courtyards shaded by plane-trees, and the 14 vineyard estates which surround it, Lorgues appeals to fans of authentic green tourism. Those who choose to live here year-round appreciate the array of amenities provided by the commune, including numerous sports associations and quality schools up to BTS level. Based in Lorgues since 1991, the Agence Pierre Azur run by Dominique Varé and his partner Alexandra Green Bakker offers lots of villas in Lorgues, Flayosc, Les Arcs, Villecroze, Le Thoronet, Aups, Le Luc, Vidauban and Draguignan, together with agricultural and vineyard estates throughout the entire département. "We cover a very wide range," says Dominique Varé. "It includes affordable villas, like a 1-storey home of 98 m2 with a garage and a garden of 1,000 m2, priced at 250,000 €, as well as high-end properties and numerous agricultural and vineyard estates ranging from 1 to 4 million euros. Our expertise in the field sometimes enables us to orchestrate sales of extra­ordinary properties, such as a vineyard estate on offer at 42 million euros." Classic houses in the area currently cost around 3,000 € per sq. metre, though each property comes with its own price. To provide fair estimates, one needs in-depth knowledge of the local market. Dominique Varé deplores the fact that many independent agents with little experience come and upset the balance in the market, and perturb the stability of serious agencies which, like his own, have been working on site for decades.
Six km from Draguignan and Lorgues, perched on a rocky spur, Flayosc is one of the loveliest hill-top villages in Dracénie. With almost 4,500 residents, this medieval village is surrounded by olive-groves and well-known vineyards. Drawn by its charm and very pleasant lifestyle, many French retirees, people employed locally, and north Europeans (Belgians, Swiss, Dutch, Germans, Swedes, Norwegians, Danish...) search here for main residences or delightful holiday homes. "Demand is very steady, and clients with budgets of up to more than 700,000 € are faced by relatively scarce offerings," says Bruno Sabatier, manager of the SOGIP agency for more than 25 years. " If a property doesn't sell, it is because it is over-priced, as the market is very buoyant." As an example of typical properties, he refers to the recent sale of a house with 3 bedrooms and a study in grounds of 1,500 m2 with a pool. Benefiting from a garage and located in a quiet residential area near the village, this villa in good condition and offering open views just sold very quickly and without any bargaining, for 475,000 €. "Today, our offerings are very varied, ranging from 3-bedroomed houses with small gardens of 150 m2, from 230,000 €, to high-end properties worth around 1 million euros."
You will also like