Les Landes, between forest and ocean
France's second largest "département", Les Landes are much appreciated for their well-preserved natural areas, an exceptional shoreline and a wealth of gastronomic specialities.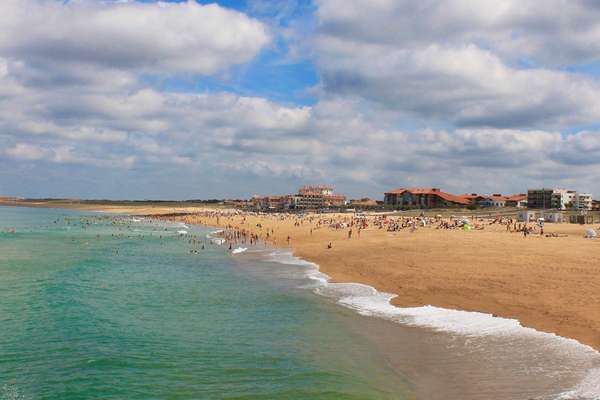 Chic and sporty, Hossegor is the most highly-prized seaside resort on the Landes coast, due in particular to its vast sandy beaches lapped by the Atlantic Ocean.
The most well-known seaside resort on the Côte d'Argent, Hossegor has a sporty, green and elegant image. "2019 has been marked by strong demand, always outstripping supply which is dropping significantly, and inevitably resulting in high prices due to rarity," says Serge Pilke, Manager of the Terres et Océan agencies in Hossegor and Biarritz which present high-end properties, mainly houses. "In Hossegor, clients are looking for pleasant holiday homes, sometimes planning to live there year-round later on. The area between sea and lake is still the most highly-prized, though offerings are few and far between. In this area, we are currently proposing a villa of 140 m2 in grounds of 1,560 m2, on the lakefront. In need of modernization, this house in Landaise style has good potential for extension, and is up for sale at 2,310,000 €," says Serge Pilke. "Confronted by this tight situation, we offer clients properties likely to meet their requirements if they agree to move a little further out from Hossegor and the coast. Especially as, for the same budget, they can set their sights on more living space and larger gardens." By way of example, he mentions a superb property in a residential area, near the lake in Soustons, 10 minutes from the beaches and 20 minutes from Hossegor. Consisting of three houses, including the main villa of 180 m2 on two floors, plus two guest cottages of about 65 m2 each, with living-rooms, 2 bedrooms, and 2 shower rooms, this contemporary property laid out around a pool, spa and sheltered terraces was built in 2012. Set in 2,000 m2 of grounds, it is on offer at 995,000 €.
About 20 minutes from Hossegor, Moliets-et-Maa is a charming seaside resort, one of the most renowned in Les Landes. Lying between the ocean and forest, it is known for its vast beach of white sand and its golf-course, ranked 9th in France, its location and quality infrastructures. It is here that Christophe Bouilleveaux has managed Bastide Immo for 18 years, an agency specializing in sales and seasonal rentals. "Our property portfolio is very varied. We present both small apartments and substantial properties. Most of our sales mandates come from Moliets-et-Maa, and for exceptional residences we cover the area from Mimizan as far as Biarritz. Moliets-et-Maa attracts families and sports enthusiasts, mainly French, who find here a good choice of outdoor activities: watersports, golf, horse-riding, biking, "accrobranche"... The majority of sales we handle concern holiday homes." And here the choice is wide. 1-bedroomed apartments can be found from 80,000 €, while houses with pools range from 400,000 to 1 million euros depending on their location, surface area and appointments. "The most sought-after areas are those closest to the ocean and golf-course." As an example of a typical property, Christophe Bouilleveaux describes a colonial-style villa of 140 m2 in a fenced garden of 1,200 m2 with a heated pool. Within walking distance of the beach and golf-course, this 2-storey villa prolonged by a very spacious wooden terrace sold for around 850,000 €. "We also offer building plots and assistance for buyers in all stages of their projects, including interior decor," adds Christophe Bouilleveaux. On the golf-course, plots are available from 120 to 400 € per sq.m.
You will also like