Les Issambres : the other Côte d'Azur
Overlooking the Gulf of Saint-Tropez, the commune of Les Issambres offers a well-preserved picture-postcard version of the Riviera. Its market for second homes is marked by rare offerings and elitist prices. An insiders' market...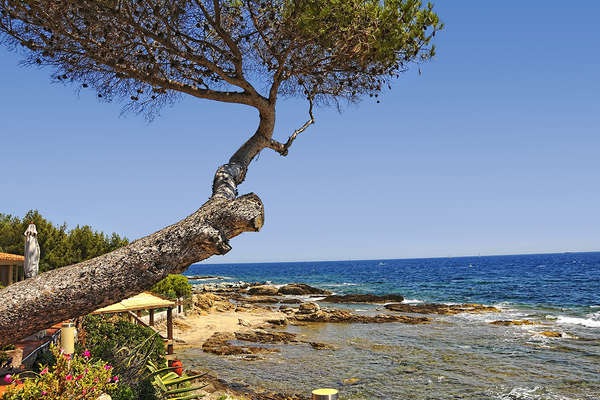 In Les Issambres, all roads lead to the sea ! Here, a wide array of watersports activities are on offer : water-skiing, jet-ski, sea-kart, diving, paddling, sailing, kayaks...
Based in Le Var since 1955, specializing in sales and seasonal rentals, Inter Agence consists of four agencies, two in Les Issambres. Manager Hervé Broggi explains that the majority of buyers are looking for a second residence with quality, if not decidedly high-end, appointments. "Contemporary properties are currently drawing steady demand. Houses in need of a revamp can be found from 500,000 to 900,000 €. Beyond that level, those which have already been treated to renovation in contemporary style post prices from 1.4 to 2.5 million euros." The most sought-after locations are on the hills of Les Issambres, where the most stunning views encompass both Saint-Raphaël and Saint-Tropez. The market has long been characterized by rare availabilities, and the Covid crisis has led to increased demand, clearly putting pressure on prices. "Due to travel restrictions, foreign clients have become rare, though they are being replaced by new French buyers." The market for new properties mainly consists of apartments offering high-spec appointments, near the town centre, priced from 8,000 to 10,000 € per sq.m. By way of conclusion, Hervé Broggi invites buyers to discover Les Issambres which, in his view, is the loveliest location on the Côte d'Azur.
Focusing on prestige properties in Saint-Aygulf, Sainte-
Maxime and Les Issambres, Rêve de Sud Immobilier specializes in sales. Manageress Florence Payan says that 90 % of buyers come from outside the département of Le Var. "A high proportion of our clients are from large cities in northern and eastern France, but also Belgium and Luxembourg. On our market, apartments are a rare commodity. Demand is mainly for second residences at prices from 600,000 to 1 million euros. The lower end of the bracket gives access to 1970's homes to renovate, sometimes enjoying a view of the sea. The highest budgets correspond to contemporary houses, opening out to sumptuous panoramic views." In Les Issambres, buyers aim for locations surveying the Gulf of Saint-Tropez, facing south and close to the town centre. But demand evidently outstrips supply. "Most of the houses that could previously be acquired with a budget of 500,000 € have undergone careful renovation and now fetch over 1 million euros. Today, offerings have dried up : most owners are stuck in their main residences outside the département, and have placed the sale of their holiday homes in Les Issambres on stand-by." The lively market for new properties benefits from offerings of quality, comprised of small developments with few units at an average price of 10,000 € per sqm.
You will also like