Les Cévennes, a dual vocation
The backcloth for the War of the Camisards between Protestants and Catholics in the 13th century, the region of the Cévennes now draws both year-round residents and fans of holidays in the sun. One of UNESCO's World Heritage sites, the park lies between L'Auvergne and Le Languedoc, a magnet for all those fond of wide open spaces and activities in the great outdoors.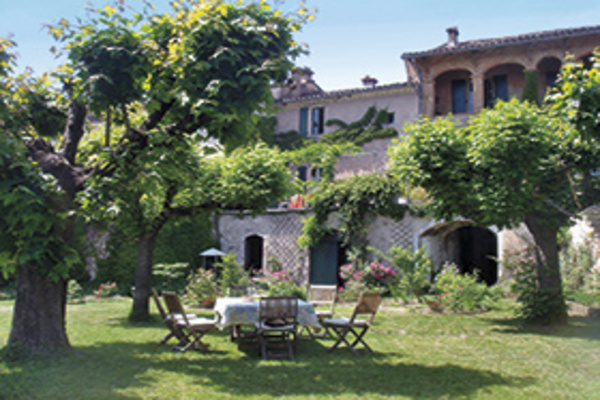 This house of 450 m2 in Anduze comes with four rooms for paying guests. Facing the Cévennes, its grounds of 4,600 m2 feature a botanical garden. 625.000 €. Terres des Cévennes (04 66 55 67 13).
Les Cévennes are composed of 52 communes in the strictest sense - or 117 entities accommodating 41,000 people in a wider version -, an area defined by the Monts de Lozère to the north and Aigoual to the south. They include Alès, Le Vigan, Ganges, Saint-Hippolyte-du-Fort, Sauve, Saint-Jean-du-Gard and Anduze. Jules Michelet gives a clear description of the typical scenery : "Les Cévennes offer rock, nothing but rock, sharp schist and shale... You can feel man's struggle, his dogged efforts, his battle with nature...".
Based in Sauve and Saint-Hippolyte-du-Fort, Christophe Thuet of Les Calades du Sud covers Le Piémont Cévenole, a 45-minute drive from Montpellier or Nîmes. Attracted by modest prices, half of the buyers move in on a permanent basis and work in the capitals of L'Hérault and Le Gard. By way of example, building land can be found for 100 € per sq. metre, whereas it costs 300 € per sq. metre at the entrance to the prefecture of "département 34". The area is very adequately equipped in shops, services and schools up to secondary level. Ganges and Quissac have all the infrastructures required for everyday life. Most clients are looking for houses of 140 m2 with gardens of 2,000 m2, priced from 200,000 to 300,000 €. The second half of the clientele are looking for holiday homes. Drawn by fast and easy access on the TGV, they come from Paris and even England, a country making a comeback on this particular market. Recently, a tastefully decorated village house of 180 m2, without an outdoor area but offering a pleasant view of the medieval village of Sauve, found a British taker at 315,000 €, while a buyer from the Parisian region paid 130,000 € for a "mas" of 70 m2 with grounds of 3,000 m2 in a hamlet, awaiting extension and renovation. Everyone clearly appreciates this region between sea and mountains, and especially its hiking possibilities.
"One hour from Montpellier, Le Vigan is especially popular among occasional residents," say Béatrice Stéfanoni and Cindy Vayssettes of Immobilier Nature in Ganges. "They are just as likely to set their sights on a village house of 100 m2 with a small garden, priced from100,000 to 150,000 €, as the famous Cévenol "mas " of 200-300 m2 on an estate of several acres, ranging from 250,000 to 400,000 €." At the moment, the agency is handling lots of negotiations and confirms a drop in prices. The need for a bank loan often acts as a brake on the flow of activity. Among their latest transactions, our agents mention a small stone property of 70 m2 in good condition with a garden of 800 m2 over towards Madières in the valley of La Vis, acquired for 80,000 € by a purchaser from Loire-Atlantique. A couple working in Montpellier, wanting to get back to nature, then paid 220,000 € for a detached house of 94 m2 with a garden of 1,000 m2, just 2 minutes from Ganges. Finally, a small villa of 65 m2 in a garden of 400 m2 in Cazilhac sold for 120,000 €.
"On the Gardon river, below a massif, Anduze has retained the architectural traces of its 10th-century "seigneurie"," says Nicole Renvier-Cros of Terres des Cévennes. "Silkworm farming flourished in the 13th century, while the 14th and 15th centuries were dominated by Protestantism. Now well-known for its bamboo-grove and pottery, this tourist attraction brings a constant flow of population with peak periods at Easter, in July and August." She has noted renewed interest in "gîtes" and guest-houses on the part of 50 year-olds, usually with budgets ranging from 400,000 to 700,000 €, who enjoy this active form of retirement bringing additional income. A property of 450 m2 with four rooms for paying guests, prolonged by a botanical garden of 4,600 m2 facing the Cévennes will cost around 625,000 €. Three out of every five sales concern holiday homes priced from 250,000 to 400,000 €, the remaining two being year-round homes in the 200,000-300,000 € bracket. Retirees from northern France, or even Europe, are very keen on this address, together with young households capable of paying up to 220,000 € for their homes. The latter are looking for living space of 100-120 m2, large enough to house the family, with relatively small gardens to avoid maintenance costs, in quiet, luxuriant settings not far from amenities. A single-storey villa of 130 m2 with a garden of 642 m2, priced at 222,600 €, will, for example, draw the attention of seniors in search of the sun. Nicole Renvier-Cros regrets the prices currently displayed, rarely corresponding to the locals' financial capabilities. "From this point of view," she says, "serious efforts need to be made".
You will also like