Le Trégor : between sea, towns and countryside
A former administrative and religious division which was once one of Brittany's nine provinces, Le Trégor can lay claim to a magnificent shoreline, unspoilt countryside and lively towns such as Lannion, Morlaix, Perros-Guirec and Guingamp.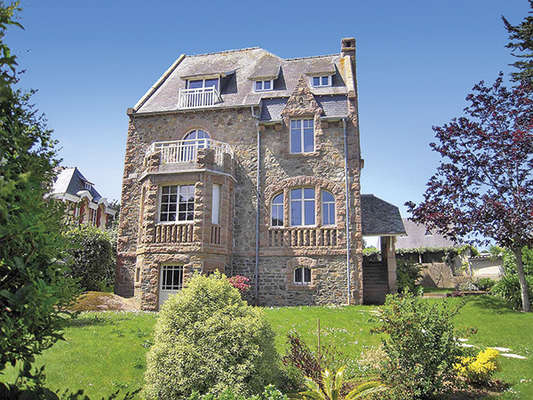 In Trégastel, this 1930's villa boasts six bedrooms, a garden of 750 m2 and a view of the sea. 624.000 €. Demeures du Littoral (02 96 23 09 86).
Now comprised of 127 communes in the north-western part of Brittany, Le Trégor encompasses the north-west of Les Côtes-d'Armor and a small part of north-eastern Finistère. A lively territory : tourism, first of all, chalking up an excellent level of vitality thanks to the appeal of the pink granite coast and renowned seaside resorts such as Perros-Guirec, Trégastel, Trébeurden and Port-Blanc (on the commune of Penvénan). Especially as the area benefits from good roads (the RN 12 expressway in particular), but also the TGV (with a station in Lannion) and air travel (Lannion-Côte de Granit Airport). The fertile Breton countryside also allows for on-going development of agro-food activities which provide an important job pool. And lastly, the former province is now home to a high-performance research centre specializing in telecoms (ex-Anticipa technopolis).
Since 2013, Pascal Nicolas and his four associates have managed four Laforêt Immobilier agencies in Le Trégor (in Lannion, Penvénan, Pleubian and Guingamp), plus a fifth in Paimpol (in the former Pays de Goëlo). Backed by over 10 years' experience in the area, they cover not only the coast, but also the rural and urban zones : "On the outskirts of Lannion and Penvénan, most demand is for properties under 150,000 €. For a contemporary home near the town and shops, one needs a budget ranging from 150,000 to 250,000 €. As for the market on the coast, it proposes homes from 250,000 to 400,000 €. And prices naturally rise the closer one gets to the ocean". Once renovated, a stone "longère" farmhouse will fetch from 120,000 to 200,000 €. "If the work is still to be done, the price will range from 80,000 to 100,000 €." What about apartments ? "The price per sq. metre is 1,400-1,500 €." Pascal Nicolas' clents are first-time buyers, investors, people looking for holiday homes which will become permanent when they retire, and other buyers aged from 40 to 60, searching for accommodation better suited to their needs. "Foreign clients, clearly targetting the coast and holiday homes, mostly come from Belgium and Holland."
Véronique Letynevez, manageress of Côté Immo, is, precisely, based in Perros-Guirec, a central address on the pink granite coast and a well-known family seaside resort whose population expands from 7,500 in winter to 40,000 in summer. A real-estate professional since 1992, she opened her agency three years ago, offering personalized service with negotiation fees adapted to a rather tight property market. "Prices in Perros-Guirec are the highest in Le Trégor, together with those posted by Trégastel and Trébeurden. For example, we recently handled the sale of an apartment of about 30 m2 at around 90,000 €, another of 50 m2 with a sea view, priced at 170,000 €, and a recent house of 120 m2 at 240,000 €." For those prepared to build, a serviced plot in the coastal area costs around 80 € per sqm. If utilities have not yet been installed, the price drops to 50 € per sqm. And if you go further inland, some plots can be found at 30 € per sqm. "Prices have declined since last year, but are now holding steady. In fact, buyers are back on the scene, though they are less numerous and more demanding." Bargaining also apparently takes longer. "Though if the seller takes the agent's recommendations on board, his property can be sold very quickly." The majority of the agency's clients are young retirees from Paris and its surrounding region.
Roselyne Bothorel, manageress of Demeures du Littoral, is also based in Perros-Guirec (since 2006). Specializing in properties of character and villas on the seafront or in prime locations, as well as listed manors and châteaux, she covers the coastal area from Le Mont-Saint-Michel to La Vendée. "Our most recent sales included a house of 100 m2 benefiting from 1,800 m2 of grounds and a sea view, priced at 300,000 €, a charming property comprised of two houses 10 minutes walk from the sea, at 389,000 €, a small manor in the countryside near Trégor, surrounded by an enclosed park of about 3.7 acres, at 600,000 €, and an early 20th-C. seaside villa near shops and the beach, at 624,000 €." Another example, in the middle of the range, recently put up for sale : a property of 250 m2 facing the sea on almost 17.5 acres of land, with a price-tag of 480,000 €. The agency's portfolio also contains an apartment of 114 m2 in perfect condition, in the centre of Perros-Guirec, with a view of the sea and a covered parking place, at 424,000 €. Roselyne Bothorel says that the market for holiday homes has seen a slowdown over the past few years. Yet her main clientele is still comprised of young retireees who spend about six months a year in Brittany while keeping a home in the capital. "We also have a good many foreign clients from pretty much everywhere : Belgium, Brazil, Saudi Arabia, Asia..."
You will also like