Le Trégor, a sought-after destination
This former administrative and religious "division" is one of the nine provinces composing Brittany. Lying north-west of Les Côtes d'Armor, it spills over into a small part of Finistère. Its main towns include Lannion, Morlaix, Perros-Guirec, Guingamp and Tréguier.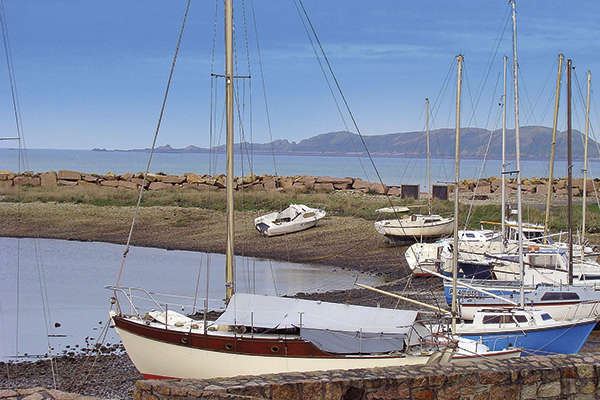 In 4,000 m2 of grounds, this property offering a sea view as well as direct access to the sea offers several possibilities for development. 578.000 €. Marinimmo (02 96 23 09 08).
Crossed by the RN 12, Le Trégor consists of 2,251 sq. kilometres with no less than 127 communes. The TGV train calls at Plouaret, Lannion and Morlaix. This region in Brittany makes its living from the Anticipa technopolis, the tourist industry and agro-food sector. Anticipa is France's N°1 centre for optics and telecoms, a site accommodating 45 % of the country's telecom research activities, together with 200 SMEs/SMIs. Tourists appreciate the "Pink Granite Coast" and the sailing harbours of Perros-Guirec and Trébeurden. Hiking enthusiasts are spoilt for choice, and golfers head for Saint-Samson. Against all expectations, fishing is pretty much a minority occupation as compared with the many small farms.
"Le Trégor is made up of a combination of seascapes and rural scenery," say Valérie Le Bricquer and Renaud Chauvet of L'Agence Différence-Immo. "Warm and welcoming, the locals are fond of their traditions. As for real estate, it still offers affordable prices." The palette of properties is both wide and diverse. Recently, a small house of 50 m2 in need of refurbishment found a new owner at 44,000 € over towards Plouaret, while a "neo-bretonne" of 190 m2 in perfect condition with grounds of 8,000 m2 changed hands for 220,000 €. Half of the buyers are looking for holiday homes. Most of them have past links with the area and are ready to pay from 150,000 to 250,000 € for a property. Many are thinking about moving here permanently when they retire ; they all spend several weeks here every year. They consequently want to have shops nearby and the services provided by a town or village. The other half of the clientele looking for year-round homes can afford to pay from 80,000 to 200,000 €. By way of example, the Agence Différence-Immo proposes properties ranging from 30,000 to 700,000 € within a
30-km radius around Plouaret, a popular address partly due to its train station on the Paris-Brest line. Houses win out totally over apartments in this rural setting. Even though the market is active, it lacks visibility.
Colette Campion of Marinimmo is based in Perros-Guirec on the "Côte de Granit Rose", a protected site known for its picture-postcard scenery. Out at sea, one discovers the archipelago comprised of seven islands, a real paradise for bird-lovers. Back on terra firma, chapels are succeeded by churches and oratories. This locality with 7,800 inhabitants, a population multiplied by eight in summer, attracts occas­ional just as much as year-round residents. Natives of Paris, Rennes and buyers from other regions of France rub shoulders with a few foreigners from Switzerland, the Netherlands, Belgium and Italy. They love the sandy beaches and the rugged coastline. In 2007, the magazine "Le Nouvel Observateur" chose the destination as France's best seaside resort. The relatively temperate climate, the quality of life, the tranquillity and colours, to which painters do not remain indifferent, are among its finest assets. Tourism is clearly oriented towards the sea, bathing, fishing and sailing, though the many paths and trails also attract hikers. Buyers of main homes are split between local employees and retirees from other départements. Colette Campion's latest transactions range from 250,000 € - the sum required for a house of 120 m2 with a garden of 700 m2 on an estate - to 450,000 € - bringing a typical stone property of over 150 m2 in an outlying area. The same house, offering a sea view, would be worth 700,000 €. The market offers a good choice of accommodation, from standard detached homes to manor houses, not forgetting apartments in the centre or on the seafront. A studio on the harbour, in need of a revamp, will sell for 85,000 € ; an apartment of 100 m2 in good condition, also facing the port, will fetch 350,000 €. Knowledgeable about the market, potential purchasers spend a lot of time visiting and comparing, paying close attention to a property's cond­ition and energy performance.
You will also like